Barcelona vs. AC Milan: Results, Scores, Updates and More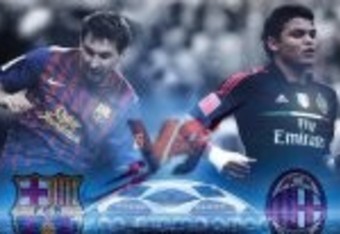 AC Milan will get their UEFA Champions League campaign started off with the tough task of taking on the current kings of world football, Barcelona. Barcelona has looked as solid as ever in their recent matches. They have won their past four matches by a combined score of 14-2.
Meanwhile, AC Milan has been toiling, going just 2-2 in their last four matches—a stretch that included a split with Juventus.
These two will meet at Camp Nou on Tuesday, September 13th at 2:45 Eastern Time.
On paper, AC Milan doesn't have the horses to keep up with Barcelona. They failed to upgrade their roster at the transfer deadline, but they may have been trying.
AC Milan made news at the transfer deadline as rumors swirled that they were trying hard to upgrade their midfield. There were reports that they were going hard to bring back Kaka for his second AC Milan stint.
The move never happened, and AC Milan denied their interest to begin with. In a report on ESPN, AC Milan Vice President Adriano Galliani denied they tried to acquire Kaka.
One of the exciting facets of this match is the opportunity to see Lionel Messi take on Thiago Silva. Silva is playing better than ever and has cemented his status as one of the world's best center backs. He is one of the toughest matchups for any striker, and his explosives can't be counted out on the offensive end. Silva is capable of providing a strong forward surge at any moment.
Silva is asked to do a lot for AC Milan. They will be best served to ensure that his duties begin and end with keeping track of Messi in this one.
Be sure to check this blog often as we discuss and update all news and results surrounding this match.
AC Milan came out strong against the mighty Barcelona squad. Their strength faded as the half wore on and Barca began to assert their dominance. While this match is tied 1-1, AC Milan will need some minor miracles to not wind up on the losing end of this match.
Milan came storming out of the gates in this one. Antonio Nocerino delivered a nice pass to Alexandre Pato in the first minute of this match. Pato drilled a right footed shot to the back of the net to give Milan an early 1-0 lead.
They continued their strong play with patient and focused attacks, but were unable to add any more goals.
Barcelona then began to wear them down on as the half went on. Lionel Messi was up to his usual brilliant tricks as he was forcing the action and Milan had few answers.
Messi delivered a beautiful cross to Seydou Keita, but Keita's header was off the mark wide right. Messi also struck a nice left footed shot low towards the post, but the Milan keeper made a nice save.
During this stretch David Villa also missed two shots and Andrés Iniesta missed one of his own.
Barcelona was in full control around the 20 minute mark of this half. Messi earned a direct free kick, but it bounced harmlessly off the post.
Barcelona's aggression finally paid off in the 36th minute when Messi delivered a fine pass to Pedro and Pedro drilled the goal with his right foot.
And that is where the scoring stopped for the half. If play continues like this, I expect Barcelona to pull out a 3-1 victory.
This article is
What is the duplicate article?
Why is this article offensive?
Where is this article plagiarized from?
Why is this article poorly edited?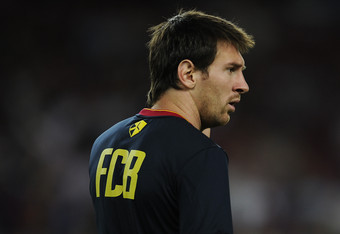 AC Milan's run of great luck is about to come to a screeching halt. What's their luck, you ask? They have never played against Lionel Messi in an official match. Messi is going to make up for lost time when he plays against Milan on Tuesday.
Messi only played around 30 minutes this past weekend to ensure he would be fresh for this contest. The decision actually cost Barca as they were shocked in that La Liga match when Sociedad battled to a 2-2 draw.
The draw cost Barca first place as Real Madrid moved past them. Messi is going to ensure that that move was not done in vain. He will reward his coach Pep Guardiola with brilliant play in this match.
AC Milan will have little to counter Messi on either end. There defense is not capable of handling the greatness of Messi and on the offensive end they will be without injured forwards Zlatan Ibrahimovic and Robinho.
Messi is going to introduce Milan to the horro he has inflicted upon the Champions League over the last seven years.
While he has not played against AC Milan in that span, he has played against plenty of top teams, and he has found tremendous success.
In thos seven years, he has played in almost 60 matches and scored 37 goals on his way to winning three Champions League Trophies.
I expect Messi to do plenty of damage in this one. He will get at least one goal and assist on another. This will lead Barcelona to a 3-1 victory.
This article is
What is the duplicate article?
Why is this article offensive?
Where is this article plagiarized from?
Why is this article poorly edited?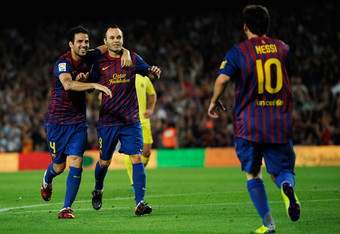 Pep Guardiola and his Barcelona club were not happy with their recent 2-2 draw against Real Sociedad.
The squad gave away an early 2-0 goal lead and even without Carlos Puyol and Gerard Pique in the back, this is unacceptable of the defending La Liga and UEFA Champions League champions.
It was a hectic game that saw Barca score twice in back-to-back minutes early in the first half. But Sociedad rebounded and scored to goals of their own on back-to-back minutes early in the second half.
Barca was forced to settle for a draw, lost winger Alexis Sanchez for at least eight weeks and now come into a battle with AC Milan to kick off their Champions League defense.
Fortunate for them, the Rossoneri are from healthy and are down to only two strikers for the match after a late injury to former Catalan Zlatan Ibrahimovic.
This puts AC Milan in a tight spot with only Brazilian forward Alexandre Pato and Italtian forward Antonio Cassano as the remaining goal scorers up top. Ibrahimovic joins Brazilian Robinho and Italian Pippo Inzaghi as injured forwards that won't be in action today.
But Barca doesn't care who is on the pitch. Their mission is to go out and send a message to every other squad chasing them that they are still the top dog and won't be had easily.
Messi, Fabregas, Xavi and Pedro will be on the pitch and David Villa will likely replace Sanchez on the wing.
The rest of the Group H includes BATE Borisov and Viktoria Pizen.
Milan will be the toughest test for the Catalan giants, but they should be more than up to the task of dealing with the short-handed Rossoneri this time around.
Expect to see Barca get on the board early and roll from there letting everyone know they are ready to go.
This article is
What is the duplicate article?
Why is this article offensive?
Where is this article plagiarized from?
Why is this article poorly edited?

FC Barcelona: Like this team?