St. Louis Rams Add Two More Veterans to Their Roster
September 6, 2011
Jonathan Daniel/Getty Images
After the wave of cuts around the NFL was finished, the Rams quickly signed a pair of veteran players to their roster. It appears that the trend of getting younger has taken a 180 degree turn this offseason.
Tony Wragge, previously of the San Francisco 49ers, will likely backup both guard positions, and possibly even center. To make room for him the Rams cut Hank Fraley who seemed to be out played for most of the preseason.
Cutting Fraley in favor of Wragge doesn't do much in the age department (Fraley is 33, Wragge is 32), but what Wragge does give the Rams is a little more confidence. I can't speak on Wragge's play this preseason, but after seeing how poorly Hank Fraley performed, I consider him an upgrade.
Tony Wragge is used to being a backup player as he has only started 15 games in his career. He could be a critical piece to the Rams offensive line because there is little depth at the interior line position. Adam Goldberg has played down at guard when needed, but he also looked shaky this preseason. The backup center, Drew Miller, has never played a snap in the regular season.  
St. Louis also signed a player from another division rival. Stephen Spach has been added at the tight end position after being released by the Arizona Cardinals.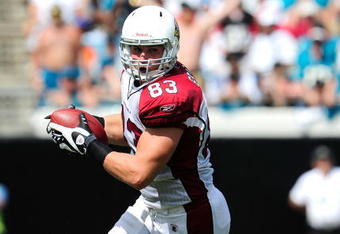 Sam Greenwood/Getty Images
The 29 year old Spach may seem like a short term fix while Mike Hoomanawanui is out, but I believe he can be a very critical piece to the roster. He won't be noticed too much because he doesn't catch a lot of passes. He's caught just 20 in his career. What he will add is blocking ability.
Spach can be used primarily in goal line situations to help create a push for Steven Jackson. He could also be used in two tight end sets if needed, but that role will likely go to Lance Kendricks and Billy Bajema. If he sticks around on the roster, Stephen Spach could be a critical unsung player for St. Louis.
Neither of the Rams' signings are slam dunks or home run hits that will excite the fans, but they both can be key contributors. Tony Wragge and Stephen Spach won't be guys that are always on the field, but they can come off the bench and fill their roles. It appears right now that the St. Louis Rams will continue the trend of adding proven veterans to help aid their future stars.