Serena Williams: Sending a Subtle Message at the US Open?
September 7, 2011
Chris Trotman/Getty Images
Serena Williams is simply bulldozing the competition.
We're all familiar with her performances since Wimbledon. But if not, let's take a look back over her summer.
Following Wimbledon, she headed out to California (unseeded) to participate in the Bank of the West Classic.
For the most part, she rolled over her opponents (Sabine Lisicki and Maria Sharapova happened to be two) in straight sets. The only minor wrinkle in her performance was having to play a three-setter against Maria Kirilenko. She won the match by defeating Marion Bartoli, 7-5, 6-1—the player who eliminated Serena at Wimbledon.
Moving right along, she headed to Canada to participate in the Roger's Cup. Very similar to her performance at the Bank of the West Classic, she captured that singles title as well, defeating Victoria Azarenka in the semifinals and Samantha Stosur in the final—both in straight sets.
On to Cincinnati to play in the Western and Southern Open. There, she experienced a minor hiccup, having to withdraw after winning her first-round match due to a concern with a toe.
She rested and jumped right back into the thick of things at the US Open. After such a run following Wimbledon, many questions arose as to why Serena was seeded so low.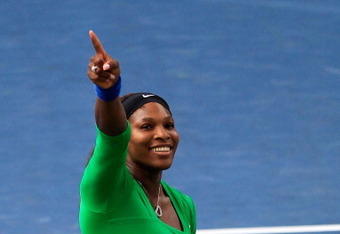 Chris Trotman/Getty Images
But to Serena, it was just a number. She has continued to dominate women's tennis, winning every match in straight sets.
There have been some minor issues, but nothing has had any significant impact on her performance. Most recently, she eliminated Victoria Azarenka and Ana Ivanovic in straight sets, securing a spot in the quarterfinals.
It's quite easy to see that Serena's performance speaks loud and clear. She does not have to describe being back on the court, her fitness, her mental strength, etc. It's obvious.
This is a woman who has a renewed passion and respect for the game of tennis, and she's giving it her all.
However, Serena appears to have been dropping a subtle message to which I'm not sure many have paid attention.
Take a look at the photos that accompany this article. If you'll notice, as Serena is acknowledging her win and the crowd for their support, she's holding up that finger high and with much pride.
Serena seems to be quietly telling everyone that she's heading back up the ranks to reclaim her No. 1 spot. What a powerful, yet subtle statement.
And for someone who just recently was ranked 175th in the world and is now ranked 27th, it's a message that's easily believable.
What are your thoughts?