6 Improvements Brandon Jennings Must Make to His Game to Become an All-Star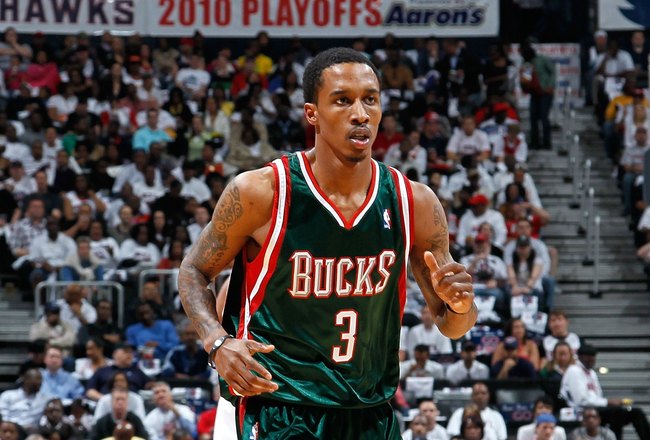 Kevin C. Cox/Getty Images
There is no denying Brandon Jennings talent.
Throughout his brief two year NBA career he has shown flashes of brilliance. From a triple-double to a 55-point outing, the guy has game.
But so far, Brandon Jennings has not been able to put it all together for a season to earn himself an invite to the All-Star game.
Here are six things Jennings can improve on to one day become an All-Star.
6. Get Stronger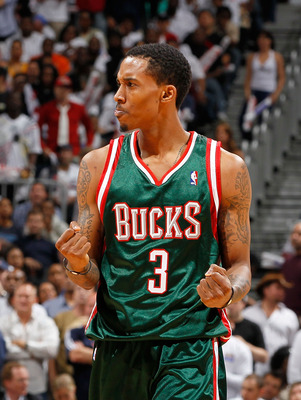 Kevin C. Cox/Getty Images
Brandon Jennings is still a young player. He will turn 22 in a couple of weeks, and his body is still developing.
Strength is a tricky thing in the NBA. Jennings does not want to put on 30 pounds of muscle in a year or two. Getting too bulky can slow Brandon down at a position where speed is crucial.
But to not have enough muscle on his frame is problematic for several reasons. Strength is key in playing defense, rebounding, going to the basket, and many other aspects of the NBA game.
In the next three years, if Jennings can put on 15 pounds of lean muscle, he will have the strength to elevate his game to an All-Star level.
5. Grow Up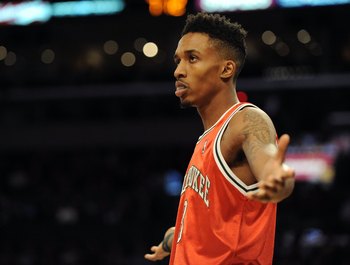 Harry How/Getty Images
Brandon Jennings, based on his age, would be entering his senior season of college. But based on what he sometimes says, you might assume he is still in high school.
Brandon spends a lot of time on Twitter, which seems to get him in trouble. Not too long ago he was fined by the NBA for tweeting too soon after a game. Last season he drew the ire of Milwaukee fans by hinting he wants to play in California. Most recently he has been attacking Kobe Bryant on Twitter because he feels Kobe should not be allowed to play in the Drew League because he was not born in California.
Jennings needs to stay focused on basketball and not worry about everything else. He is a young guy, but his Twitter and off the court antics are nothing more than a distraction. He needs to be a professional and fine tune his craft, not his social media profile.
4. Become a Leader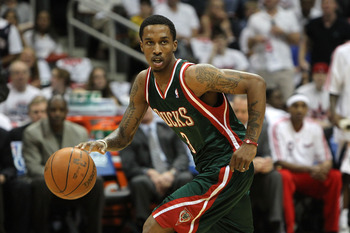 Mike Zarrilli/Getty Images
Point guards are almost leaders by default. They start an offensive set with the ball in their hands, and dictate the tempo and style of the team.
Entering his third year in the league, Jennings needs to start to assert himself as a leader on this team. Watching the Bucks last year it was unclear who, if anyone, truly was the leader on the floor and in the locker room.
With some experience under his belt, Brandon needs to step up as a leader and make his teammates better both on and off the court. Leadership from the point guard position is something you have to display if you truly want to be an All-Star in the NBA.
3. Play Better Defense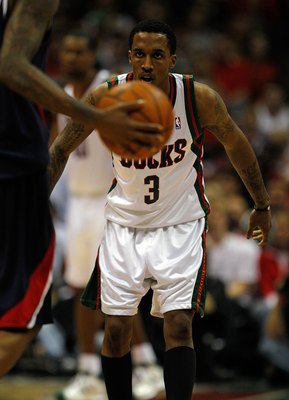 Jonathan Daniel/Getty Images
Defense will never get you to an All-Star game alone. Ask Bruce Bowen. But defense is something that can strongly contribute to an All-Star birth.
Great defenders can create offensive opportunities for themselves with solid defense. Far too often last year, Brandon was blown by the quick players and bullied by bigger ones in the post.
If you watch him, it appears the effort is there, he just needs to work on his defense. If he can improve his lateral movement and his reaction time, his defense will greatly improve.
2. Improve Decision Making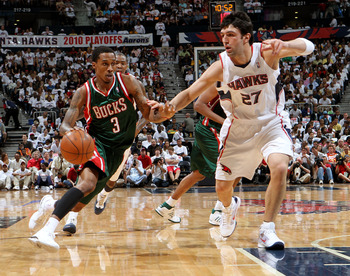 Mike Zarrilli/Getty Images
Brandon Jennings has seconds to make a decision as he brings the ball up court.
In many instances last season, he would spend far too much time dribbling the ball as the shot clock ran down. This was even more evident against a good defender. When he could not shake the defender, he would jack up an ill-advised shot.
He needs to play within the confines of the offense and work for open shots. He has the quickness and passing ability to get his teammates open looks.
If he improves his court vision and his use of the offensive sets, he will improve both himself and his teammates.
1. Fix the Jump Shot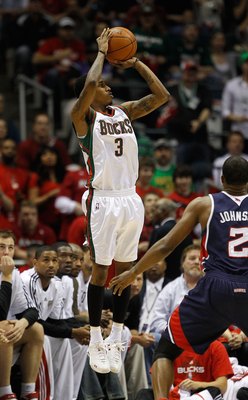 Jonathan Daniel/Getty Images
In his sophomore campaign last season, Brandon improved his field goal 39%, which by NBA standards is still subpar. Even worse, his three-point shot fell to just 32%.
With his ball skills, Brandon has the ability to beat a defender and create open looks at the basket. But when you are not able to consistently hit a jump shot, you will struggle to become an NBA All-Star.
Hopefully Jennings has spent the summer taking thousands of jumpers. Right now, his lack of a consistent jump shot is the weakest part of his game.
If he can improve his shooting, it will be difficult for him not to make an All-Star team.
Conclusion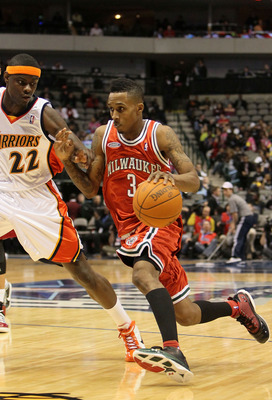 Jed Jacobsohn/Getty Images
Brandon Jennings is a young and exciting player. He has all the potential in the world to be a great NBA player.
But so far, Brandon Jennings has not lived up to his potential ability. If he continues to work hard and stay focused, he can improve upon these six areas that are holding him back from being a NBA All-Star.
Thanks for reading, and be sure to follow me on Twitter!
@MilwaukeeMusk
Keep Reading

Milwaukee Bucks: Like this team?