Grades from Marshall's First Game: All Lightning, No Thunder for the Herd
September 7, 2011
Jamie Sabau/Getty Images
OFFENSE -
Quarterback - B
Running Backs - C
Wide Receivers - C
Offensive Line - D
Issues on offense:
True freshman quarterback, Rakeem Cato, didn't have an ample amount of time to throw the football due to the immense pressure from the Mountaineers' pass rush.  Despite Tron Martinez's 7.6 yards per carry average, the Herd offense couldn't truly establish a legitimate running game that could convert on third downs and down close to the goal line.  The offensive line had trouble imposing its will at the point of attack against WVU's defense with inconsistent run-blocking and dismal pass protection.
Positives on offense:
There is potential for the offensive line and running backs to have a solid running game this season if run-blocking can become more consistent.  Quarterback Rakeem Cato might be young but he has the tools to become a good pocket passer. When Cato scrambles outside of the pocket after protection breakdowns, he's running with his head up looking down the field to throw the ball to his playmakers. Fortunately, the wide receivers have improved from last season and superior route running needs to be the focal point of this receiving group.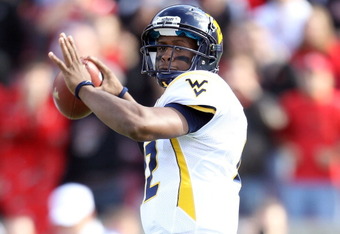 Andy Lyons/Getty Images
DEFENSE -
Defensive Line - C-  
Linebackers - D+
Secondary - F
Issues on defense:
Tackling was good at times, but extremely inadequate behind the line of scrimmage especially on Geno Smith. Lack of enthusiasm throughout the entire football game and no clear cut defensive leader with a mean streak.  Can't force punts and reluctant to blitz on third downs.  I understand the philosophy of not getting beat deep by playing corners far off the receivers, but good grief... I thought the corners were sitting in the stands.  Linebackers have to tackle better in open space and establish an underneath pass coverage.  Too many sacks left on the field.  Better play in the deep zone from the safeties.
Positives on defense:
Linebackers were able to get off blocks in order to help with run defense.  West Virgina didn't gash the Herd on the ground just through the air.  If teams are going to double team Vinny Curry then another edge rusher needs to step up and keep containment by getting to the quarterback.  The good news is Marshall has the athletes to get off the ball and penetrate in the backfield, now they just need to finish wrapping up the ball carriers in the backfield.