Why Michael Vick Is Worth Every Cent of His New Deal
November 6, 2014
Jim McIsaac/Getty Images
Original reports said Michael Vick signed a six-year contract with the Philadelphia Eagles worth $100 million with about $40 million guaranteed.
The original reaction was: He's overpaid.
ProFootballTalk.com now reports Vick signed a five-year deal worth $80 million with $35.5 million guaranteed.
The reaction has not changed.
I get why people think Vick is getting too much money without having any playoff wins with the Eagles, let alone a Super Bowl. But those people need to take a step back and look at what Vick went through last year, what he did for the franchise and the numbers he put up before they look at the monetary value attached to his name.
Forget about the stats for a moment and focus on what Vick had to overcome during the 2010 season.
Vick started the season as the backup only to find himself thrust into the spotlight in the first game when starting quarterback Kevin Kolb suffered a concussion against the Green Bay Packers.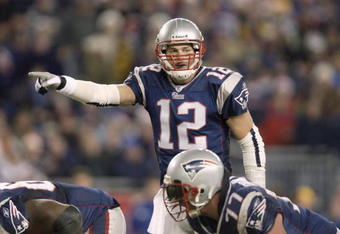 Ezra Shaw/Getty Images
As Kolb recovered from the injury and Vick prepared for his first start since 2006, Andy Reid publicly announced Kolb would return to the lineup when his concussion symptoms subsided. And when Vick played well against the Detroit Lions, Reid still had Kolb's back only to change his mind and name Vick the starter.
There's nothing wrong with Reid supporting Kolb, but imagine what it must have been like for Vick to go through all of those emotions in such a short amount of time.
He was out, in, out and back in.
Yet through all of it, he remained professional and handled the situation with a maturity that some may not have thought he possessed.
And when Vick finally had the full support of Reid, he suffered an injury two games later against the Washington Redskins.
The injury came on a 23-yard run, which ended with Vick being sandwiched between Kareem Moore and DeAngelo Hall. Vick was forced to run because the protection on the line broke down. Offensive guard Max Jean-Gilles literally added insult to injury by negating the run with a holding penalty.
There were times when Vick took unnecessary hits because he refused to slide, but it paled in comparison to the number of times his line couldn't protect him, especially at right guard and right tackle, which is Vick's blind side.
But the O-line wasn't the only reason Vick was running for his life; Reid's pass-oriented offense exposed Vick to additional hits. Without a commitment to the running game, teams teed off on Vick.
The defense didn't help out much either.
Inside the red zone, the defense allowed opponents to score 78 percent of the time, which led to them allowing the 11th-most points per game at 23.6.
All of that would have led to a laundry list of excuses for a quarterback to miss the playoffs. It would have caused most quarterbacks to have the worst year in their careers.
Instead, Vick found a way to lead the Eagles into the playoffs as the NFC East champions and have his best season as a pro.
Vick transformed the mindset of the fans and organization from rebuilding to win-now. I can't imagine what this offseason would have looked like if Kolb was still the starter. Would the Eagles have been this aggressive, or would they be trying to build for the future?
It's rare to find a player who can take a franchise from one extreme to the other, but Vick has done that.
The only examples that come to mind are Tom Brady and Peyton Manning.
Brady stepped in for an injured Drew Bledsoe in 2001 in the second game of the year. The Patriots were coming off a 5-11 season and not considered one of the elite teams in the NFL. With Brady under center the Patriots went on to win the Super Bowl in 2001 and establish one of the best dynasties in NFL history.
Manning's situation is kind of the opposite, but his importance is equally showcased. Manning's neck injury has most fans thinking the Colts are heading into rebuilding mode instead of trying to win a second Super Bowl since 2006.
When a player comes along who can change the outlook of a franchise you don't let him go, and you sign him to a multi-year worth close to a tenth of a billion bucks.
Now we can get to the stats.
Keep in mind these stats came in what amounted to about 10.5 games. Remember he only played in half of the game against the Packers, about one quarter of the initial meeting with the Redskins and about three quarters in the rematch.
In limited time, Vick registered a 100.2 quarterback rating, complete 62.6 percent of his passes, threw for 3,018 yards, rushed for 676, tossed 21 touchdowns, rushed for 9 others and only threw 6 interceptions.
Vick also had nine games in which he scored multiple touchdowns, which includes a six-touchdown performance against the Washington Redskins.
He finished the year with a 4-1 record in games decided by seven points or fewer, including the third installment of the Miracle at the Meadowlands. In the latest version, the Eagles trailed the Giants by 21 points with less than 8:00 remaining.
Vick engineered three scoring drives before DeSean Jackson capped the game with a 65-yard punt return to give the Eagles a 38-31 win.
All of the stats equated to an 8-3 record as a starter and probably would have gotten second place in MVP voting had Tom Brady not gotten all 50 votes.
I'm not even going to say Vick was the only option and the Eagles had to sign him because I think that's weak. They can sign whoever they want and they could have easily bailed on Vick if he played poorly in 2011.
But why put this guy through the ringer again? With a full preseason schedule to prepare with the team and the peace of mind to know he is the face of the franchise, one has to assume Vick only has to focus on playing instead of wondering if he will get a chance to start and that should lead to a quarterback who is purely focused on winning a Super Bowl.
Unfortunately for Vick, holding a Lombardi Trophy is the only way some people will accept his new contract.