Zach Parise: Why This Is a Make or Break Season for the Devils' Superstar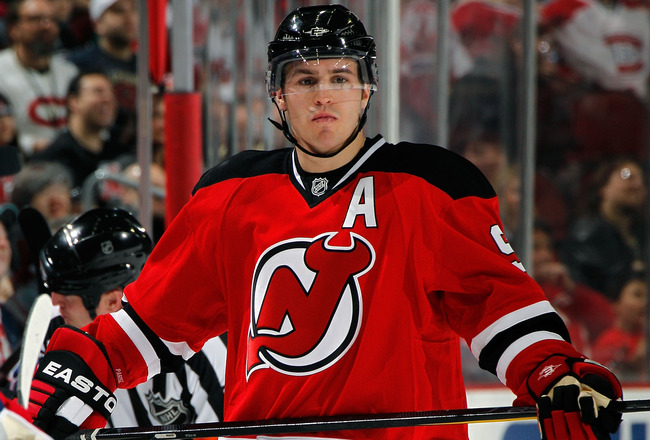 Paul Bereswill/Getty Images
After missing most of last season with a knee injury, signing a one-year, $6 million deal to stay in New Jersey and entering a contract year, Zach Parise has a make or break season in front of him.
While Parise is one of the best all-around players in the NHL, he still has to make that next step to become one of the NHL's elite. With Martin Brodeur in the last year of his contract and Ilya Kovalchuk trying to overcome last season's brutal first half, Parise needs to lead the Devils to a strong start and a playoff berth.
Parise is known nationally as an Olympic hero after he scored with 24 seconds left to send the gold medal game to overtime for the United States against Canada. Since then, the Devils have had a disappointing playoff exit in 2010 and a bad year last season.
It is time for Parise to show that he is a franchise player for the Devils to build around, and here is how he can prove to everyone in the NHL that he is capable of doing it.
What Would Qualify as a "Make" Season?
Alex Livesey/Getty Images
First, let's look at his regular season stats from previous years to determine what would be a "make" season.
2006-07- 82 games, 31 goals, 62 points
2007-08- 81 games, 32 goals, 65 points
2008-09- 82 games, 45 goals, 94 points
2009-10- 81 games, 38 goals, 82 points
Devils fans are hoping for a repeat of the 2008-09 season. I think if Parise matches his production from any one of these years, he had a good season. Remember, he is coming off of a season where he played in only 13 games, so he needs some time to get going again.
If Parise can put up these types of numbers again, he will be a coveted free agent if the Devils do not sign him to a long-term deal before he hits the open market.
To do so, he must shine through the following circumstances.
1. Returning from Injury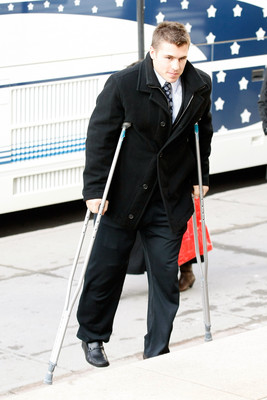 Richard Wolowicz/Getty Images
Without Zach Parise, the Devils struggled throughout the first half of the season before going on a tear through the second half of their schedule. While Parise was not the only reason New Jersey struggled, his loss took an emotional impact on the team in addition to the loss of skill on the ice.
Parise was named the Devils' team MVP in 2009 and 2010. His return to the Devils will be instrumental in their success this season. If Parise does not perform to his capabilities this season, the Devils are going to be a team on the outside looking in when it comes to the playoff picture. If Parise picks up from where he left off in 2009-10, the Devils will be a scary team.
Parise will also need to prove that he is fully healed from the torn meniscus in his right knee. It is imperative for him to show that this will not be a long-term issue and that he can return to being an 80-90 point player.
Not only does he need to overcome injury for his team, but overcoming the injury is important for the next reason.
2. Contract Year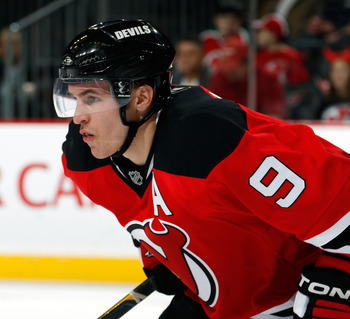 Paul Bereswill/Getty Images
Despite being injured for most of the 2010-11 season, Zach Parise was still given a $6 million contract by the Devils for this season. While this was a prudent move by the Devils, especially with their tight cap situation, this season will tell about Parise's future.
If Parise shows signs that his knee may be a lingering problem, his value on the open market will undoubtedly drop. If he puts up decent numbers, teams will give him the benefit of the doubt because of the possibility that he can produce 90 points again.
Parise cannot sign a long-term deal with the Devils until January. If he wants to stay in New Jersey, the Devils will do whatever it takes to keep their homegrown star. If he has no intention of staying with the Devils, a good season will give him many options regarding his next contract.
If Parise has another year like 2009-10, he will be paid handsomely by some team.
3. Can He Be the Captain?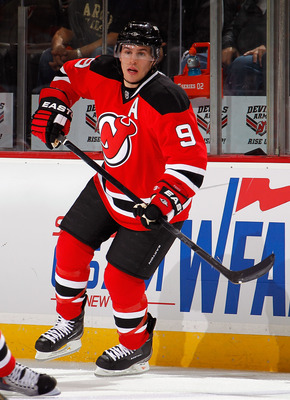 Paul Bereswill/Getty Images
Zach Parise has been an alternate captain of the Devils since the 2009-10 season. As Parise has grown, the Devils have become his team. Parise is the leader of the team, regardless of whether Ilya Kovalchuk makes more money or not.
Zach Parise would make a fine captain of the Devils. He has been clutch for his team and his country, and has the skill-set to awaken a team when they get off to a bad start. If Parise is named the captain of the Devils—which I expect he will—this will add to the pressure of this season for him.
If Parise can show that he can be a leader in the locker room, his worth to the Devils will be more than what he can do on the ice. Already a fan favorite, Parise will have full support of the organization if he is named captain of New Jersey.
4. Can He Overtake Ilya Kovalchuk as the Team's Best Player?
Bruce Bennett/Getty Images
The New Jersey Devils spent a lot to obtain Ilya Kovalchuk. Not only did they lose the pieces they traded to the Thrashers at the 2010 trade deadline, he also cost them a first-round pick when his contract was found guilty of cap circumvention.
In addition, his cap hit of $6.667 million until 2024-25 (whether he plays out the contract is a different issue) will hinder the Devils in their free agent spending for the foreseeable future.
Ilya Kovalchuk is a very good hockey player. His abilities—particularly his slapshot—force opponents to be aware of him at every moment of a game. Having said this, Kovalchuk does not make his teammates better. He has won one playoff game in his career, which says a lot about a player who scores at least 40 goals a year.
Players like Sidney Crosby and Pavel Datsyuk make their teammates better, which makes them elite. While Kovalchuk is good, he does not make his team better because of his abilities.
Zach Parise has to show that the team revolves around him. Kovalchuk may be the most talented skater on the Devils, but Parise's all-around game will be of more importance to the Devils next season. Parise needs to prove this to the organization so they understand that he will make Kovalchuk better, and not vice versa.
5. Is He a Franchise Player or Another Piece of the Puzzle?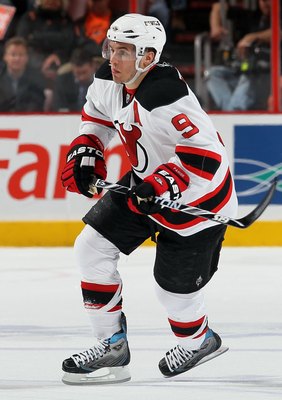 Jim McIsaac/Getty Images
Zach Parise was drafted by the Devils as a franchise player. He has given the Devils a consistent scorer to rely upon and has allowed them to play a more defensive style of hockey that they are not only used to, but thrive on. Parise and the Devils have seen great regular season success, but not playoff success.
A franchise player steps up in big situations for his team. Parise has played well in the playoffs, particularly in the 2007 and 2009 playoffs (10 points in 11 games and six points in seven games, respectively). However, the team has not done enough to make a deep playoff run with Parise on the team.
So while the Devils' lack of playoff success may not be Parise's fault, the question has to be asked as to whether he is another piece of a contender's puzzle, or a player a team can revolve their offense around.
As I said in the previous slide, Parise is the key to the Devils' offense. He is more important to the Devils than Kovalchuk, but this year will be his first full year with Kovalchuk. Parise needs to show once and for all that he can be the centerpiece of a team's offense, even with stars that are more skilled than he is.
Conclusion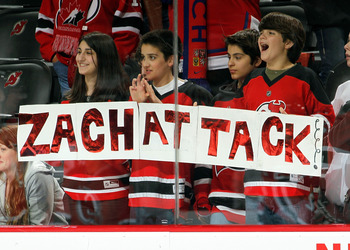 Paul Bereswill/Getty Images
Zach Parise is one of the most under-appreciated players in the NHL. Playing on a team that is rarely shown on national television and is overshadowed by their neighbors in the Rangers and Flyers, Parise is forgotten about by the casual fan.
After this season, when he is the crown jewel of next year's free agency class, people will come to appreciate the skills of Zach Parise and how important he is to a team.
All of this can only happen if he proves once again that he is capable of leading a team's offense and locker room by leading the Devils back to the playoffs.
Thanks for the read and feel free to comment.
Keep the military in your thoughts and prayers.
Follow me on the twitter- https://twitter.com/#!/robertdemmett
Keep Reading

New Jersey Devils: Like this team?