America's Games: Jets vs. Cowboys Pits America's Team vs. Rex's Dream Team

Are you ready for some football?
Eight weeks ago, it seemed unfathomable that the NFL would be up and running at this point in September. Talks between the owners and players were so distant and bitter, there was discussion of cancelling the entire preseason and the first half of the year, or even cancelling the entire 2011 season.
Thankfully, both sides realized the price of no football was too great a risk, and eventually the sides agreed to a new CBA, and with it, a new dawn.
Now that football is back, we are going to get a heck of a marquee match-up on Sunday night. New York's bright lights may not be enough to keep the glow on this match-up between the up-start, big mouthed Jets and America's Team, the Dallas Cowboys.
Rex Ryan, once again, has written a blank check for his New York Jets, stating that this is the best roster he has had in his three years as head coach, and that this team will win the Super Bowl this season.
Rex and his Jets stunned the world each of the last two years when the Jets advanced to back-to-back AFC title game appearances. While 2009 was mostly due to luck, (thank you Jim Caldwell for pulling out the Colts starters in Week 16), 2010 was a big statement year for the Jets. Victories over the Colts and Patriots in the playoffs proved that the Jets were a real player in the AFC.
However, a last ditch comeback against the Steelers in the AFC title game was not enough to make up for an empty first half as Gang Green lost 24-19.
The Cowboys, on the other hand, had a 2010 to forget. The Boys got off to a dreadful 1-6 start that led to the ouster of coach Wade Phillips. To add insult to injury, Tony Romo was lost for the year with a broken collarbone he suffered in a game against the Giants.
Still, there was reason for optimism in Dallas. Jason Garrett took over at mid-season, and Dallas won five of eight games to end the season. Now the Cowboys are healthy, and Jerry Jones is pumped up about the possibilities for this year's team.
It should be an exciting opener, so let's take a look at some of the key match-ups in this heavyweight clash.
Sub Plot of the Game: Brother vs. Brother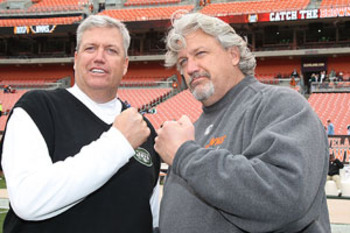 Rex Ryan can't wait for round 2 vs. brother Rob.
Last season we were introduced to a fun and interesting rivalry: Rex Ryan vs. Rob Ryan.
The two twins not only look very much alike (waist line included), but both have the gift of gab. I guess the acorn doesn't fall far from the tree.
When the Jets were set to square off against the Cleveland Browns, it was Rex who decided to take the first shot at his brother, coming out dressed in a wig and Browns sweat shirt, as well as a pillow underneath to make Rob looker fatter than he. It was a hilarious press conference, as Rex's version of Rob bestowed on Rex Ryan the virtues of a great coach and handsome man.
Rob's rebuttal? He strapped a lifting belt around his waist as tightly as he could to demonstrate he wasn't fat.
As for the game between Cleveland and New York, it was a classic. Both teams went deep into overtime tied at 20, and it appeared that the game would end it a tie until Santonio Holmes scored a game-winning touchdown to give the Jets a 26-20 edge.
If last year's game was any indication, we could be in for a real classic on Opening Day.
This season, Rob Ryan has fired the first shot, going after his brother's foot fetish.
"I mean, hell, he is a little freaky, I guess. I don't know. I like everything about it. My wife, she's got everything. She's got great feet, too. She's got everything nice. What the hell? Who cares?" Rob Ryan said.
"Look, believe me, everybody has whatever screwed up thing is going on. I don't care, I'm sure you do and everybody else points fingers. Who cares? Hell, everybody's got a life off the field and who really gives a crap? I'm sure I'm worse than he is. Big deal."
Maybe Rex will respond by coming to his press conference in bare feet—watch out!
DeMarcus Ware Must Wreak Havoc on the Jets Offensive Line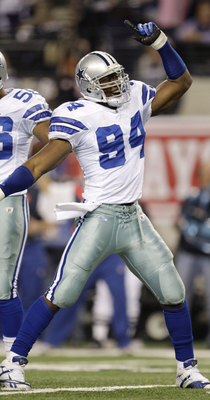 Jamie Squire/Getty Images
DeMarcus Ware is one of the NFL's top pass rushers, and he will key in on quarterback Mark Sanchez in this match-up. Covering Ware is no easy task for an offensive lineman; most of the time teams try to double team Ware but with little success.
Ware has an incredible motor and uncanny speed off the football. Last year, Ware had 15.5 sacks for the struggling Cowboys and has 80 sacks in his career.
Even though he will be blitzing from the outside, it will be the job of left tackle D'Brickshaw Ferguson to slow him down. Ferguson has steadily become one of the game's top left tackles in the game, giving up four sacks last season. The Jets as a team yielded only 28 quarterback sacks.
How the Jets cover Ware will be the key to determining who wins this game. With Rob Ryan now coaching the Boys defense, look for him to blitz Ware early and often, and don't be shocked if Ryan moves Ware around the line to add further confusion for the Jets.
For as good as the Jets offensive line is, expect Ware to get to Mark Sanchez a couple of times on Sunday night.
Tony Romo Must Show He's 100 % Healthy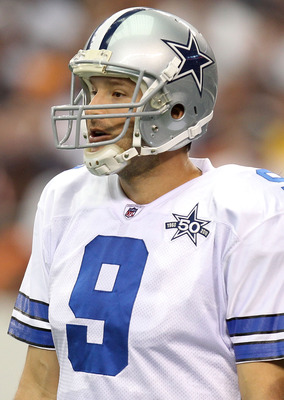 Ronald Martinez/Getty Images
Last season was a total nightmare for Tony Romo. After being part of a hideous 1-4 start to the 2010 season, Romo suffered a broken collarbone in a Monday night loss to the New York Giants, ending his season. While Romo stood on the sideline, he watched his coach get fired, and then saw Jon Kitna play admirably in the final eight weeks of the season as Dallas finished 6-10.
For Romo this game represents his chance to show the NFL his return as one of the game's top quarterbacks. Ever since taking the Dallas starting QB job, Romo has been under intense scrutiny, labeled as a loser because he has yet to win a playoff game, let alone win a really big game for the Cowboys late in a season.
Before the injury Romo was having a very good season. He had over 1,600 yards passing and had completed 69 percent of his passes with 11 touchdowns to seven interceptions. It was not like Romo wasn't playing well, the Cowboys defense was putrid.
Facing the third ranked Jets defense will be a big test for Romo, who must play extremely well this season. The Jets don't feature a ferocious pass rush, so, in all likelihood, Romo will be upright for most of the night, and if he remains on his feet, it will be fun to see how Romo handles the Jets secondary, one of the best in the NFL.
The Jets secondary is healthy this year, with Darrell Revis a year removed from a strained hamstring, and Jim Leonhard fully recovered from a broken foot. Antonio Cromartie is entering his second season with Gang Green, and Eric Smith had a terrific preseason. This will not be an easy group to pass against, and certainly a secondary that Romo is not used to seeing.
Romo likes to air it out, but he might be best served by checking down, keeping his passes short, while asking his talented receivers to make the plays themselves.
Marquee Match-Up: Miles Austin vs. Darrelle Revis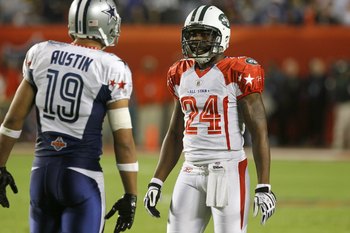 Scott Halleran/Getty Images
Darrelle Revis has developed the reputation as the No. 1 cornerback in the NFL because of his ability to shut down opponents' No. 1 receivers. Even though he had a down year in 2010 thanks in part to a hamstring injury he suffered in Week 2, after a lengthy holdout, Revis still managed to cause problems for opposing offensesm, as nobody wanted to throw in his direction.
Now Miles Austin will be the latest to take on Revis Island. Austin has become the Cowboys top wide receiver, after a break out 2009 campaign that saw Austin haul in 81 passes for 1,320 yards and 11 touchdowns.
Even last season, Austin put up solid numbers, but without his favorite quarterback Tony Romo under center, his numbers dipped a bit. Facing Revis will be the toughest challenge Austin has faced to date. Revis loves playing in tight coverage, and even though he's smaller than most of the receivers he covers, Revis is very physical and has a great nose for the football.
If Revis does to Austin what he has done to the likes of Randy Moss, Reggie Wayne, and Chad Ochocinco, the Cowboys will have to look to other means to win this game, i.e., Jason Witten or Felix Jones.
Look for Revis to have a solid game, en route to a repeat of his super 2009 season.
Food for Thought: Keep in mind that Antonio Cromartie will be up against Dez Bryant. Bryant was having a brilliant rookie year in 2010 before he got injured and missed the rest of the season. Bryant has tremendous speed, and matched up against Cromartie, who has a tendency to draw pass interference calls, could be a boon for the Cowboys.
Re-Establish Tony Romo to Jason Witten Tandem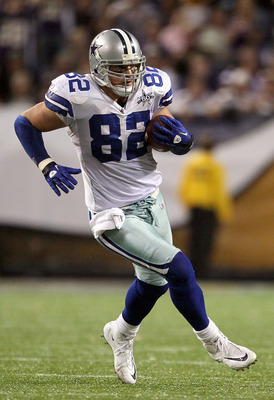 Jeff Gross/Getty Images
One weakness that is prevalent in the Jets defense is the middle of the field. The Jets do such a great job covering wide receivers that, at times, tight ends can be wide open. When teams found ways to beat the Jets defense, it was usually in the middle of the field with a running back, a tight end, or a slot receiver.
The Cowboys have one of the league's best pass-catching tight ends in Jason Witten, so look for Witten to be Tony Romo's go-to-guy on Sunday night.
In the first six games of last season, Romo to Witten was not a common occurrence; Romo seemed to favor the Cowboys 2009 break out receiver Miles Austin. After Romo went down, Witten became the focal point of the passing game again.
Romo will have to re-establish that chemistry with Jason Witten, and Sunday night would be the opportune time to start. Witten is a guy who can dominate a football game with his size, decent speed, and strength in the red zone. Witten is a very difficult guy to cover, and the Jets will have to find a way to put a nickle or both a nickle and safety on this guy if they want to slow him down.
Felix Jones Has to Show That He's the Man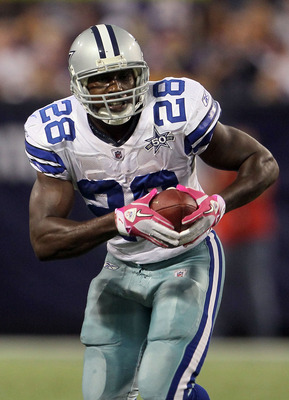 Jeff Gross/Getty Images
The Cowboys running attack in 2010 was dreadful. Ranked 22nd in the NFL with 105 yards per game, the Cowboys need Felix Jones to step up and become the 1,000-yard back for which they have been waiting. Jones led the team with 800 yards but reached the end zone only once in 2010, while former Cowboys Marion Barber scored four touchdowns, and Tashard Choice scored three TD's.
The running now belongs to Jones, a guy who has always had explosive potential but never had lived up to it thanks in part to the Cowboys' lousy offensive line play. The Cowboys offensive line is pretty young and could be vulnerable to a Jets defensive line that was third against the run last year.
Still there are holes the Cowboys could take advantage of: last year, in the AFC title game, the Steelers exposed the Jets defense by smashing it down in the first half, as Pittsburgh opened up a 24-0 lead.
Granted the Jets D-Line has some young pieces in Muhammad Wilkerson and Kendrick Ellis, but the Jets still get enough pressure up front from David Harris to Sione Pouha, Bart Scott and Ropati Pitoitua, who I think will have a big season, to create problems for the Boys running attack.
If the Cowboys win this football game, they will need their offensive line to get past its problems and allow Felix Jones to run wild. For his part, Jones has to deliver, especially if Dallas plans on having a more balanced attack this year.
Plaxico Burress' Impact in First Regular Season Game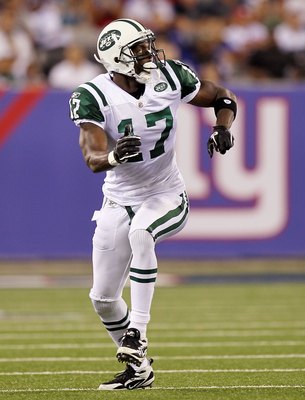 Jim McIsaac/Getty Images
Guess who's back!
Plaxico Burress had a decent preseason in his first game action since serving a two year jail sentence for illegal gun possession in New York City. Burress had a touchdown reception against the Bengals and showed that he can still make the catches down the sideline. However, there were times he got out matched physically by the opposing cornerback; e.g., he was held without a catch in the Giants game.
The Jets brought Burress into town with the hope that he could be the deep threat they need to stretch the field, as well as be a tall presence inside the red zone and goal line situations. Even though a small sampling of preseason action showed that Burress has something left in the tank, nobody knows for sure how he will do in a full game, let alone a season.
The Jets are going to ask Burress to make some plays in the football game. Look for Mark Sanchez to try to stretch the field with Burress down the sideline; it will be interesting to watch, considering Burress missed a lot of balls that came his way down the sideline this summer. That's a trend the Jets hope doesn't continue.
Fans expecting Burress to have a break-out game on Sunday should temper their enthusiasm, but look for the former Giant to have a big impact in the red zone, where he could be lethal all season.
Shonn Greene Has to Show He's a Feature Back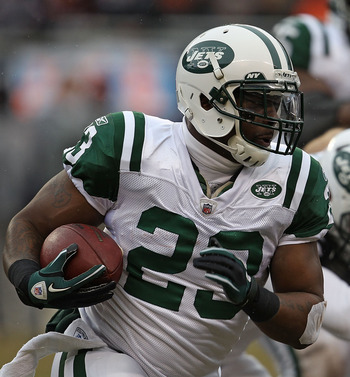 Jonathan Daniel/Getty Images
2011 is the year when Shonn Greene has to become the No. 1 running back for the New York Jets.
Last year Greene was supposed to be the Jets featured back, but a slow start allowed LaDainian Tomlinson to grab the starting job since Tomlinson led the way for 904 yards rushing for the Jets. Still Greene came on big in the second half of the year, including rushing for 198 yards in the playoffs.
Greene is a powerful runner with a nice burst of speed, who can blast through tackles. This summer, Greene has stepped up his game to become the unquestioned starting running back for the Jets. In this game against a Cowboys run defense that didn't live up to par last year and in the first full game under Rob Ryan, Greene could have a big impact on the outcome of the night.
The Jets may have added a lot of big name wide receivers, but Rex Ryan's bread and butter is to ground and pound. If the Jets have a lead into the second half, expect to see a heavy dose of Shonn Greene.
Mark Sanchez Must Take the Reins of the Offense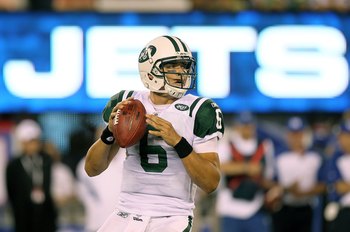 Jim McIsaac/Getty Images
This is supposed to be his year.
For two seasons the Jets advanced to the AFC title game despite of the play of Mark Sanchez. While Sanchez showed a lot of improvement in his sophomore year thanks in part to the presence of Santonio Holmes and Braylon Edwards, he still completed only 54 percent of his passes.
Sanchez is in the third year of his career, the year when most young quarterbacks take the next step up to an elite level.
Sanchez has all the tools around him to become a solid NFL quarterback. He still has Holmes to target, as well as Burress and Derrick Mason. He has a solid offensive line and good ground game. Now he must deliver the goods.
No one should question Sanchez's desire or leadership skills. He displayed great leadership abilities in the off-season when he orchestrated workouts for his teammates during the lockout. However, there is the question whether this guy will really become a top quarterback.
Sanchez has to show that he can be more patient in the pocket as well as more accurate when delivering the ball. A lot of times, Sanchez was rescued by the athleticism of Holmes and Edwards on passes that floated on him.
This preseason Sanchez showed some better decision making, throwing three touchdowns to zero picks, including zipping a 17 yard pass to Holmes for a touchdown against the Giants.
It should be interesting to see how Sanchez performs against a defense that is still trying to figure out the 46 Defense, which Rob Ryan has installed. That being said, there should be no surprises for Sanchez, since he sees the 46 every day at practice.
The Cowboys secondary is fairly young, and the real key for Sanchez is to find a way to avoid getting hit by DeMarcus Ware. If Sanchez protects the football, it will go a long way to getting his season off on the right foot.
Jets Have to Get a Pass Rush Going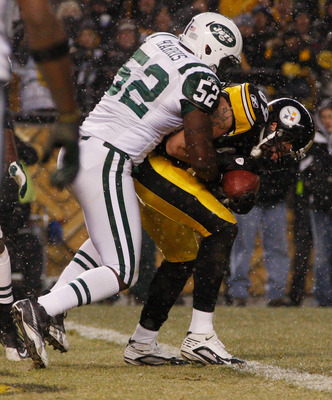 Jared Wickerham/Getty Images
The biggest concern for the Jets as they prepare for the Dallas Cowboys is their pass rush. The Jets had only 40 sacks last year, an improvement from 32 the year before, but still nothing to write home about.
The Jets enter 2011 without a legit pass rusher on this football team. Calvin Pace has not lived up to his contract, recording only 5.5 sacks last year, and during his tenure with Gang Green, he has yet to become the dominant pass rusher the Jets thought they were signing.
Bryan Thomas has underwhelmed during his career with the Jets, and New York is missing its best pass rusher, Shaun Ellis, who signed with the Patriots.
The Jets are hoping that rookies Kendrick Ellis, who will be seeing time at nose tackle and Muhammad Wilkerson, who will see time at both nose and defensive end, will provide the kind of push up front to get pressure on the quarterback. Wilkerson has been pretty impressive this summer.
Then there are the Jets middle linebackers: Bart Scott and David Harris. Scott was supposed to be a ferocious middle linebacker who could pressure the quarterback and stop the run. Turns out Scott's tongue is bigger than his bite, as he has proven to be the most overrated signing by the Jets in years.
Harris is not really a blitzing linebacker; in fact, he is best utilized against the run, but it would be nice to see him blitz more often.
In short, if the Cowboys young offensive line holds up against the Jets weak pass rush, it could be a long evening. The Jets have to get a pass rush going not only to win this game, but to set the tone for the season.
The X Factor: Santonio Holmes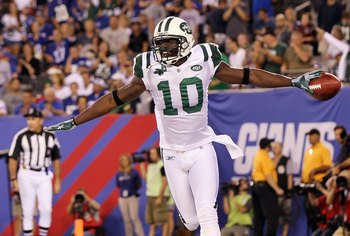 Jim McIsaac/Getty Images
If there is one player on the field Sunday night who could make all the difference, it might be Santonio Holmes.
Holmes is a game changer. Last year, he rescued the New York Jets numerous times with game winning scores against Cleveland and Houston, and he caught a huge pass in Detroit to set up a game-winning field goal. Holmes even had the go-ahead touchdown in Foxboro last year in the playoffs.
This guy is Mr. Clutch and very hard to cover. The Cowboys will try to double team Holmes by throwing bump and run coverage on him to get him off his game. If the Jets are looking to take the lead late in this contest, everyone knows where Sanchez will be throwing the football—to Santonio Holmes.
Whatever happens Sunday, Holmes will surely be in the middle of it.
Oy Vey! Special Teams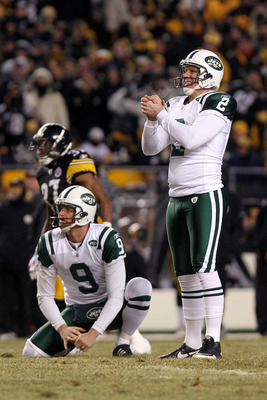 Nick Laham/Getty Images
Dallas Cowboys fans know about Nick Folk. They know enough that they'd like to forget him. Jets fans know enough about him, too.
Truth be told, neither David Buehler nor Nick Folk gives either the Cowboys or Jets a lot of confidence heading into this game. If it comes down to a field goal, fans of either team will simply apply a pillow over the eyes so they don't have to watch.
Folk missed nine field goals last year, connecting on only 76 percent of his kicks. When he was with the Cowboys, Folk converted only 64 percent of his field goals before Jerry Jones gave him a pink slip.
For some odd reason the Jets decided to bring Folk back which made no sense, but he is not the only concern for Jets special teams. The Jets lost Brad Smith, their dynamic kick return guy, to free agency, and Jeremey Kerlley is expected to take over in that slot.
Kerlley didn't exactly distinguish himself in camp from a kick return standpoint. In fact, the Jets longest return came from Antonio Cromartie.
As for Dallas, Buehler is no better. He converted only 75 percent of his field goals, missing eight field goals, and two extra points.
This is going to be interesting. Both kickers better hope there isn't a strong wind on Sunday night.
Would the Jets Force Dallas to Wear the Blue Jersey?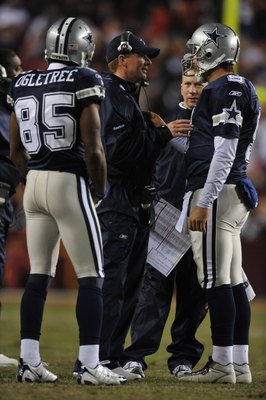 Larry French/Getty Images
OK, I am not the fashion police, but the Dallas Cowboys usually have a lot of difficulty whenever they wear their blue jerseys on the road. Apparently it is some kind of jinx that the Cowboys believe in since the team has a losing record while wearing the shirt—which partially explains why they always wear their road whites at home.
If you want an example of how cursed the jersey is, when Dallas wore that jersey in 2008, they lost to a St. Louis Rams team that had won two games all season. That's pretty cursed! Dallas didn't wear the blue jersey at all last year which didn't make much of a difference since Dallas still struggled.
The Jets have worn their road whites for their home opener each of the last two seasons, including two games against the Patriots and are are 2-1 while wearing white at home under Rex Ryan in September. So why not continue with a good thing and wear white against Dallas?
Who Will Win?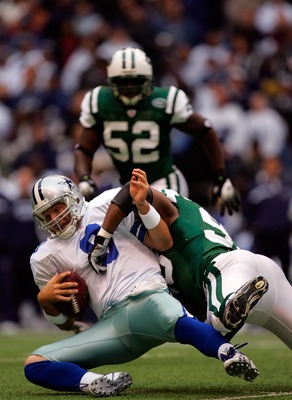 Ronald Martinez/Getty Images
Series history: Dallas leads 7-2.
Last meeting: Thanksgiving Day, 2007. Cowboys 34, Jets 3.
Last Jets victory: December 1999: Jets 22, Cowboys 21.
On paper the Jets have an advantage over the Cowboys because of Dallas' young offensive line and the new defensive scheme they are trying to implement in Big D.
With only a few weeks to learn the 46 Defense, the Cowboys defense will be pretty spotty early in the season, which could hurt the team's long term playoff chances. Still, with DeMarcus Ware and Anthony Spencer manning the outside, the Cowboys defense could show improvement quickly if these two do what they do best.
The Jets should take advantage of the Cowboys young secondary, with Derrick Mason proving pivotal on third downs in the middle of the field, and Plaxico Burress and Santonio Holmes proving valuable in the red zone.
Still, the Cowboys are going to hang around in this game. If the Jets don't get much pressure on Tony Romo, he will pick apart the Jets in the middle of the field with a heavy dose of Jason Witten, Dez Bryant and Miles Austin coming across on slants. Don't expect Dallas to run the ball well in this game because of the inexperience of their offensive line, and the fact the Jets usually do well against opposing ground attacks.
This game will come down to the final minutes, and the Jets will find a way, 20-17.
Keep Reading

New York Jets: Like this team?