50 Best College Football Tweets from Opening Weekend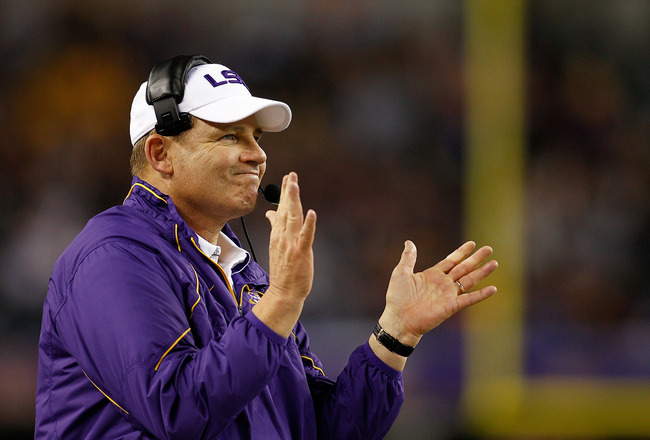 Chris Graythen/Getty Images
There were a lot of headlines this week in college football.
Whether it was the weather across the country, the on-field performances of some great teams or the passing of a legend, Twitter was blown up with college football fans, analysts and players from around the world.
Here is a compilation of the 50 best tweets from opening weekend from fans, players and analysts.
It's Back!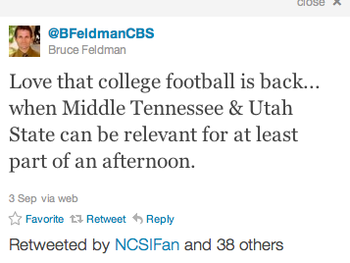 College football season is back! It's the best time of the year, even for the little guys!
Best Time of the Year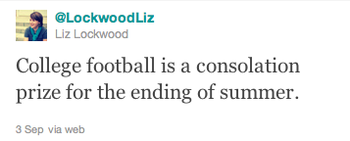 Poking Fun at Notre Dame's Turf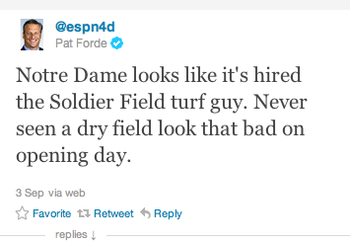 Notre Dame's turf was not in the best of shape during the opener. Maybe God thought the same thing, as he brought it some much-needed rain!
Jim Tressel Suspended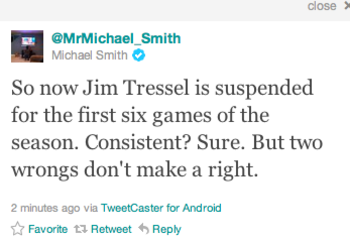 Although this is more NFL news at the moment, it is still a very interesting piece of news on the NCAA front, as this suspension came as a result of the violations at Ohio State.
Lee Roy Selmon Passes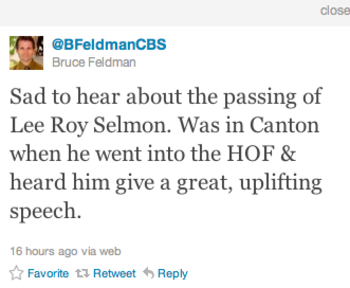 This Oklahoma great passed over the weekend. He was a terrific defensive lineman both in college and in the NFL and had a great career. Selmon will be missed by the football community.
Robert Woods' Performance Impressed Bruce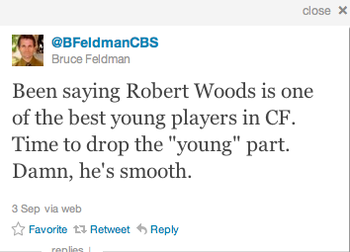 Robert Woods, the USC sophomore wide receiver had a huge game against Minnesota in the Trojans win. Woods had 17 receptions for 177 yards and three touchdowns.
Kenny Stills Chases for Eight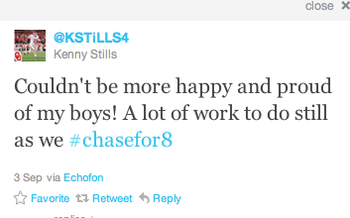 The No. 1 team in the nation, Oklahoma's wide receiver Kenny Stills is ready to win the schools eighth national title.
They started off well in their opener against Tulsa 47-14.
Erin Andrews a New DE?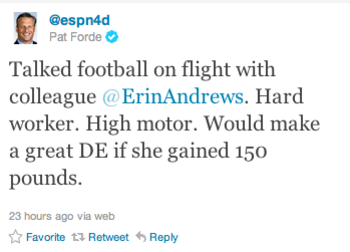 Pat Forde enjoyed a nice flight with EA. What a lucky man.
The Catch of the Weekend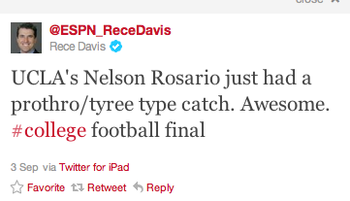 Nelson Rosario made a nice catch this weekend that was No. 1 on SportsCenter's Top 10 for Saturday.
The catch featured him catching the ball one-handed and bringing it down behind his opponents back pinning it to his opponents shoulder pads.
Skip Bayless Giving Moore Some Love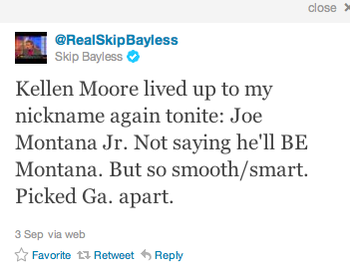 Kellen Moore really did pick apart Georgia. He threw for 261 yards and three touchdowns on the day against a SEC defense, not too shabby.
The Craziness of College Football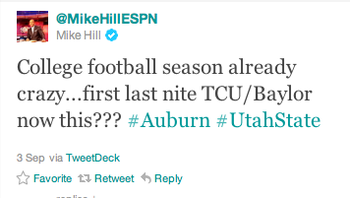 College football always has exciting finishes, and it has started early, look what Mike Hill had to say.
Allegations over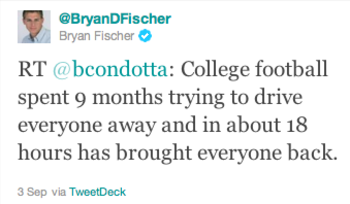 Through the offseason, college football has been marred by wrong doing, but it seems as though fans have somewhat forgot about that for now and are excited for the season!
Miami Player Doesn't Want You To Forget about He U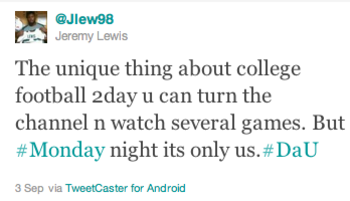 Although the U is having some problems at the moment, they were in action all alone on Monday night.
Notre Dame Take a Shot from Skip Holtz and the Bulls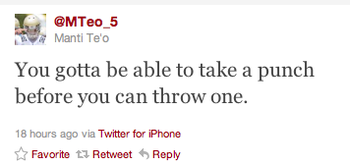 Manti Te'o expressed his optimism for the season with this tweet. Not sure it's a true saying, but definitely a sign that the team is not giving up.
Keenum Getting Some Love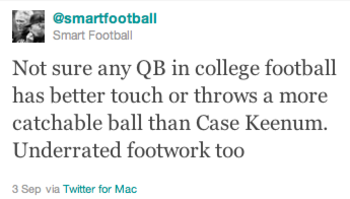 The senior quarterback for Houston was shown a lot of love after his performance yesterday. He was 30-of-40 with 310 yards and two touchdowns on Saturday.
UFC Fighter Aaron Simpson Is a Fan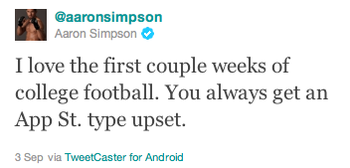 Aaron Simpson loves a good upset, only a few this week, but still some great games!
Notre Dame Loses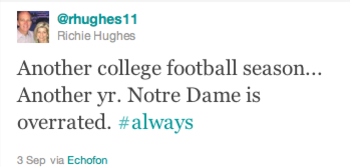 Richie seems to believe that Notre Dame is always overrated, maybe a little this season, but the first game is always a struggle.
Change the starting QB and you have a whole different outcome.
Fake Bill Walton Criticizes America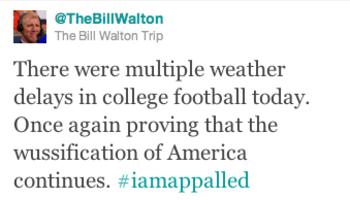 Although this account really has no prevalence, it's a very humorous tweet.
Football Season!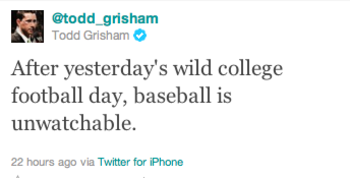 It's very true that after a summer full of baseball the change of pace to football season has begun.
For the average sports fan, it's hard to go back to the slow-paced game, unless of course, your team is in the hunt.
I Guess the Weather Was Good in Oklahoma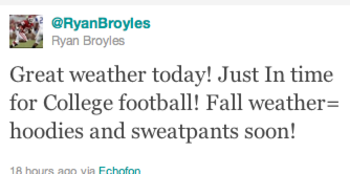 Despite the weather across the Midwest, it is turning fall, as Ran Broyles points out.
Interesting Stat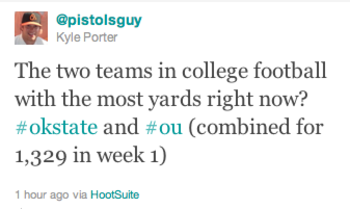 It's amazing that one state can house two of the most powerful offenses in the game. Is Oklahoma the new Florida?
A Pick That a Lot Are Making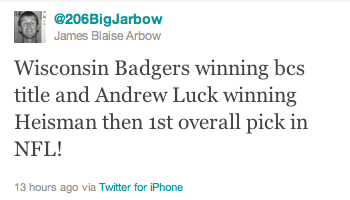 Here is a pick that a lot of people are making right now. Who knows if it is true, only time will tell, anything can happen in college football.
Another Evacuation

This seems to be the story of the weekend in college football, the weather.
Yet Another Notre Dame Joke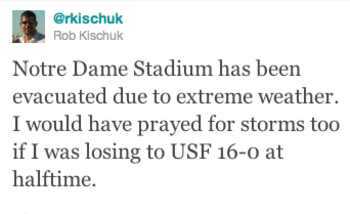 Notre Dame had some serious issues in the game against USF.
The fact that they are sponsored by the church made it a perfect opportunity to joke.
Rosenberg Pokes Fun at Baseball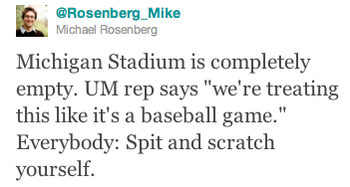 After the University of Michigan released a statement referencing baseball, he had a little fun.
Leah Thinks That WVU Only Scores Between Lightening Strikes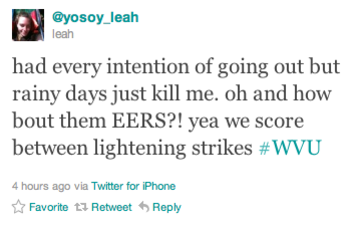 One of the few games that were on Sunday night was also delayed by lightening, it caused some serious commotion, as ESPN reported a direct strike on a fan, that later turned out to be unfounded.
Iowa Starts with a Win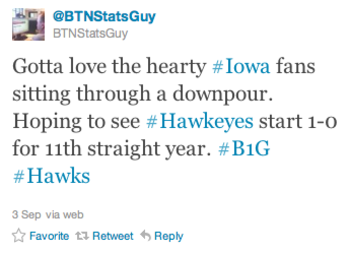 Through the harsh weather that came down on Iowa City, the Hawkeyes came out on top, I guess birds are affected by wind and rain.
Purdue's Tribute to One Who Lost His Life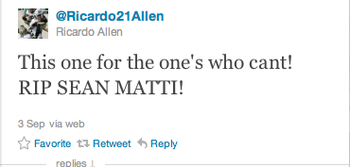 Purdue running back Sean Matti lost his life over July 4th weekend. Purdue remembers him.
Alabama Prepares for Penn State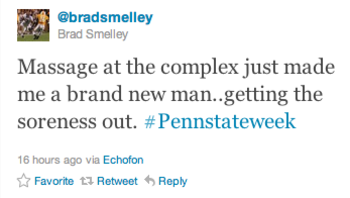 There is a huge matchup between conference next week, and Alabama seems to be looking forward to it. Especially after massages.
Baylor Fun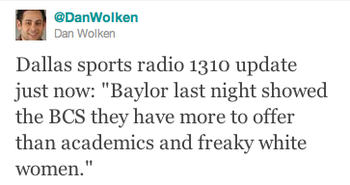 Dan Wolken makes a little joke about Baylor.
Fake John Madden Account Doesn't Think ND's Offense Is Very Good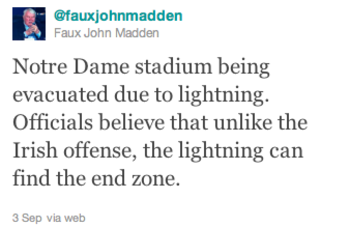 This tweet was posted before halftime, when Notre Dame had three turnovers in the red zone and had failed to score yet.
Dominique Whaley Surprises Everyone Except Stoops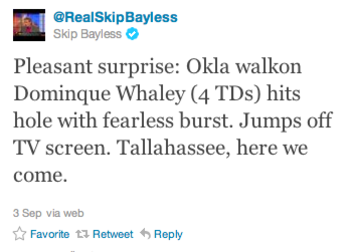 Oklahoma walk-on Whaley scored four touchdowns in what was a huge surprise for both fans and analysts. Looks like OU has yet another star in their program.
Baylor Game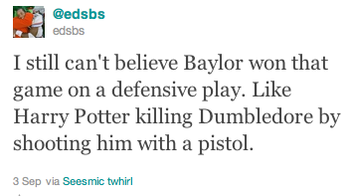 After such a great offensive game, a defensive play won this game. This is definitely a different analogy.
Lollapalooza?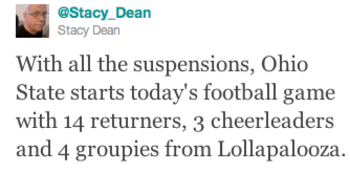 This tweet is quite hilarious and self explanatory.
Mad Hatter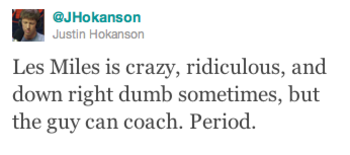 He eats grass, and is very entertaining, but is a great coach.
Roll Tide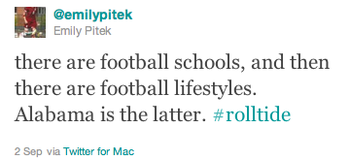 When someone mentions a college football fan, I picture Alabama.
A Different Type of Trophy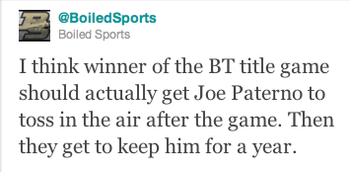 This user suggests a new type of trophy for the Big Ten title.
Didn't He Coach Jesus?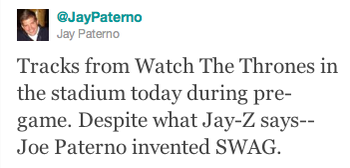 Joe Paterno can be described with a lot of adjectives, but swagger just doesn't come to my mind.
BURNNNNNN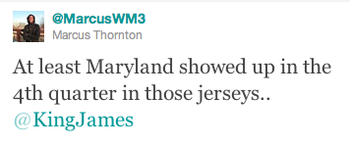 LeBron tweeted about the Maryland jerseys, and he was caught in harsh reference to his playoff performance.
A Great End to the Weekend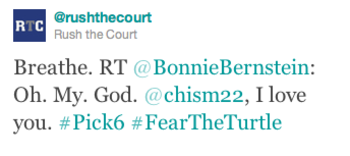 College football ended just like it started, in wild fashion with a Maryland victory against the University of Miami.
Another Uniform Joke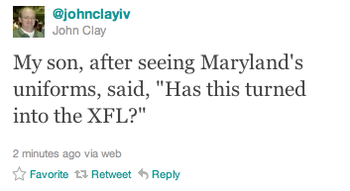 I just had to put this one in here; it brought back so many great memories!
Maryland Helmets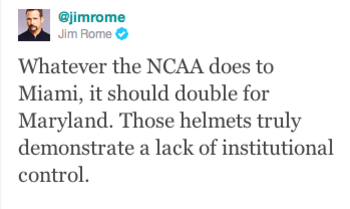 Says the guy with that mustache.
Schefter Agrees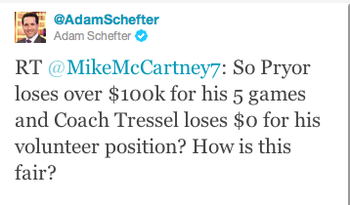 A lot of folks were calling for the suspension, but this brings up a whole new point.
Why We Love the Game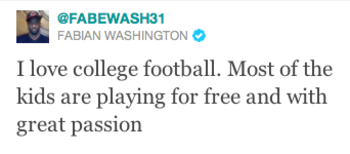 For a lot of fans this speaks to why they love the game so much.
The Buzz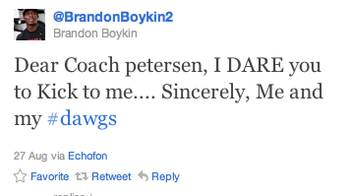 This was by far the biggest tweet of the week and brought up a whole wave of controversy over players using Twitter to talk trash about opponents.
Oregon Love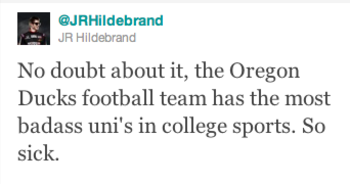 Although they didn't play well against LSU, Hildebrand still loves their jerseys.
Boise the Real Deal?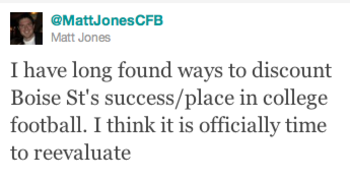 A lot of people have stopped doubting Boise State after their impressive defeat of Georgia.
Maryland Uniform "Swag"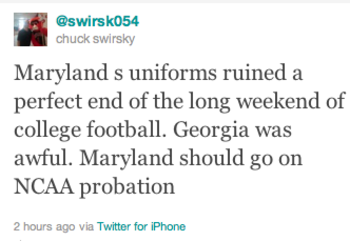 Seems like the Maryland uniforms have about as much swag as Joe Paterno.
Twitter People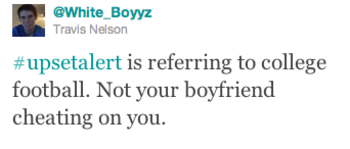 A lot of people on Twitter have never watched a college football game in their life, explains the confusion.
Dr. Lou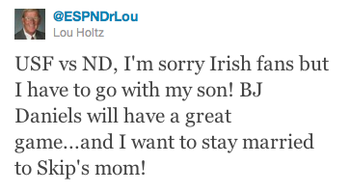 Yes Lou Holtz knows how Twitter works, I know shocker. He was in a tough bind this week though, as his Irish took on his son.
@JamesEvens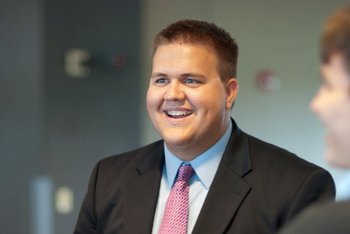 Keep Reading