Liverpool News: Latest News, Updates, Rumours and More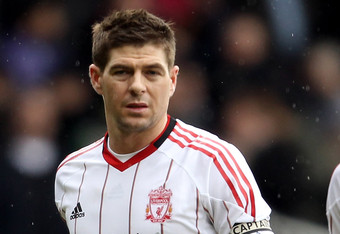 Scott Heavey/Getty Images
The Liverpool Reds are major threats in the table chase.
After the transfer window expired last week, the Reds are in prime position to take down Wayne Rooney's Manchester United Red Devils.
The Reds acquired veterans who desperately need to make an impact now to redeem their careers.
Craig Bellamy was the biggest acquisition, as he returns to Liverpool to pump much-needed adrenaline throughout the club. The Reds are hoping his teammates feed off his intensity and that he can score goals quickly in limited playing time.
Sebastian Coates, Copa America's 2011 Best Young Player, is the most intriguing acquisition. He's just 20 years old, poised for an exciting career. The Reds should reap the benefits as he continues to progress.
It was the stars that left Liverpool that made the biggest noise. The Reds finally parted ways with Raul Meireles, as they dealt him to Chelsea. David N'Gog was sent to Bolton and they let Joe Cole mosey on over to Lille on a loan.
Cole is an interesting project. Liverpool hopes he can regain form with Lille and come back to do damage many envisioned on the pitch.
Despite the departures, Kenny Dalglish and the Reds are generally happy. The only loss that could end up biting them is Meireles, but he is currently injured and wouldn't serve much of a purpose except being a cheerleader on the sidelines.
The Reds needed help on the pitch, and they received it. Manchester United can't be happy when looking up and down Liverpool's club, because they have the striking talent and defense to put a stop to Rooney's heroics.
The transfer window is closed, but we're still going to be locked into everything and anything happening with the Liverpool Reds. From updates on the table chase to the latest news and rumours, we'll have all the exhilarating gossip and analysis to fill your Liverpool needs.
Denis Doyle/Getty Images
Raul Meireles made a deadline day move to play under Andres Villas-Boas. The reuniting of him with his former boss made him jump for the switch to Stamford Bridge.
Meireles told Chelsea's website that, "I knew that I didn't want to leave Liverpool, [But] when I knew that Chelsea and Andre wanted me, it convinced me. It is only because he wanted me."
While his creativity and versatility in the midfield will be missed Liverpool's new boys have more then what is necessary to fill the gaps.
New signings of Stewart Downing and Charlie Adam fill some of the void that Meireles has left.
Downing is a player who uses his speed on the wing to get himself just enough space to pick that final pass to send a player in. He is a player who many do not appreciate what he brings to the table but silently goes about his business and impresses every coach he plays under.
Charlie Adam is a hard nosed English player who alongside Steven Gerrard (when he comes back healthy) will pull the strings in the midfield. Adam like Meireles has the ability to spray the field with passes but his shot from long range is of equal with the Portuguese midfielder.
Those important goals that Meireles scored will be there but will be scored by a player with a different name on the back of the shirt.
Raul Meireles left Anfield for Stamford Bridge due to his desire to play under Premier League new boy Villas Boas. His talent is certainly unquestionable but his loss is certainly one that can be coped with.
The Anfield faithful just has one more step to go to dealing with his departure and that is to pick a chant for the Chelsea match on May 5th when Raul Meireles makes his return.
This article is
What is the duplicate article?
Why is this article offensive?
Where is this article plagiarized from?
Why is this article poorly edited?
Michael Regan/Getty Images
England coach Fabio Capello criticized Andy Carroll this week for his lifestyle. Is this something that Liverpool FC will need to keep an eye on?
It is a tricky answer. His lifestyle being a footballer is obviously under the microscope and it has been quite scandalized for the papers as they need to fill their pages with stories.
Capello cautioned Carroll but he is the England manager and it is not their physio's and team that the young striker deals with day in and day out.
Liverpool FC manager Kenny Dalglish decided to speak out today about Carroll's fitness and lifestyle, which Capello put into question. Dalglish said, "His fitness would stand up against anybody's. I don't think his lifestyle is anything like you want it to be to write a story."
Andy Carroll has gotten the nod from his manager and this should be enough to put the Reds supporters at ease.
Andy Carroll will play a pivotal role in Liverpool's success this season because of his footballing capabilities. He is a perfect balance to Luis Suarez due to his hold up ability.
While Suarez is using his craftiness and making runs and stretching the backline Carroll will use his strength and ability to play with his back to goal to bring his teammates into the play.
The two as a pairing up top have the capabilities to truly test any backline in the Barclays Premier League.
While Carroll's abilities cannot be argued the young striker will need to continue to prove his critics wrong. Any failure he has will be linked with the lifestyle that papers love to target.
Andy Carroll will be asked to take on a bit more of a supporting role to Suarez this season and this is going to be why his first full season with the Reds will be a success. It will also be why he may be able to slide out of the limelight a bit and the target for the time being might find itself on someone else.
This article is
What is the duplicate article?
Why is this article offensive?
Where is this article plagiarized from?
Why is this article poorly edited?
Bryn Lennon/Getty Images
Liverpool skipper Steven Gerrard will be in street clothes no more.
The Anfield giants went through the entire preseason and campaign start without the 31-year old Englishman, but all that changes this week.
According to Mirror Football:
Steven Gerrard returns to action this week, desperate to join the Anfield revolution.

The Liverpool skipper has ended his injury rehabilitation and can now resume full contact training.

And the midfielder – who insists he will come back stronger and fitter than ever – can't wait to contribute to the buzz surrounding the club after massive investment from their new owners and the return of Kenny Dalglish.
Who wouldn't?
Liverpool, owner John Henry and Dalglish snapped up a number of big name players - especially in the midfield - and the final missing piece is the skipper himself.
Newly acquired Craig Bellamy will certainly put a smile on Gerrard's face and his new running mates in the midfield - Jordan Henderson, Stewart Downing and Charlie Adam - have all shown great potential so far this year.
The Reds defensive woes aside, adding Gerrard to the attack force through the midfield and up to Luis Suarez, Andy Carroll, Dirk Kuyt and Bellamy will be a handful for squads to compete with.
The Merseyside lifer brings the final element needed by Liverpool to make a run at Manchester United, Manchester City, Chelsea, Tottenham and even Arsenal.
With Gerrard fit the Gunners would have a hard time keeping up with the Reds though.
It won't be an overnight fix, but this side will come together in near future and the Liverpool faithful will be very happy with what they see.
Kenny Dalglish will have to come up with the best combination of players to make it happen though. Carroll has not shown the ability to keep up with the pace of Suarez so far and he has to show more than just the ability to use his head.
With Gerrard on the pitch Dalglish has one less decision to make.
This article is
What is the duplicate article?
Why is this article offensive?
Where is this article plagiarized from?
Why is this article poorly edited?
Paul Gilham/Getty Images
Expect Craig Bellamy to emerge as Liverpool's best acquisition from this summer's transfer window.
Bellamy will thrive with the Reds in his second stint in Anfield thanks to Captain Steven Gerrard, who has already given the veteran his blessing.
"'I'm delighted that Craig is back - I didn't want him to leave in the first place,' Gerrard told the Liverpool Echo. 'That pace and the fiery character he's got will help us in our push for success this season…

He's very knowledgeable about the game and I know even though he's slightly older than me he will still want to learn and do well here. I'm sure he will be desperate to play for Kenny. He will have watched Liverpool from the outside like me in recent months and seen a lot of positive things. He will be excited to come back and we're glad to have him back," Gerrard said according to ESPN's Soccernet Staff.
Gerrard's leadership will pave the way for Bellamy to enjoy a career renaissance this time around in Liverpool. Bellamy is determined and highly motivated to resurrect his career and Liverpool was the perfect landing spot.
Liverpool was looking to get rid of Raul Meireles after he was sidelined with a collarbone injury. Bellamy will now be relied upon as a spark plug for this offense and he certainly has the striking capabilities to be a difference-maker.
More importantly, it is his intensity that will drive Gerrard and his teammates to the best of their abilities. With Bellamy, the Reds will play above and beyond their talent as they make a run to the top to take out Wayne Rooney's Manchester United Red Devils.
Bellamy will enjoy much success because he is not going to be relied upon to carry the club like he was in his first stint. He is still in phenomenal shape and is a hard-worker, but Liverpool's other talented pieces—Jordan Henderson, Charlie Adam and Jose Enrique—will leave Bellamy as an afterthought, which will allow him to wreak havoc and mayhem on the pitch.
This article is
What is the duplicate article?
Why is this article offensive?
Where is this article plagiarized from?
Why is this article poorly edited?
Clive Brunskill/Getty Images
Sebastian Coates is now the Liverpool Reds' most intriguing player moving forward.
Despite the grand veteran talent filling the club, all eyes are on the monster 20-year-old.
Liverpool acquired Coates prior to the transfer window's expiration and everyone is extremely excited to have him part of the club.
Coates was awarded Copa America's 2011 Best Young Player, so the expectations have been raised. He has the skills to dominate on the pitch, but Kenny Dalglish and the Reds are wise not to rush him along.
"Coates, 20, signed a long-term contract with the Reds last week having made the move from Nacional in his homeland.

He immediately went on duty with his national side for a friendly in Kiev against Ukraine along with Reds team-mate Luis Suarez and will not return to Melwood until next week.

While manager Kenny Dalglish will be keen to get the 6ft 6in centre-back involved as quickly as possible the Carling Cup third round tie at Brighton on September 21 looks an ideal match for his debut," according to ESPN.
Still, Liverpool can't coddle Coates for too long. With his skill set, he just needs the necessary experience to make a true difference. With Steven Gerrard and Craig Bellamy, the Reds have the leadership to guide a young player, but it'll be fellow countryman Luis Suarez that'll have the biggest impact on Coates.
For a young man of Coates' caliber, Suarez's presence will be invaluable. He'll ensure Coates' accelerated progression on the pitch. Suarez knows what it takes to transition to the league and will make sure the Reds reap the benefits of Coates' skills.
At 6-foot-6, Coates will be a force of destruction on the pitch. He has the instincts to dominate, but it'll be his improving strength that leaves the club in awe. Expect him to emerge as one of the most valuable pieces for this club moving forward.
It'll be an exciting day when Coates makes his debut with the club, hopefully much sooner than later, because he will guarantee future success in Liverpool. As Coates improves and makes his massive presence felt on the pitch, Liverpool will be a stable atop the table.
This article is
What is the duplicate article?
Why is this article offensive?
Where is this article plagiarized from?
Why is this article poorly edited?

Liverpool: Like this team?