The Great Football Debate: Cristiano Ronaldo vs. Lionel Messi: Verdict Announced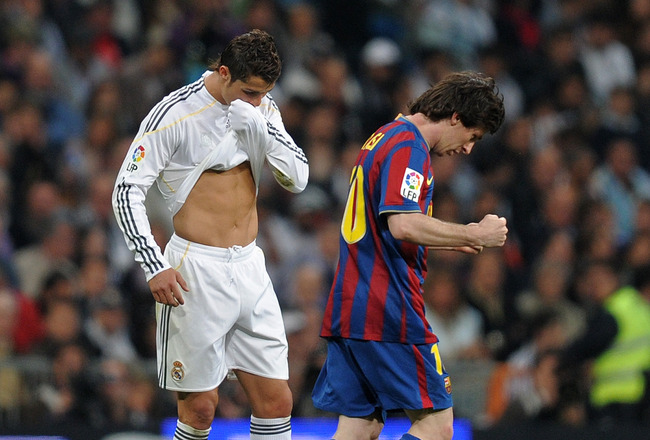 Jasper Juinen/Getty Images
There has been much made about comparing the talents Cristiano Ronaldo and Lionel Messi. Who is the more complete player? The most effective player? The more successful player? So many questions, so many answers.
The prevalence of Barcelona over Madrid in recent times has allowed for the debate to reignite, giving Lionel Messi the upper hand. Although poor Argentinian performances, contrasted with solid Portugal performances has given people a basis to argue that Ronaldo is the more complete player.
Either way you look at it, arguments exist on both sides.
So now is your chance, let us know who you think is the better of the two. Leave your comments below and check back here for articles relating to the issue. It will be updated regularly and your involvement would go a long way to ensuring we can come to a verdict.
We hope to have a verdict by this time tomorrow.
So who is the more complete player, Cristiano Ronaldo or Lionel Messi?
—————————————————————————————————————————————
The Great Football Debate will look to be a weekly addition to the World Football page on Bleacher Report. The live blog style debate will question topics currently causing debate in the football world, providing another outlet for the Bleacher Report community to voice their opinion of certain issues.
The first debate about goal-line technology turned out to be a little long, suggesting that perhaps a debate spread over five days is not the way to go. Therefore this debate will run over a single day, meaning that you have to get your opinion down in the comments fast.
When leaving your arguments in the comments below, begin with either CRISTIANO RONALDO or LIONEL MESSI (or NEUTRAL but preferably not), simply because it will prove to be easier to compile ideas into one concise argument. Make sure to give reasons, examples, videos and if so links to articles that discuss the issue.
—————————————————————————————————————————————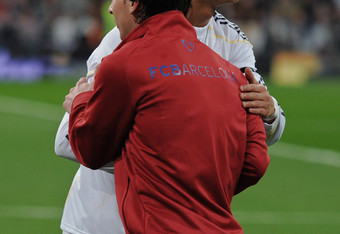 Can I start by saying that I am one of the people who support the neutral argument in this debate. I am of the belief they are superstars in their own right and we should respect them for that.
However, after looking through the comments It is clear that a majority of you believe that Messi is the more accomplished of the two players. Going through each players' achievements this is more than corrent. With two Balon d'ors under his name, countless trophies with Barcelona and even a gold medal at international level, Messi has a record unmatched by many. Although he doesn't boast as big a trophy cabinet, Ronaldo is well travelled, and very much accompished in a number of different leagues. He has been top scorer in more than one country and holds records that look to stay under him name for years to come.
From what you have provided in the comments Lionel Messi is the more accomplished player, Cristiano Ronaldo the more travelled player, Lionel Messi more of the team player and Cristiano Ronaldo better at getting goals.
With that said Lionel Messi takes the debate, simply because he has more to show for his ability. This is not to say Ronaldo is a bad player. Simply put Messi has won more and in the end, when your career is over that is all that is around to measure your success.
But like I said. I sit on the fence, and if there is any advice I can give you. Enjoy them both on the field. We are witnessing two players set to be legends of the game. Enjoy it while you still can.
Did you enjoy the debate? Want to take part in another? Feel free to select your topics, or inbox me suggestions.
Thanks for the support.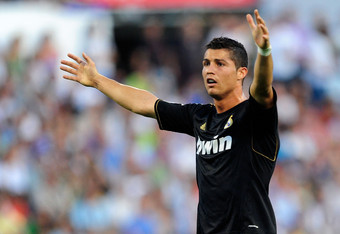 Jonathan Novosy was the first to contribute to the Ronaldo side of the argument summing up his point in two lines, "Ronaldo has proven himself in three leagues and internationally. However Messi is yet to venture out of Spain." Przekyslaw Stepien echoed this notion stating that Messi can't show world class level of play outside of Barcelona.
Matt Contreras talked about Ronaldo's ability to create his own goals, unlike Messi who generally has his goals teed up by Xavi and Iniesta. Mychal Shannon simply stated that "Cristiano Ronaldo is more of a complete player than Lionel Messi.
Through the clever use of rhyme Lucien Forbes staked a case for Cristiano Ronaldo. "Cristiano makes a team; Messi needs a team, witness Argentina in the recent World Cup. Messi dives and Cristiano thrives. Messi cries and Cristiano leads. No comparison." Mosio Bella talked about Portugal and how Ronaldo is able to perform even with a weaker team around him.
Moses Maziya gave us four reasons why he thinks Ronaldo is better than Messi, ranging from the idea he I the most expensive player in the world and the fact he has proven himself at two major clubs.
So now you have seen both sides of the argument. Have your final say in the comments below, and the verdict will be posted soon.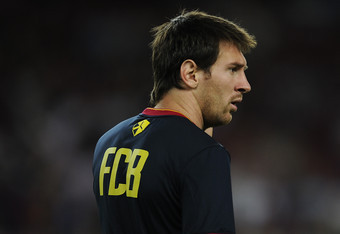 Samuel Smith kicked off things by discussing Messi's ability to turn it on in the bigger games, going on to talk about how Messi contributes more to a team than Ronaldo does. Christian Kangas followed this up suggesting that the argument that Messi was not effective internationally was untrue, considering that he has won an Olympic Gold Medal with Argentina.
In terms of statistics Alex Ramos provided us with a few comparisons between Ronaldo and Messi in recent matches, claiming that the favoured Messi's case saying that in 5 El Clasico matches Messi scored 3/5 times and bagged two assists. Whilst Ronaldo score two goals including one penalty.
Jerzbeats0820 claimed that Messi had a better attitude than Ronaldo and Eugene Flynn suggested that we take a look at Messi's trophy cabinet in comparison to that of Cristiano Ronaldo's. Finally Dabipi Gordon Sunday concluded by saying that Messi always makes the difference when Real Madrid and Barcelona meet.
All in all, from what you have said Lionel Messi is the better player because of his achievements on the pitch. When compared with Ronaldo Messi stands out.
Stay Tuned for the Ronaldo Argument.
Guys I'm currently collating all your arguments into two opposing views, as we start to conclude the debate. I'd invite you to comment on the final two arguments. Then I will go on to determine a verdict and get a rough count of the votes.
Also I would ask that you also propose suggestions for our next debate. Currently we have an AC Milan and Barcelona debate in drafting.
Cheers
Two added points to consider. The first is from :Matt Contreras: who discusses Ronaldo's ability to create his own opportunities and the second is from "Lionel Messi Jr"who talks about the contribution that Barcelona as a team make to Messi's success.
MATT CONTRERAS
"If you say nationally Ronaldo has a better team supporting him (which he doesn't) how about Messi and his club team? messi has the best midfield in the world supporting him.
Messi does not dribble pass more players than Ronaldo does no way, most of Ronaldo's goals last season he created himself, Messi had his great squad set up everything for him a lot of the time (not all the time but a lot of the time)
Messi doesn't dive?? haha thats a good one"
LIONEL MESSI JR
"Messi is better than Ronaldo at club level FACT. At the national level, Ronaldo has 10 more goals than Messi despite playing 20 more games. The unfounded arguments that Xavi and Iniesta make messi is just that.Unfounded. Turns out Dani Alves has contributed the most to Messi's goals with about 19 assists. Messi was already the 2nd best in the world behind Ronaldinho be4 Xavi and Iniesta even grabbed any sort of limelight. I invite you to watch videos of both from the 2010-11 season (Any video). You will see Messi occasionally dribble 4 or 5 defenders and round off the goalie then score. Then it cuts to Ronaldo doing step-overs, and cuts to a point where he is scoring. Because those step-overs almost never lead to a goal. His highlights are all filled with freekicks, penalties and step-overs (albeit without result), well while' Mess'is highlights speak for themselves. Also I have never read an article online ever that suggests that Ronaldo could be spoken about in the same phrase as Maradona and Pele, and yet we hear that everyday for Messi. You see the trend? And finally look at their season debuts, Messi helped himself to a hattrick against Madrid (Xavi and Iniesta played bad), and got a brace and an assist against Villareal (Xavi was a late sub)."
Lucien Forbes
"Cristiano makes a team; Messi needs a team, witness Argentina in the recent World Cup. Messi dives and Cristiano thrives. Messi cries and Cristiano leads. No comparison."
Aj Hasan
"Can we just stop the comparisons? Everyone has their preference and we are not going to change it. Let's just say: it's awesome having to watch these two. It's getting kind of old."
Aj, I adopt the same stance as you, they are both brilliant players and we should just enjoy watching them. But the reality of it is that many people havae their own opinions and are more than welcome to them. Basically this article serves as a means by which they can express that opinion.
Just for those curoius to know what players Ronaldo and Messi have around them for their respective national teams, here they are as they line up in their most recent matches:
RONALDO'S PORTUGAL: Patricio; Alves; Pepe; Coentrao; Silva; Meireles; Nani; Moutinho; Micael; Ronaldo; Postiga
MESSI'S ARGENTINA: Romero; Zabaleta, Demichelis, Otamendi, Rojo; Gonzalez, Mascherano, Alvarez; Messi, Higuain; Di Maria
"It doesn't take a rocket-scientist to see that Messi is better, 2 (to be 3) straight Ballon d'ors are proof enough. And yes, the national team argument...Sure, Messi isn't as good in the NT, can you blame him? He plays in the best club-team at the moment and club-teams are always better than the NT. Has Ronaldo won anything with the national team? (I honestly don't know and I'm to lazy to google it up) Messi has at least won the Olympics (yes, not the most sought-after medal in football but hey it's a medal with the NT)"
Chris you propose a good point, Messi did indeed win a gold medal with the Argentinian national team at the 2008 Beijing Olympics. Although, it was only Under 23's level. So the squads he was playing against did not consist of those he would've faced if he was playing at unrestricted international level.
Great point nonetheless
Lionel Messi suggests that he has something to prove when playing for Argentina going on to say that he is frustrated with his current form. Messi just can't seem to find that prolific goal scoring form for Argentina. Is it because he cannot play without his Barcelona team mates? Or is he just surrounded by a lesser team?
You decide.
Cristiano responded to criticism earlier this week after he received "jeers" from the Cyprus crowd. He did indeed proved them wrong though, scoring a brace for Portugal in their 4-0 demolition of the home side.
Also this week Ronaldo staked his claims about Real Madrid being the best club in the world, suggesting that this year they will go on to win it all. He certainly isn't afraid to voice his opinion.

FC Barcelona: Like this team?