BYU Football 2011: Bronco Mendenhall, Cougars Letting Lights Shine
September 5, 2011
Exposure!
The BYU athletic department has cried out for it in the school's move to independence out of the Mountain West Basement—er, Conference.
Starting out on good independent footing, Brigham Young came from behind in SEC country on Saturday to beat Ole Miss 14-13.
It is exposure you want and it is exposure you will get.
BYU got its fair share on Saturday. ESPN sideline reporter Jessica Mendoza even exposed the team's methods for preventing cramps by drinking pickle juice live on camera. 
Bad idea, Jessica.
Using pickle juice as a conditioning tool was not the only peculiar thing the Cougars did this weekend.
While thousands of Ole Miss fans rushed to The Grove to stake claim to their preferred tailgating spot, BYU fans in Mississippi celebrated the season opener in a very different way.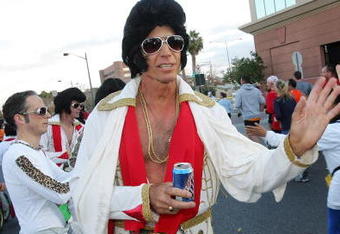 Ethan Miller/Getty Images
Forty-six miles east of Oxford, the program held a church meeting called a "fireside" on Friday night in Tupelo, Miss.
At a Mormon meeting house in the birth city of Elvis Presley, 1,150 people crowded in to hear the message of players and coaches.
Before the meeting started, arriving fans entered the building to find standing room only. Was this an Elvis concert or a church meeting?
"This is the most people we've ever had in this building," Mark Westcott said. "We were expecting 600 people. We had two rooms set up for overflow, and ended up using five."  He had the difficult task of ushering the crowd.
What is all the buzz about then?  What did more than a thousand people flock to church on a Friday night to hear?
The football players volunteer to offer prayers or musical numbers and talk to the audience about their belief in Jesus Christ. That's what.
"I basically asked each one of them to share their story," BYU head coach Bronco Mendenhall said as the team arrived at its hotel Friday evening. "And I'm talking about BYU football but I'm also talking about what they believe, so they'll share basically what they believe and how it ties to life and football."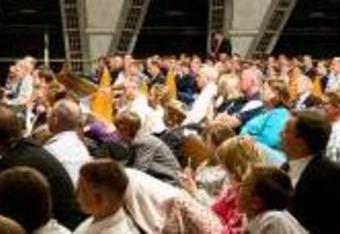 The city of Tupelo received the Cougar squad with open arms. 
In a true expression of Southern hospitality, city councilman Jonny Davis attended the meeting and offered Brigham Young University's president a key to the city.
Coach Mendenhall closed the meeting by challenging the crowd to let their lights shine in whatever individual life circumstances they may be in.
"The firesides have been a way for us to make a very clear statement of what our priorities are, or should be," Mendenhall said. "Football is not the priority. Some people don't understand that. These firesides are a way for all of us to help consider our priorities through understanding the purpose of life."
A tradition at BYU, every time the team travels for an away game it holds a similar meeting on Friday night before the game. Fans, curious locals and anyone interested in hearing a football team speak about their faith are invited to attend. 
The next meeting will be held this Friday at 7 p.m. in Austin, Texas, as the Cougars get ready to take on the Longhorns.  (1000 East Rutherford Lane, Austin, TX 78753)
"Hopefully it's a message of not only faith, but football and that the two can coexist,"  Mendenhall said.
The meetings led by the coach are not only popular with fans at each location, but also resonate with BYU players.
"I think that if we can be good role models as far as representing not only the Church, but the team as well, I think that can go a long way for kids who might not have their mind made up with what they want to do in life," said senior running back Bryan Kariya. "They can have a good role model and something to aspire to."
Signing with BYU requires a player to be willing in his aspirations to be a role model. It is an important part of discussions with recruits, no matter their religion, before making a final commitment to play ball for Brigham Young.
ESPN columnist Johnette Howard recently chimed in on Brigham Young's unique approach.
You don't have to agree with the school's honor code—which requires students to be honest, abstain from alcoholic beverages, tobacco, tea, coffee and substance abuse, and attend church regularly—to be fascinated by the contrarian questions that should be raised by BYU's insistence on hewing to some higher standard.
Impressed by the way BYU handled the suspension and recent reinstatement of basketball player Brandon Davies, Howard suggests the program is echoing an idea from tennis legend, Arthur Ashe:
If you demand more from people, people will rise to meet the higher standards. You can get what you insist upon. So don't sell people's capacity to do the right thing short. People do summon their best selves when it's required of them.
At BYU, it is insisted that players rise up to a high bar and even that they volunteer to share their personal stories with communities across the country.
It wouldn't be a bad idea for other schools to follow suit.
As for the pickle juice: You stand alone on that one, boys.