Real Sociedad vs FC Barcelona : Preview, Players to Watch and Tactical Analysis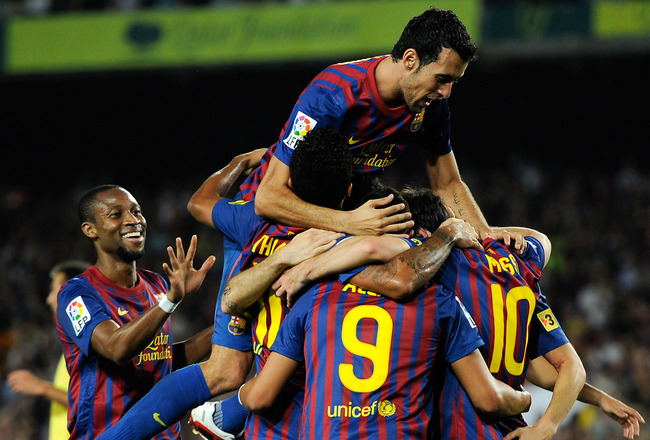 David Ramos/Getty Images
Barcelona FC will visit Real Sociedad this Saturday at 12:00 p.m. ET to play the La Liga Week 3 match at Anoeta.
While it seems like a very winnable game for Barcelona, the truth is that playing at Anoeta is never an easy task at all, and the Erreala are always a tough opponent when they're playing at home.
When you take into account there were International friendlies this week, that just makes a bit harder too.
Wondering what was the score last time they played at San Sebatián? 2-1 for Real, with Uruguayan forward Ifrán and Xabi Prieto scoring their goals after Thiago had put the Blaugrana ahead in the first half.
Barcelona did play a "B" side for that match because they were getting ready for the mid-week UCL match, but it's still quite impressive for Real to get that result, as it's one of the two times Barca lost in La Liga last season.
However, in their first game at Camp Nou in December, Barcelona FC won 5-0 with goals by David Villa, Andrés Iniesta, two by Lionel Messi and a last-minute bonus by Bojan.
So what can you expect for this match?
This slideshow will break the game down so you don't have to.
Real Sociedad Players to Watch: Xabi Prieto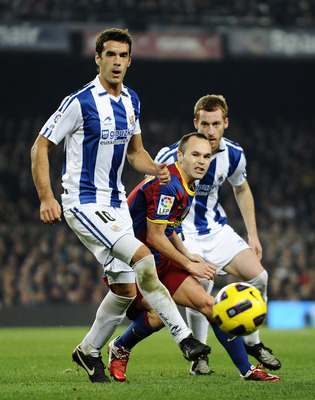 David Ramos/Getty Images
Age: 28
Height: 1.85 m
Nationality: Spanish
Position: Right Midfielder
Number: 10
Xabi Prieto, also known as "The other Xabi," is one of the most underrated players in Spain.
Playing as a right midfielder for Real Sociedad, he is a constant threat to generate assists from the wing, performing as a playmaker on the right flank much like Laudrup or Iniesta have done with Barcelona on some occasions.
In this role, Xabi generated 14 assists and seven goals for La Liga last season.
Xabi's also a superb penalty kick specialist, scoring one against Barcelona last season.
Real Sociedad Players to Watch: Antoine Griezmann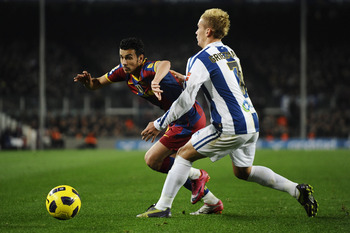 David Ramos/Getty Images
Age: 20
Height: 1.76 m
Nationality: French
Position: Left Winger
Number: 7

Griezmann's not on the best terms with the Real Sociedad fans after he declared he wanted a move to Atlético de Madrid.
The Atlético move fell through, however, and the French U-21 is probably the most talented player on the Anoeta squad.
He's a very speedy dribbler, and he caused some problems for Alves last year, so if Real Sociedad is to get anywhere close to winning, expect Griezmann to be dangerous again this time around.
If he plays, that is.
Real Sociedad Tactical Analysis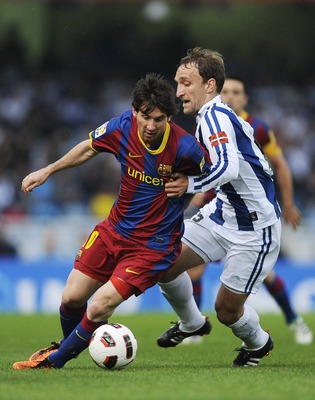 David Ramos/Getty Images
Probable Real Sociedad Starting XI (4-2-3-1):
Bravo
Martínez Iñigo Demidov de la Bella
Aranburu Mariga
Xabi Prieto Zurutuza Griezmann
Agirretxe
Coach: Philippe Montanier
La Liga Prediction: 12th
Real Sociedad's gameplan should surprise no one.
The strategy will be simple: Tough, tight defending at the back with quick counters on the wings by Xabi Prieto and Griezmann so Agirreetxe or Llorente can finalize their runs.
Expect to see Inter-loanee McDonald Mariga, centre back Vadim Demidov and holding midfielder Mikel Aranburu to be fundamental in roughing up the Blaugrana when they get close to Real's box.
The other loaned player, Arsenal's Carlos Vela, should start from the bench, but could be a good change-up if Griezmann or Zurutuza are tired or if Real Sociedad wants more speed up front.
Barcelona FC Players to Watch: Cesc Fábregas and Messi
Jasper Juinen/Getty Images
It's no secret that Cesc Fábregas is on a hot streak, and his chemistry with Lio Messi has already been proven time and time again.
I expect Cesc to start, and the La Masía "4-10" combo should be almost impossible to stop for the Erreala come Saturday.
Lionel Messi is just the best player in the world right now, and Cesc just might be the best-performing one in recent weeks too.
Real will really have to step it up a notch for them to have a real chance against this combo.
Everybody will, really.
FC Barcelona Tactical Analysis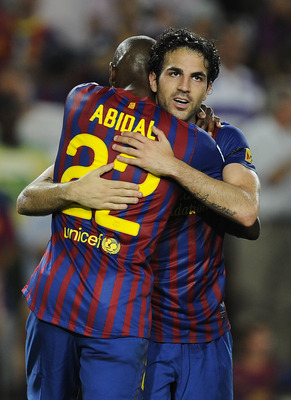 David Ramos/Getty Images
Probable FC Barcelona Starting XI (4-3-3):
Valdés
Alves Mascherano Busquets Abidal
Keita
Xavi Fábregas
Pedro Messi Iniesta/Villa
Following the great success of the 3-4-3 against Villarreal, expect Barcelona to return to their "normal" formation this weekend.
Piqué is still out and Puyol is fit again, but I wouldn't expect him to start, so Mascherano and Busquets return to their roles as CBs again.
After his suspension, Alves is back to his usual role on the right, while I expect for Guardiola to take advantage of Cesc's great moment and to start him in midfield.
That doesn't mean Iniesta will get dropped though, as he could return to his "Laudrup" role on the left wing, with Fábregas playing the central midfielder role next to Xavi so he can link up with Messi and do their usual mischief in the middle.
Prediction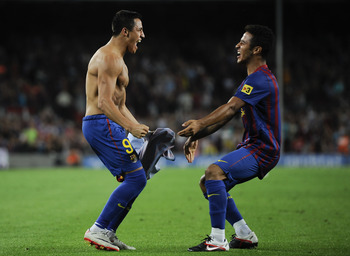 David Ramos/Getty Images
Expect a tough game for Barcelona in Anoeta.
While I don't see them losing this weekend, the combination of a strong home team in Real plus the International match return for most of the Barca squad could certainly end in a loss for Pep's men.
That said, Barca with Messi and Cesc, plus all the individual talents at Guadriola's disposal, should be enough to win it against Real Sociedad.
Score Prediction: Real Sociedad 1, FC Barcelona 2
Follow Andrés Ehrli on Twitter!
Keep Reading

FC Barcelona: Like this team?