AC Milan vs. Lazio: Results, Scores, Updates and More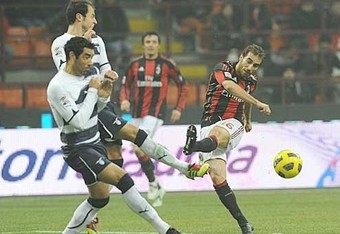 AC Milan and Lazio are looking for a strong start to their Serie A campaigns. These two clubs will begin their campaigns against each other as the two do battle on the pitch September 10th at 2:45 p.m. ET.
These two clubs have met three times since 2010, and all three ended in a draw.
Lazio will be trying to cope with the loss of midfielder Mauro Zarate. There is some dispute as to why Zarate was loaned out. According to Goal.com, Zarate had his mind set on moving to a bigger club, and there was little they could do to keep him.
However, the recently departed Lazio player, Foggia, maintained that it was the club's decision. Foggia, from the above linked Goal.com article: "The decision to loan out Zarate was made by the club and the coach."
While the reasons for his departure may be cloudy, the fact that he is gone is not. Lazio is not in a position to replace Zarate. They will instead have to make up for his absence with solid team play. AC Milan will undoubtedly try to exploit the hole left by his departure.
AC Milan also made news at the transfer deadline. However, it was for a move not made. There were reports that they were going hard to bring back Kaka for his second AC Milan stint.
In a report on ESPN, AC Milan Vice President Adriano Galliani denied they tried to acquire Kaka.
It is now time to leave transactions and rumors in the past, and get on to playing.
Check this blog often as we'll update with news and results and discuss this match.
Alberto Aquilani, Miroslav Klose and Djibril Cisse have wasted little time putting their stamp on today's match between AC Milan and Lazio and, in the grander scheme of things, asserting themselves as forces to be reckoned with in Serie A this season.
The action began when Aquilani, who joined the Rossoneri on loan from Liverpool after spending most of the 2010-11 season with Juventus, missed a golden opportunity at the goal just seven minutes into the match, with the ball blocked away by a Lazio defender. Aquilani would have another chance in the 25th minute but once again have his shot blocked.
Mere minutes after Aquilani's initial attempt, Klose notched his first club goal outside of the Bundesliga. The 33-year-old Germany international, whom Lazio acquired on a free transfer from Bayern Munich in June, took in a beautiful through ball from midfielder Stefano Mauri and promptly whipped it past Milan defender Alessandro Nesta and goalkeeper Christian Abbiati to put the Biancocelesti ahead 1-0 in the 12th minute. Abbiati was adamant that Klose deserved a handball but, upon closer review, it appeared as though the officials made the correct no-call.
Klose had two more fantastic opportunities to score, in the 15th minute and the 17th minute, but failed to connect on either, with the latter going well off target.
Not to be left out of the new-boy action, Cisse asserted himself with a goal of his own. The 30-year-old France international, who made the jump to Stadio Olimpico from Panathinaikos of Super League Greece in July, banged in a header on a gorgeous cross ball from Mauri to give the team from Vatican City a seemingly-commanding 2-0 advantage in the 21st minute. This, after Cisse came up on short on a good shot in the 17th minute and before registering two errant attempts in the final four minutes of the half.
Being the championship-caliber club that they are, though, Milan promptly evened the score with goals by Zlatan Ibrahimovic in the 29th minute and Antonio Cassano, with a header on a cross in from Aquilani, in the 33rd minute.
An exciting start to the shortly-delayed Serie A season, to be sure, and particularly for new boys Klose, Cisse and Aquilani, all of whom will play crucial roles in how the league table shakes out this season.
This article is
What is the duplicate article?
Why is this article offensive?
Where is this article plagiarized from?
Why is this article poorly edited?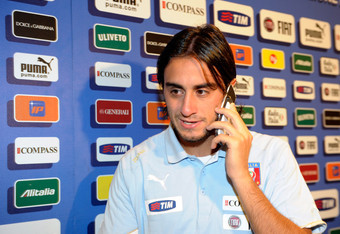 Most years, an opening match against Lazio would be nothing to worry about for a Serie A champion with a roster as well-stocked as AC Milan's.
Nowadays, though, the Biancocelesti are a force to be reckoned with in Italy, having left their financially scandalous and match-fixing ways behind (for now) to become a regular contender in their domestic league and in Europe.
Lazio's success on the pitch has been accompanied by improvement off of it, as one might expect, with the summer of 2011 bringing a boatload of new stars to the Stadio Olimpico, including Miroslav Klose, Abdoulay Konko, Djibril Cisse, Marius Stankevicius and Federico Marchetti.
Not that the Nerazzurri, the reigning victors of Serie A, have exactly stood pat. Milan boss Massimiliano Allegri made perhaps the most significant move of the summer when he brought Alberto Aquilani into the fold on loan from Liverpool. The former Roma star reclaimed some of the magic he'd lost after his move to the English Premier League while on loan with Juventus last season. Aquilani figures to be a more-than-capable replacement for Andrea Pirlo, who took his place with the Bianconeri.
Lazio's new striker combination of Klose and Cisse will give Milan's star-studded backline tandem of Alessandro Nesta and Thiago Silva plenty of trouble today at San Siro, though Edy Reja's side will have its own hands full dealing with Milan, who will be bolstered by the emotion from their home crowd and their league title.
And let's not forget about the regional rivalry between these two clubs, Milan from the industrious north and Lazio from the more leisurely south.
The Biancocelesti haven't come up with a win at Milan since 1989, and with all the factors working against them, don't expect anything better than a tie for the Pope's favorite footballers.
This article is
What is the duplicate article?
Why is this article offensive?
Where is this article plagiarized from?
Why is this article poorly edited?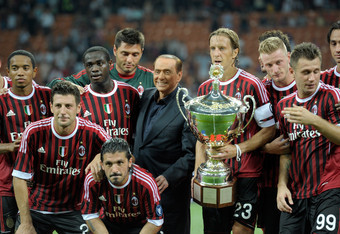 AC Milan and Lazio Open Serie A Season at Stadio Giuseppe Meazza
AC Milan and Lazio will finally open their Serie A season against each other following a strike that originally delayed the season.
The defending champions from Milan will certainly have a tough task at hand as Lazio is no easy opponent. The biggest problem for Milan is that they could get caught looking ahead to their upcoming Champions League match with Barcelona at Camp Nou.
The team has the right mindset though as AC Milan defender Gennaro Gattuso spoke with ESPN about the upcoming match,
This year the Biancoceleste could make life difficult to any team in the tournament.

We will approach this game with a lot of respect for them, hoping to start the season in the best possible way.

The game against Barcelona will be difficult but right now our focus is only on Lazio.

We know that every match will be more difficult than last year and in order to win, we have to play like Milan.
If AC Milan play up to expectations they should come away with a victory as they head off to Spain in the coming days.
This match is available via live stream on ESPN3. The match kicks off at 2:45 PM Eastern Time.
This article is
What is the duplicate article?
Why is this article offensive?
Where is this article plagiarized from?
Why is this article poorly edited?

AC Milan: Like this team?