Alabama vs. Kent State: Different Angles on a Numerically Deceiving Game
September 4, 2011
Greg McWilliams/Getty Images
Alabama vs. Kent State. Kent State vs. Alabama. Either will work, because both teams dominated in different aspects. The game the Tide played on Saturday should have been lost, but due to a stellar defense against a weak opponent, it wasn't. 
This article will be critically harsh, so fanatics beware. 
Before I get into details, here's a quick recap:
The defense did great by keeping the opponent punting, but lacked sacks and turnovers.  Veteran players missed easy picks multiple times, but tackling was as sure as it gets.
The running game between the tackles left a lot to be desired. Typical offensive line issue that has bled over from last season (which will be corrected by the Penn State game) caused this. It only picked up when the Flashes defense got tired.
The receivers, other than Maze, had trouble hanging onto the greased bowling ball—oh, I mean dry football. This includes muffing returns, though Maze was guilty of that, too. 
The Tide turned the ball over five times against a vastly inferior opponent. This includes four interceptions, three of which were the quarterback's fault. On any other day that would be a big fat L on the schedule sheet.
Now to the details.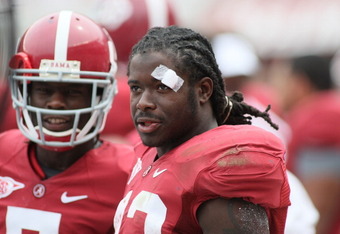 Greg McWilliams/Getty Images
Barrett Jones is now going to be back at right guard—that is a certain. This is not because Cyrus Kouandjio had no problem manhandling everything that came his way, but because of the inferiority of another player.
Anthony Steen, who started a few games last year due to Barrett Jones being injured and played terribly, has shown that he is not cut out to be an offensive lineman in the SEC—yet. He may be strong as a bull but his awareness and foot-speed are like that of a grazing cow. He was constantly getting beat by defenders that held Trent Richardson to 2.8 yards average. 
I fully expect Cyrus to be the left tackle for Penn State and for the following two seasons. This is due more to the fact that the interior is just too weak without Barrett Jones next to Vlachos. The risk of Cyrus experiencing Freshman Blues at a critical position is better than having the run game grounded without Jones. 
Jesse Williams, the monster out of Australia, did indeed start. He moved around on the line a lot, it seemed, and played a lot in the middle. It was difficult to tell exactly where he was because of Saban's chameleon defense.  In a previous article I made some predictions about Jesse.
Jesse had some difficulty getting off of blocks, but he has amazing ball awareness and strength. He tried to bat the ball down on almost every passing play, after reliably pushing offensive linemen straight back into the quarterback's face. Look for this young man to deflect a lot of passes this year and make plenty of sacks once he figures out how to get off of blocks better.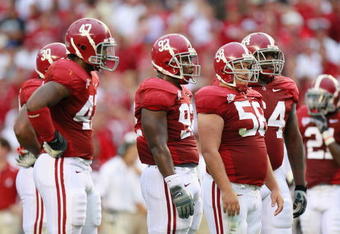 Kevin C. Cox/Getty Images
Also on the defensive line, backup nose tackle Nick Gentry got some good reps. At 6'1" and under 290 lbs., don't expect to see too much of him this year. He's been a solid contributor his whole career, especially in practice, so it was nice to see him get some game time. He would have thrived in a 4-3 system, which is what Alabama ran while he was being recruited. 
Onto quarterbacks. Phillip Sims was a mess. No, sorry, a train wreck. His body language showed he was calm and collected, but his late passes, fumble, and two blatant interceptions belie that. I never expected Sims to win the starting job, but I never expected him to perform this bad.
He went 7-for-14 with two interceptions for a whopping 73 yards. He also spoon-fed Kent their lonely score of the night. First game jitters as a redshirt freshman is understandable, but against such poor competition?
Shoveling turnovers to a team that can barely call themselves an FBS school has entrenched him as the No. 2 this year. He should be able to beat out McCarron by next year, but if not I expect to see him transfer to LSU (yeah, call me crazy) in the near future. 
A.J. McCarron, receiving equal playing time, went 14-for-23 with two interceptions for a respectable 226 yards. Only one of his interceptions was his fault. His second was an off-the-hands lead pass to tight end Michael Williams that should have been caught. If McCarron doesn't hold down the starting spot all year, I'll be amazed.
Greg McWilliams/Getty Images
The dropped pass by Williams is troubling, because with his 6'6" 270 lbs. size he is too valuable as a red-zone threat to be dropping passes. If he can't soften his hands soon, then Brad Smelley will have to really step up and become the receiving tight end.
Now too running backs.
Eddie Lacy was far and away the star. Along with his 62 yards on the ground with a 7.2 yard average, he has also shown his potential catching balls out of the backfield. He ran downhill the whole night, going straight for the holes, and is now a true threat for the all-important screen pass. He was second for the night in receiving yards, and first in yards per catch at just over 24.
Lacy did have another fumble (but was ruled after his knee was down). He simply needs to know when to go down.  When your legs are vertical and your torso is horizontal, take the ground. A situation like that makes it too easy to force a fumble. 
His balancing act was the same Mark Ingram tried in the Iron Bowl last year. The same play he was chased down by a defensive linemen who subsequently punched the ball out, which arguably lost the game. 
Lacy is primed to start the same argument fans had over Ingram and Richardson, "who is better?" Lacy may run in a straight line, but he displayed one of the meanest spin moves I've seen outside of a video game, and I play a lot of video games. If I had to base it off just one game, I'd say Lacy is the better back, but Richardson has two full seasons of proven effectiveness.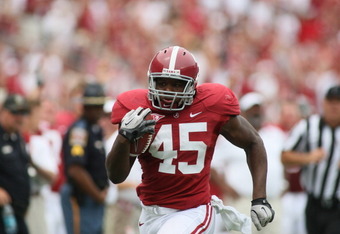 Greg McWilliams/Getty Images
Jalston Fowler came in like a bulldozer. He wasn't really running downhill, he was more like a tank falling out of the sky. 17.2 yards per carry. Who says we have depth issues at running back? This young man is a clone of Wisconsin's departed John Clay. 
If there are any issues at running back they have been, so far, with Trent Richardson. Not all of it was bad play, as half the time the defenders were hitting him in the backfield just as he got the ball. 
The only problem I saw with Richardson was the stutter stepping. Now that he is the No. 1 back teams will be focusing on him like a Hellfire missile. He's no scat back and needs to hit the hole quick. It may take more than one guy to bring him down, but at the line if scrimmage it doesn't take long for five guys to be on you. 
The one thing Richardson did excel at was goal line situations. He may have averaged jack squat on the ground, but he punched it in for a score three times. To be fair, most of his carries came in the red zone, which is really going to sour any running back's average. Get him in the jumbo formation and Richardson will put six on the board. 
The offensive line issues will be fixed by Week 2, and with Steen back on the bench where he belongs, I expect Richardson to pump out those familiar six-plus yards per carry behind Vlachos and Jones.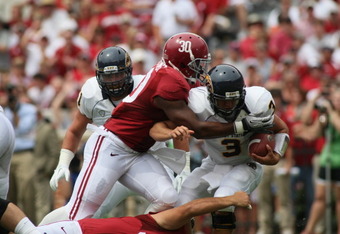 Greg McWilliams/Getty Images
The linebackers played great and got a lot of stops. I would have liked to see them in the backfield a lot more, considering the weak o-line they were up against. Hightower and Upshaw may have made the plays after the snap, but newcomers Trey DePriest and Vinnie Sunseri made a lot of noise on special teams. 
Strangely enough, Courtney Upshaw was lining up on the left side of the line a lot. The position there seemed a bit unnatural for him, and I suspect it will not be a permanent place for him. 
C.J. Mosley showed his prowess again, and he just might be the best cover linebacker in the entire league. He has the closest thing to his own island as a linebacker can get.
In the secondary Will Lowery has entrenched himself as the nickel back. He didn't accumulate a lot of stats, but he was around the ball constantly and nearly had himself a pick. 
The cornerbacks didn't get many tackles, but that doesn't really matter. You can't really tackle a guy after you just batted the ball out of his hands, can you?
Overall, the defense played spectacular, and their statistics don't tell the whole story. It's hard to rack up stats when the opponent is punting on the fourth play of every drive.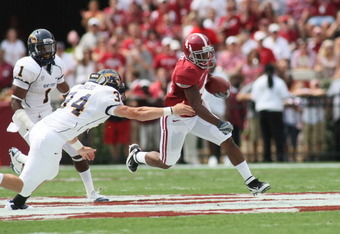 Greg McWilliams/Getty Images
Of all the woes the team experienced last night against inferior competition, none worries me more than the receivers. I'd first like to say that a dropped pass is a whole lot worse than just a loss of a down—it drastically increases the chances for an interception.
Marquis Maze is as solid as you can get, as will be Darius Hanks when he comes back for Week 3. The rest of them looked raw as hell. 
DeAndrew White showed some flashes of brilliance, but he's too green to be relied on yet. Once he gets his sticky fingers going his speed will do the rest.
Hopefully, Duron Carter and Michael Bowman will sting the defenses when they get a chance to play. 
Other than the muff, Marquis Maze put up gaudy return numbers with 135 return yards including a long of 27 on a punt return. Here's a video that looks a lot like Kent State trying to catch Marquis. 
The kicking game also leaves a lot to be desired. Cade Foster's kickoffs are not nearly as long as they were last year. Most of them came between the 10 and 15 yard line it seemed, and he didn't even come close to sniffing a touchback. He also missed a field goal, but to be fair they had him try it from somewhere in China. 
Cody Mandell did a great job punting, however. He averaged just over 42 yards, which is about where P.J. Fitzgerald was at in 2009.  
By Week 2 and beyond the offensive line issues will be fixed. The quarterback battle will be over. Darius Hanks will be back at Week 3 and the new wide receivers will have settled down, and if Duron Carter can learn the Alabama game fast, they'll be in business. 
In the end, the final score is very deceiving. 48-7 seems great. They say defense wins championships. Well, for the Tide's sake, I hope that rings true again. With the offensive giving up five turnovers (which would have been EIGHT, had they not recovered the other three of their own fumbles) the defense is in trouble.
Saturday's game gave a great look at the talent on the team, but the early season jitters and mental errors have to be over with. If not, the aging JoePa and the Nittany Lions will run them straight out of Beaver Stadium next week.