Soccer: The Race Problem FIFA Won't Solve
September 4, 2011
Michael Regan/Getty Images
When mock footballer, Jason Bent, was asked why he had decided to support the Kick Racism Out Of Football cause, he said, "Yeah, I believe we should give racism the red card, send it off the pitch…and back in the stands where it belongs."
I found this hilarious, a typical Jason Bent response.  Being of relatively sound mind, I took the joke for what it was—a joke.
The only problem is it's actually happening 1,500 miles away in Bulgaria.  It's not a joke.  In 2012, coloured footballers are being subjected to racist taunting.
This time, it's Manchester United and England forward Ashley Young.  Unfortunately, it's not the first time this has happened.
I would love to say this is the last time but given history and FIFA's reluctance to punish these actions, this bigotry will probably continue.
FIFA did issue punishments the last time England complained in 2008 after a game with Croatia.
That time, Emile Heskey was the subject of taunts and FIFA imposed a fine on the Croatian FA, £15,000.  That isn't a typo, it was 15 thousand pounds.
There were 36,000 people in that stadium and even if 6,000 were England supporters, that's £50 for every person in the stadium.  That wasn't a fine, it was an insult.
Each member of the England squad made more of that in a week and I'm pretty sure that nearly every Croatian player in the squad could make that in a month.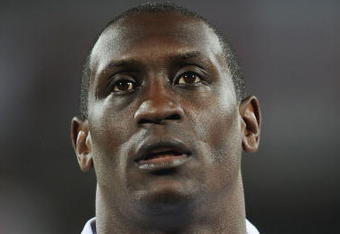 Michael Regan/Getty Images
The other sad fact is this wasn't even a first time offence for Croatia.  They had previously been fined for their fans racially abusing Turkish fans.
£15,000 for a second-time offence. Given the billions and billions of pounds/dollars/euros flying around football in this day and age, what did FIFA hope to accomplish?
FIFA issued a statement following the 2008 incident: "[We're] determined to continue broadcasting this message around the globe and deploying all of the means at its disposal to eliminate this form of discrimination."
If the only action they were willing to employ was a paltry fine, then of course it's going to continue.
It continued after Slovakia in 2002, it continued after the monkey chants in Madrid in 2004 and it's going to continue after Bulgaria.
On Saturday, David James was asked on Football Focus what could be done about this chanting.
His reply suggested that it is cultural more than anything else.  He wondered aloud how to go about changing the culture of a country.
He's right, to a point (I'm sure not every single Bulgarian is racist, and it would be naive of me to think that), and I'm sure that the causes are in some way cultural.
That shouldn't stop FIFA in leading the way in stamping it out of the game. Fines are clearly not the way forward and even though I don't have all the magic answers, even I can come with suggestions.
Don't just make teams play behind closed doors.  Remove the home field advantage completely and have them play at a neutral venue in another country.
There are at least four to five world class venues in England, France, Germany, Italy and Spain alone.  Throw in Portugal, The Netherlands and Belgium as well.
So, if a football association cannot control its fans, then ban them from playing home internationals at home.
Start out with one or three games and if it continues after this, extend the ban. Five games, the entire qualifying period.
Once the money gained from tourism-boositng home fixtures start to dry up, then I'm sure the international FA would soon want to change the "culture" of their countries.
If for whatever reason, this doesn't work, start banning the clubs from European competition.
They were quick to do this to English teams in the late 80s after the Heysel Stadium disaster. While I'm not comparing the two, if it comes to it, FIFA shouldn't be afraid to act.
Given past experience, should the FA even bother reporting it to UEFA and FIFA?  Yes, they should, and they shouldn't be afraid to act if they do not think the punishment is enough.
Again, they were quick to condemn and threaten action when the bribery allegations were abound.
I'd to think they would want to be equally swift in their actions if they believe the punishment didn't fit the crime.
England's manager admitted, "I didn't even hear it…I was too focused on the game" even though all the players and the opposition's manager were able to hear it. 
I fear that the FA will accept the opposition's punishments and continue to allow their players to have to play under these conditions.
Even though organisations like Kick It Out are doing sterling work, if national football associations aren't willing to back them and defend their players' basic rights to the full, then they may as well give up and go home now.