Pac-12 Expansion: News, Analysis and Observations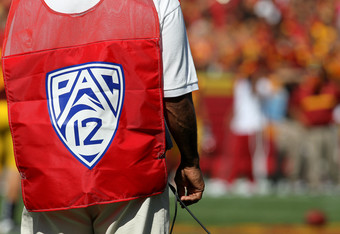 Stephen Dunn/Getty Images
With all the talks of Texas A&M leaving the Big 12, sources are flying out left and right talking about a possible Pac-12 expansion...again. The Pac-12 just added two teams in Utah and Colorado, and now there's speculation that it may just want to add a couple more.
Could Texas A&M be one of those teams? Or possibly Oklahoma, Oklahoma State or someone else from the Big 12? Either way it appears that the Big 12 is the conference that is going to be dismantled. It seems like A&M has started a trend here in the conference, where nobody wants to stick around.
This could be due in large part to Texas and its Longhorn Network, but it could also just be from a competition standpoint. Would joining a super conference help out with exposure? The most interesting thing about this is that it's just beginning and we're only one week into this very young season.
The rumors will start to be more prevalent and there may even be some surprise teams joining conferences. Will the Big 12 be the only conference to get separated or will the Big East begin to fall apart as well? Will the SEC try to keep up with the Pac-12 if it expands? What happens to the ACC?
Only time will tell, but at this moment all we can do is sit back, speculate and watch the development.
Looking at the scope of college football, we have two conferences that stick out the most. The SEC and the Big Ten. The SEC boasts the best conference with the toughest competition and the best athletes. The Big Ten seems to have the best competition.
Both conferences have a number of teams rated in the top 25 and the SEC has won the past five BCS Championships. Right behind the SEC and the Big Ten is the Pac-12. The Pac-12 has Stanford, Oregon, Arizona State, USC and Arizona; all of which are poised for successful seasons. Five teams that are capable of winning 8 or 9 games a piece and represent the Pac-12 in good bowl games.
That raises the concern; do they really need to expand? Last season they added Colorado and Utah. Utah is a team that looks to be going somewhere and Colorado doesn't look to be going anywhere, does that have something to do with their sudden desire to expand even more?
If the Pac-12 were to expand with two more teams, or possibly four, wold that make the Pac-12 the best conference in football? They would still need to win some National Championships in order to take that throne.
Expansion might be attractive right now, but if the Pac-12 does expand they will have plenty of lofty expectations to live up to.
This article is
What is the duplicate article?
Why is this article offensive?
Where is this article plagiarized from?
Why is this article poorly edited?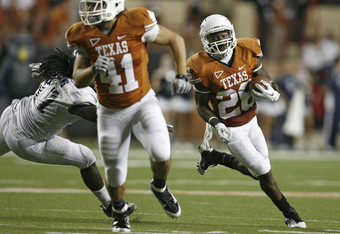 Pac-12 Expansion talks have involved Oklahoma for the most part, but would that mean that Texas is in the mix or would they stick it out in the Big 12? Could they go down the same route as BYU and make themselves an independent?
If Texas is in the mix does that mean Oklahoma will back out? It almost seems like Oklahoma is trying to get away from Texas and vice versa, but at the same time what would these two teams do without each other? They've been playing against each other for years and the rivalry is one of the best in the country.
If the Pac-12 does get Oklahoma to join their conference, it almost seems like a given that they would attempt to get Texas too. Adding these teams would bolster the conference and give them the Longhorn Network as well as the Texas and Oklahoma markets.
Texas has already denied that they were in contacts with the Pac-12, but as this seasons progresses, there will be plenty more talk of Texas and the Pac-12 talking back and forth about a possible relationship that would result in Texas joining the conference and making the Pac-12 a top tier conference.
This article is
What is the duplicate article?
Why is this article offensive?
Where is this article plagiarized from?
Why is this article poorly edited?
Pac-12 expansion talks are just starting, but it's not too early to speculate who the Pac-12 will take. Reports yesterday suggested Oklahoma, but if Oklahoma joins then won't Oklahoma State follow? If those two teams join then who would be the other two?
BYU is a likely candidate, but if BYU joins could Notre Dame be interested? Both teams are independent and both teams usually play teams in the Pac-12. Notre Dame for example plays USC and Stanford every year and even though they play Big Ten teams and that conference seems more logical when it comes to the geography, but the Pac-12 would welcome Notre Dame with open arms.
Adding Notre Dame and BYU would also add a sufficient amount of money to the conference as would Oklahoma and Oklahoma State. All four teams have great programs, some storied and some on the rise, but all four programs offer stiff competition that would make the Pac-12 a power conference.
If the Pac-12 is going to start recruiting teams, Oklahoma, Oklahoma State, BYU and Notre Dame need to be at the top of the list. Adding these four teams would make the Pac-12 one of the premier conferences in the country and would give them a chance to compete with the SEC for top honors.
This article is
What is the duplicate article?
Why is this article offensive?
Where is this article plagiarized from?
Why is this article poorly edited?
Last year it was Nebraska who bolted the Big 12 for greener pastures in the Big Ten, this year it's Texas A&M that's going to leave the conference in hopes of landing somewhere better, in their minds at least. Although last season Nebraska started their own kind of ripple effect, this year seems to have more of a dramatic effect.
It's not the off-season, it's the beginning of the year and Texas A&M is already looking for a new home. Now the Pac-12 feels they need to expand and get another team or two in their conference. There's no doubt that the SEC will want to play their hand in this too and invite a couple teams to join, A&M most likely being one of them.
A&M isn't just the only Big 12 team looking for a new home. Reports of Oklahoma and Oklahoma State wanting a new conference surfaced yesterday and they aren't going anyway anytime soon. This is just the beginning of all the expansion talks and these talks will get more interesting as the year goes along.
Expansion talks just started and A&M deserves most of the credit; imagine what this season is going to be like when the SEC and the Pac-12 start competing for teams like Oklahoma, Oklahoma State and possibly Texas A&M.
This article is
What is the duplicate article?
Why is this article offensive?
Where is this article plagiarized from?
Why is this article poorly edited?
News broke yesterday that a possible Pac-12 expansion was on the near horizon and the likely team to join will be Oklahoma, or at least that's who the conference wants, but is that report accurate? Even if that report is accurate, would Oklahoma be the right choice?
Oklahoma is the top ranked team in the country and are loaded with talent, but from a conference standpoint they are still Texas' little brother. Oklahoma would be smart to leave the conference if the invitation is extended. They would be in a conference with Oregon, Stanford and USC. Three teams that aren't going anywhere anytime soon.
Oklahoma's only competition in the conference right now is Texas and Texas A&M with the occasional tough contest against Oklahoma State. Looking at it from the Pac-12's point of view, would Oklahoma be beneficial for them?
Oklahoma will be bringing in a top 5 or top 10 ranked team and possibly a National Champion if everything goes right for them this season, so they would be the best option for the Pac-12. Oklahoma would bring with them a team loaded with talent, one of the best coaches in the country and a huge fan base in Oklahoma.
If the Pac-12 is looking to expand, Oklahoma should be the first choice.
This article is
What is the duplicate article?
Why is this article offensive?
Where is this article plagiarized from?
Why is this article poorly edited?