Marshall vs. West Virginia: News, Analysis and Observations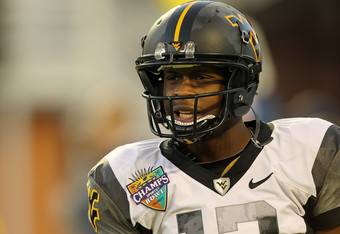 Mike Ehrmann/Getty Images
One of the great local rivalries resumes today as West Virginia takes on intrastate opponent Marshall at 3:30 EDT.
The Thundering Herd have never beaten West Virginia, trailing the all-time series 10-0.
Last season was the closest Marshall came to taking down the Big East powerhouse. Leading by 15 points in the fourth quarter, the Herd allowed Geno Smith to march the Mountaineers down the field twice and tie the game on a two-point conversion. In overtime, the Mountaineers managed a field goal and pulled out the victory 27-24.
This season, the Mountaineers come into the game ranked No. 24 in the AP poll and retuning Geno Smith as their quarterback. With Noel Devine graduated, Tavon Austin remains as Smith's huge threat.
The game marks the debut of head coach Dana Holgorsen, who replaces Bill Stewart, who resigned after last season.
Holgorsen ran the explosive Oklahoma State offense prior to joining West Virginia as the offensive coordinator and head-coach-in-waiting. In 2010, Holgorsen's only season at OK State, his offense led the nation in total offense at 537.6 yards per game.
The Mountaineers hope he does similar things at WVU, whose offense sputtered under Bill Stewart last season.
Having traditionally run the spread offense, Stewart attempted to bring a more pro-style attack to West Virginia, but the offense was inconsistent for WVU last season.
Marshall enters the game as 23.5 point underdogs according to Betus.net. Starting wide receiver Troy Evans is suspended for the game after his arrest, and the team will start true freshman Rakeem Cato at quarterback.
Keep it here on Bleacher Report for continuous real-time updates before this game today and all season long.
According to Mike Casazza's twitter page, running back Trey Johnson is out today with an injury.
He was listed no. 2 on the depth chart behind Vernard Roberts at running back. Johnson was also ecpected to see some time returning kicks.
The loss of Johnson means more carries for Roberts, more playing time for Andre Buie who is third on the depth chart at the running back position.
It shouldn't figure to hurt the Mountaineers much as they will figure to feature the passing attack most prominently today under Holgorsen.
This article is
What is the duplicate article?
Why is this article offensive?
Where is this article plagiarized from?
Why is this article poorly edited?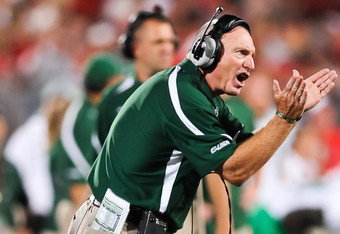 If you follow the gambling line, you will see the bettors seem to think the Herd can at least keep it a game. The line was at 23.5 in favor of the Mountaineers this morning. Currently at 2:45 Eastern time, 45 minutes to kickoff, the line sits at WVU -22. Why is the money going on the Herd?
In the early season, bettors don't like heavy favorites, particularly when it is teams they have heard of. They also look at last year, and believe events may repeat themselves.
Last season, WVU needed a miracle fourth quarter to come from behind to defeat Marshall by three points. There are a lot of differences however this time around.
On the positive side for Marshall, WVU is without talented running back Noel Divine who the Mountaineers lost to graduation.
However, if you are a fan of (or have bet on or have a rooting interest in) Marshall,you have to consider the following factors:
1. Geno Smith is a year older, and now firmly entrenched as WVU's starting quarterback. With a year in the offense under his belt, and under the leadership of offensive mastermind Dana Holgorsen, Smith could be in line for a huge game today and a huge year in 2011.
2. Tavon Austin - this gamebreaker can score any time he touches the football.
3. West Virginia is no longer a house divided against itself. The mess of a situation between Bill Stewart and Dana Holgorsen is now completely resolved in Holgorsen's favor with Stewart's resignation. The team should now be singularly focused on winning football games.
4. Marshall is starting a true freshman at quarterback. True freshmen quarterbacks and road wins rarely mix well. Rakeem Cato could be in for fits with the 3-3-5 scheme of WVU. I don't think Marshall has the athletes to deal with that kind of team speed.
22 points seems like a big spread, but West Virginia has the defense and offense to really put a hurting on Marshall today.
This article is
What is the duplicate article?
Why is this article offensive?
Where is this article plagiarized from?
Why is this article poorly edited?
West Virginia runs a 3-3-5, I know that sounds more like a soccer formation than a defense, but it is a defense that poses headaches for teams that rarely see it.
Last season, the West Virginia defense was statistically its best in school history allowing just 176 points in 13 games, an average of 13.5 points per game.
However, it returns only four starters on defense: DE Julian Miller, LB Najee Goode, CB Keith Tandy, and Strong Safety Terrence Garvin.
The key to the 3-3-5 is speed in the secondary, and making proper reads and most importantly, keeping plays in front of you.
With just six in the box on most plays, run defense support from the secondary is crucial so having two experienced players in the back, Tandy and Garvin, will certainly help. Tandy led the Big East with six interceptions last season.
Young players playing overly aggressive could lead to openings for Marshall to gash in the passing game off of play action. However, will true freshman starter Rakeem Cato be able to take advantage? Remember, he is also playing with one of his top targets, wide receiver Troy Evans.
Evans was suspended indefinitely after being arrested for his involvement in four armed robberies.
Evans caught 21 balls for 225 yards last season, but figured to be more involved in the offense this year.
The game kicks off in just under two hours, the conditions figure to be perfect with the temperature ecpected in the 80s.
This article is
What is the duplicate article?
Why is this article offensive?
Where is this article plagiarized from?
Why is this article poorly edited?
Eugene "Geno" Smith came to WVU as a four-star recruit according to recruiting service, Rivals.com. He came in with the ability to be an exciting pocket-passer with "escapability" for the WVU Mountaineers.
He is a far cry from the types of quarterbacks WVU has used in the past, run first with the ability to hit short-quick passes, the hallmark of the spread.
Smith has professional ability at the quarterback spot with a strong arm conducive to Holgorsen's high octane offensive style.
Smith started to realize his potential last season, his first full season as the starter. He completed 65% of his passes and threw for 2,763 yards. He threw 24 touchdowns and only seven interceptions.
This season is his second in the offensive system of Dana Holgorsen, and the first with a coaching staff that is actually all on the same page without the drama of Bill Stewart hanging around the program.
It will be interesting to see how he handles the offense today, and to see if he can become the playmaker he is capable of being.
Look for Smith to find Tavon Austin early and often today and look for WVU to put it in the air a lot against the Thundering Herd. It should be a good litmus test for the Junior quarterback.
This article is
What is the duplicate article?
Why is this article offensive?
Where is this article plagiarized from?
Why is this article poorly edited?
When Dana Holgorsen was hired at WVU, he was hired to be the offensive coordinator and coach in waiting. Bill Stewart coached the Mountaineers to a 9-3 record and share of the Big East championship in 2010.
In June, Stewart found himself in the middle of controversy. When Rich Rodriguez was coach, the Mountaineers offense was explosive. Under Bill Stewart, the Mountaineers offense didn't "look the part" of a national championship type-team. Athetic director Oliver Luck wanted a team that could win a national championship and was reported to halve said that the team "couldn't win a national championship under Stewart's leadership". That's when Holgorsen was hired, mainly to spruce up the offense.
Holgorsen's contract included a clause that stated that he would receive a raise in salary if he became the head coach before the season. So obviously, Luck was ready for controversy.
In the weeks leading up to the resignation of Stewart, it was reported that Stewart was doing some good old fashioned muckraking on Dana Holgorsen. One report linked Holgorsen to being out late in a casino.
As it got messier and messier, the decision was made, Stewart resigned, and Holgorsen will make his coaching debut a year early.
This article is
What is the duplicate article?
Why is this article offensive?
Where is this article plagiarized from?
Why is this article poorly edited?

WVU Football: Like this team?