Ohio State Buckeyes: Why Braxton Miller Is Still Destined to Start This Season
September 7, 2011
Kirk Irwin/Getty Images
Ohio State fans witnessed two capable quarterbacks in action against Akron last Saturday afternoon, and although both Joe Bauserman and Braxton Miller played well, Braxton Miller should be the starter moving forward.
We'll start with 25-year-old senior Joe Bauserman since he started the game Saturday which was his first start in eight years. 
Bauserman looked like a senior should; calm and confident. 
When Bauserman found himself in a broken down play where him and running back Carlos Hyde were not on the same page, Bauserman didn't panic, he simply weaved his way around six defenders to find the end zone from 15 yards out.
Last season, who knows what Bauserman would have done in a situation like that so it's clear that Joe has developed as a quarterback.
Bauserman finished the game 12 for 16 for 163 yards with three passing touchdowns (all to tight end Jake Stone Burner) and one rushing touchdown.
Bauserman looked good Saturday and most likely better than most fans had expected.
Enter Braxton Miller.
For as bad as Miller's first series went in the first half, it ended that much better once he was given a real chance to showcase his game.
The bad first series could be attributed to a rare drop from tight end Reid Fragel, and an even rarer bad snap from Mike Brewster the next play. Whatever the case though, sitting for a quarter and a half didn't phase the Freshman—if anything, it got him more focused.
Miller finished the game 8 for 12 for 130 yards with one touchdown while also chipping in 30 yards on the ground. 
Stats aside, what really impressed me about Braxton Miller was his pocket presence and the touch he displayed on his passes.
When Braxton Miller tossed his first career touchdown pass, he through a Troy Smith-type rope that split between two defenders and hit fellow freshman wideout Devin Smith right in the chest for six. 
On that play alone, Buckeye Nation witnessed how gifted Braxton Miller truly is. That's not to say that Joe Bauserman is not worthy enough to lead this Buckeye team, but what Braxton Miller brings to the field cannot be coached.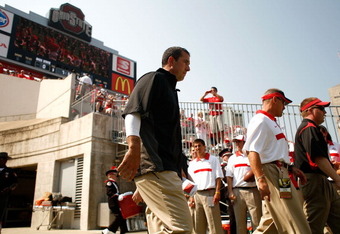 Kirk Irwin/Getty Images
I am also still skeptical of what Bauserman will do when he faces off against a defense that will pressure him.
Let's face it, Akron is not the best barometer for how either of these quarterbacks will perform against the likes of a Nebraska or Wisconsin, but I'll take the athletic ability of Miller over Bauserman in those games.
Bauserman presents more of a game manager, whereas Braxton Miller brings more flash and dynamics to the offense. 
Ohio State knows what they have in Joe Bauserman, for Braxton Miller though, we've yet to scratch the surface.
Luke Fickell is doing the right thing in starting Bauserman now and bringing the star freshman along slowly, but by mid-season, it should be Miller time.