Michigan Football: Western Michigan Preview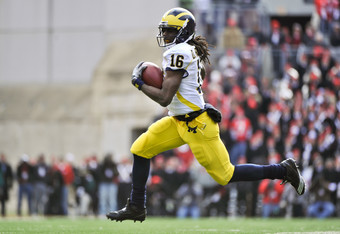 Jamie Sabau/Getty Images
The Brady Hoke Era finally begins today at Michigan, but don't expect Western Michigan to roll over for the Wolverines.
Broncos junior QB Alex Carder leads a wide-open passing offense that will test the schemes of new Michigan DC Greg Mattison. The plan is to return Michigan's defense to a traditional 4-3 look, but the Wolverines will need plenty of extra DBs against WMU.
Though the pipeline of MAC quarterbacks jumping to the NFL has slowed in recent years, Carder might be the player who starts it flowing again. At 6'2" and 224 pounds, he has NFL-caliber size to go with a very strong arm. He's not a great runner but has enough mobility to extend a few plays and scramble for the occasional first down.
Michigan will have to use their size and strength advantage on the defensive line to overpower the Broncos upfront and get in Carder's face. If he gets time to throw, he has the ability to pick apart Michigan's developing secondary.
Even so, it's unlikely that Carder will be able to match the output of his counterpart, Denard Robinson.
Robinson will struggle initially as he transitions from Rich Rodriguez' spread to Brady Hoke's pro-style offense, but his athleticism will shine through against a poor WMU defense.
Michigan will score early and often and grab a win in their opener.
Prediction: Michigan 41 Western Michigan 27
For More News and College Football Analysis, check out Bleacher Report's College Football Page.
Brady Hoke and his Michigan Wolverines got 2011 off to an excellent start. Well, maybe not right away.
The Western Michigan marched down the field for a touchdown on the opening drive of the season, but from there the Wolverines handled the Broncos through three quarters at Michigan Stadium. The game was called due to weather in the third quarter with Michigan leading 34-10.
While the yardage totals for both teams were separated by only ten yards, the flow of play was not nearly that close.
Alex Carder played well, and Western Michigan was able to move the ball between the 20s, but the Broncos struggled to push over the goal line. Carder was under siege by the Michigan defensive front all game long, so much so that at one point, he refused to speak with his offensive line. The Wolverines registered two sacks, one of which resulted in a fumble that was returned by Brandon Herron for a momentum-shifting touchdown. From that point on, Michigan reveled in its physical advantage over the smaller, slower Broncos.
The Wolverine run game was at once bruising and explosive. The offensive line, which had struggled to adjust to Rich Rodriguez' blocking schemes in recent years, went back to basics, simply blowing Western Michigan's defenders off the ball. As a team, Michigan averaged 7.3 yards per carry. Michael Shaw and Fitzgerald Toussaint were outstanding in a timeshare at tailback, combining for 135 yards on just 15 carries. Denard Robinson chipped in just 46 yards on 8 carries, a pedestrian effort by his standards. Robinson's effort in the passing game, however, was anything but pedestrian.
Robinson was 9 of 13 for 98 yards in his pro-style debut, but he showed poise, accuracy and decision-making skills that bode well for his continued success. Robinson wasn't perfect, but he showed a willingness to stay in the pocket and work through his reads, rather than just dashing off at the first sign of trouble.
Perhaps more important than anything, Robinson left the field on two feet. Keeping him healthy is essential if the Wolverines are going to be competitive in the Big Ten. Robinson was not sacked and rushed only eight times, minimizing the hits to his slight frame. If he can stay on the field, the Michigan offense will continue to improve.
The only big concern for the Wolverines going into next week will be the loss of starting cornerback Troy Woolfolk. Woolfolk left the game with an undisclosed lower body injury. His status for next week is still up in the air.
Even with that injury, Michigan comes out of Week 1 feeling great about the direction of their team. At the most basic level, they got back to what fans expect from Michigan football. Only this time, rather than the traditional "three yards and a cloud of dust", it was 30 yards and defenders grasping at dust.
This article is
What is the duplicate article?
Why is this article offensive?
Where is this article plagiarized from?
Why is this article poorly edited?
Denard Robinson has been surprisingly terrific so far in Al Borges' pro-style offense.
For a guy who excelled in a quick-read offense where he was encouraged to take off if his initial receiver was covered, Robinson has adjusted quickly to patiently working through his progressions. He's been helped by a dominant performance by his offensive line and outstanding support from his running backs, but Robinson has shown polish that simply wasn't there last season.
Yes, it's only Western Michigan, but Robinson has shown skills this afternoon that will translate against any opponent. The way he's reading the defense and delivering strikes doesn't exactly paint a picture of a traditional running quarterback. He's showing that he can put up big passing numbers even when he isn't threatening the defense with his legs.
Maybe the most important thing for Robinson will be what this new offense will do for his health. Staying in the pocket more, handing the ball off instead of pitching on the option, these changes will keep defenders away from Robinson and, in turn, keep Robinson on the field.
Denard Robinson put up historic numbers last season even as he missed time with multiple bumps and bruises. If he's able to stay on field for all of Michigan's games this season, I believe that he'll be one of the guests of honor at the Heisman Trophy presentation.
This article is
What is the duplicate article?
Why is this article offensive?
Where is this article plagiarized from?
Why is this article poorly edited?
I've been alternating back and forth all day between this game and the Notre Dame vs. South Florida game, and I've actually noticed some striking similarities (beside the fact that both games are now suspended due to severe thunderstorms).
In both games, one team has moved the ball well, but has just made too many mistakes to turn their yardage into points. Obviously, in the Notre Dame vs. South Florida game, that team is the Irish, but in this game, it's been Western Michigan.
The Broncos have moved the ball very well, but have made some ill-timed mistakes that have handed the game to Michigan. The Wolverines, to their credit have done an excellent job of taking advantage of those mistakes and putting the Broncos away.
This article is
What is the duplicate article?
Why is this article offensive?
Where is this article plagiarized from?
Why is this article poorly edited?
Brady Hoke has to feel good about his debut at the helm of the Michigan Wolverines. His defense looks improved and his quarterback has shown a better-than-expected grasp of his offense.
Denard Robinson is taking his time getting through his reads, but he still looks a little bit uncomfortable dropping back from under center. For a guy who flourished in the most uncomplicated of offenses last season, he has adjusted surprisingly well. He shown flashes of absolute brilliance, tossing a great deep out off of a five-step drop in the second quarter. That's exactly the type of throw that many assumed Robinson was incapable of making.
Western Michigan is moving the ball well against Michigan, but hasn't been able to capitalize. Brandon Herron's pick six might have shifted the momentum for good. Since that play, Michigan's athletes have begun to overwhelm the Broncos.
The Broncos look to be in striking distance, but I don't expect this one to be close in the second half. Look for Michigan to pull away for the victory.
This article is
What is the duplicate article?
Why is this article offensive?
Where is this article plagiarized from?
Why is this article poorly edited?
New defensive coordinator has his work cut out for him trying to repair a Michigan defense that was downright embarrassing in 2010.
Check out more on AnnArbor.com.
Mattison has plenty of talent at his disposal, and he's employing an interesting approach to implementing his new 4-3 system. He's looking for players that can play multiple positions. This will allow him to keep fresh players on the field at all times, as well as providing flexibility to switch up formations and schemes on defense.
Alex Carder will certainly have to deal with a variety of looks throughout the game today. If Mattison is able to confuse the WMU QB, Michgan should be able to cruise to victory.
This article is
What is the duplicate article?
Why is this article offensive?
Where is this article plagiarized from?
Why is this article poorly edited?
Check out Matt Sheehan's great preview of Michigan's opener. He breaks down the keys to the game for each team.
It will be especially important for Michigan to keep its focus on the task at hand and avoid looking ahead to next week's match-up with Notre Dame. That will be a huge game for the Wolverines, but a loss here to Western Michigan would significantly dampen the excitement around the first night game in the Big House.
This article is
What is the duplicate article?
Why is this article offensive?
Where is this article plagiarized from?
Why is this article poorly edited?

Michigan Wolverines Football: Like this team?