Kent State vs. Alabama: Live Score, Highlights and Recap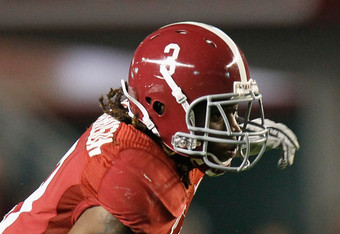 Kevin C. Cox/Getty Images
The Alabama Crimson Tide will be taking on Kent State in their season opener. Kent State will most likely not stand a hard chance against the Tide as 'Bama is ranked second in the country and looks to have another season similar to their 2009 campaign when they won the National Championship.
Running back Trent Richardson will be starting his Heisman campaign early and is expected to have a monster season running behind a stout offensive line. Richardson will need to hit the ground running immediately as he will be looked upon to be the leader of the offense as new starting quarterback A.J. McCarron get's settled in.
'Bama is picked to win by 38.5 points in their first contest of the season and will most likely rout Kent State. Richardson should have a monster day and the Alabama defense will be on full display as one of the best units in the country.
Alabama Routs Utah State
Alabama-48, Kent State-7 Final
Alabama finished their season opener against Kent State with a 48 to 7 victory. The story of the game was the new quarterbacks A.J. McCarron and Phillip Sims who carried their battle over from the spring into the fall.
McCarron outperformed Sims on the stat sheet, but both threw two interceptions. The trio of running backs Trent Richardson, Eddie Lacy and Jalston Fowler combined for five touchdowns and 164 yards. Marquiz Maze had eight receptions for 118 yards and a touchdown as well.
The defense held Kent State to 90 total yards and just six first downs. Although Kent State isn't exactly an SEC caliber opponent, the defense still showed they are going to be very good and will be have plenty of potential to be a National Championship type of defense.
Jalston Fowler Adds A Spark To 'Bama's Offense
Alabama-45, Kent State-7 4th: 7:00
Third string running back Jalston Fowler entered the game in the fourth quarter and provided a spark for the Alabama offense. Fowler rushed for 70 yards and a touchdown on just four carries. His 49 yard touchdown scamper showed that he might have a case for some playing time in the crowded backfield.
Richardson and Lacy are the clear cut favorites to carry the load of the rushing attack for the Crimson Tide, but Fowler could be used in third down situations from time to time.
Alabama has to be happy to see that their rushing attack has been solid and while the quarterback's haven't been consistent, the offense has put up points and has looked capable of making another National Championship run.
Alabama Leads Kent State Entering Fourth Quarter
Alabama-38, Kent State-7 4th: 15:00
Alabama leads Kent State entering the fourth quarter, but the story of the game is that failed opportunities shot 'Bama in the foot. Quarterback's A.J. McCarron and Phillip Sims have thrown for a combined one touchdown and four interceptions, not exactly an impressive state.
McCarron has shown more poise than Sims and has passed for 226 yards, but missed opportunities prevented Alabama from blowing Kent State out completely. Alabama's defense played remarkable and if Sims hadn't thrown an interception setting up Kent State with just three yards to work with making it possible for Kent State to score. Had that not have happened, Kent State might not be on the board at all right now.
Eddie Lacy and Trent Richardson Forming a Talented Backfield
Alabama-38, Kent State-7 3rd: 3:00
Eddie Lacy punched in a touchdown on the one yard line putting Alabama up 38 to 7 against Kent State and showing the college football world that Trent Richardson and Eddie Lacy could be forming the same type of running back combo of Mark Ingram and Richardson.
Richardson will be the headliner much like Ingram, but Lacy has gotten plenty of looks in the first game. He has just eight carries, but he's made the most out of them rushing for 58 yards and a touchdown. Richardson has 13 carries for 65 yards and three touchdowns giving the duo a total of 123 yards on the ground and four touchdowns, a solid day for the pair and there's still the entire fourth quarter yet to play.
McCarron Leads Alabama to Another Score, Richardson Scores His Third

Alabama-31, Kent State-7 3rd: 5:16
After Kent State scored A.J. McCarron went right back into the game and drove Alabama to another touchdown. McCarron completed all four of his passes for 65 yards and Trent Richardson rushed for his third touchdown on the goaline.
If the quarterback battle wasn't settled before this, it almost certainly is after. McCarron drove the Tide nearly the length of the field without a mistake, something Sims is yet to do in this game. It's hard to imagine McCarron not getting the starting nod after his performance today and the Alabama staff might need to re-evaluate whether or not Sims should sit and learn or if they want to rush him along.
When McCarron is in the game, the offense seems to run smooth with the exception of his interception in the first half. Richardson might not be piling on the yards, but with three rushing touchdown's; he's making a case for being one of the best running backs in the country.
Kent State Get's on the Board Against Alabama
Alabama-24, Kent State-7 3rd: 9:13
Kent State finally got on the board against Alabama after Phillip Sims second interception thrown setting Kent State up at 'Bama's three yard line. Kent State's quarterback Spencer Keith completed a three yard touchdown pass to Justin Thompson.
Obviously Kent State was in a great situation to finally score and Sims showed that he's falling behind in the quarterback battle. Sims has thrown two second half interceptions in just under six minutes. McCarron is going back in which doesn't mean that Sims' day is done, but it does mean that McCarron will be one up on him in the quarterback race.
Alabama isn't pulling away like they're supposed to, but they are still handling Kent State with ease.
Who will have the better second half, Sims or McCarron?
Judging by the score of the game, Saban may want to limit McCarron's time and see what Sims can do with the offense. Even though McCarron has outplayed Sims so far, the game isn't on the line and Saban won't want to risk an injury, especially during the first game.
Sims will most likely get more playing time in the second half, but his first half stats are giving him too much of a merit. Sims is seeing his first action though and if he get's to play in back to back series, he might just find a groove and start to light it up on the field.
McCarron's day isn't done by any means and he will get to see some playing time in the second half, but expect Sims to play with more urgency because he doesn't want to be the back-up all season and wants to win that starting job.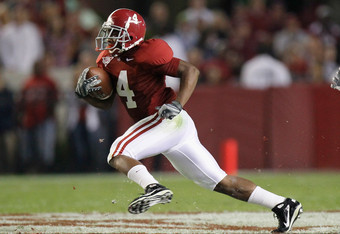 Marquis Maze is filling in for Julio Jones
Alabama will be looking for a replacement for Julio Jones and already it looks like Marquis Maze will be filling in for him. In the first half, Maze has seven receptions for 97 yards and a touchdown. Maze is looking to be McCarron's go to guy early on in the game and rightfully so. Maze has been consistent in his career thus far at Alabama and is now ready to take over as the an elite receiver in the SEC.
Maze is an undersized receiver, but his quickness and good hands make him reliable. Maze won't be asked to make the kind of plays that Jones made last year because of his lack of size, but his athleticism makes him more of a weapon. He can run in the slot and provide a safety valve for McCarron or Phillip Sims over the middle.
If Maze can come out in the second half and add to his great performance, it may just put him on the SEC map as one of the great receivers in the conference.
Halftime report: Alabama 24, Kent State 0
Alabama is taking care of business against Kent State, but the score might be blinding the performance. Trent Richardson was supposed to be carving up the opposing defense and running up, down, over and around everyone. Instead he has just 28 yards on nine carries, but he does have two touchdowns.
A.J. McCarron is clearly outplaying Phillip Sims. McCarron has completed 10 of 18 passes for 161 yards and a touchdown, but has thrown an interception. Sims has completed 3 of 7 passes for 33 yards. Sims has been sacked twice as well.
Alabama's defense has held Kent State to just one first down and 23 total yards. Alabama is still breaking in a new quarterback, but Richardson will need to come out with a better presence in the second half.
McCarron and Philip Sims Splitting Time
Alabama 21, Kent State 0 2nd: 13:52
A.J. McCarron looked impressive in the first quarter ,completing 7 of 9 passes for 112 yards and a touchdown. Now Phillip Sims is in the game and is looking like a redshirt freshman; the inexperience is outweighing the potential at this point.
Sims has completed just one pass out of four attempts and has been sacked twice for a loss of 12 yards. While Sims has plenty of upside and this quarterback battle is going to be heated all season long, 'Bama fans have to be expecting more—especially against Kent State.
Richardson, however, has two rushing touchdowns but just 18 yards on eight carries. Expect to see him pick up the pace, but if all else fails, he'll end up with possibly a couple more rushing touchdowns and a solid day altogether.
A.J. McCarron Looks Sharp in Debut for Alabama
Alabama 21, Kent State 0 1st: 1:29

In Alabama's first offensive drive of the season, A.J. McCarron completed his first three attempts for 26 yards, while Trent Richardson rushed for 10 yards and a touchdown. McCarron looks sharp in his debut, completing each of his passes.
The defense held Kent State to zero yards in the first drive, showing how stifling they may be this season. While it's only Kent State, Alabama is looking sharp right out of the gate. McCarron looks to be having a hold on the starting quarterback job, but it will be interesting to see how Phills performs because he will certainly get a chance in this game.
This article is
What is the duplicate article?
Why is this article offensive?
Where is this article plagiarized from?
Why is this article poorly edited?

Alabama Crimson Tide Football: Like this team?