College Football Week 1 Picks: Georgia Bulldogs Will Beat Short-Handed Boise St.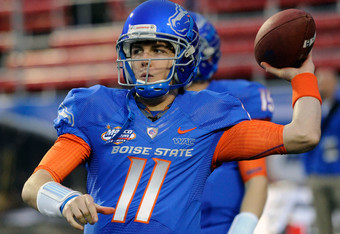 The site of Saturday's "neutral" game between No. 5 Boise State and No. 19 Georgia is about as neutral as FOX News. Atlanta's Georgia Dome will host the festivities, which should be a great game. Not to knock the procedure too much, but when the name of your school is in the title of the venue at which the game is played, you're not playing on neutral turf.
Boise state knows this, of course, and the Broncos did not agree to the game without knowledge of its location or parameters of the contest. It's not unfair; it's just a strange charade.
Added to that strangeness this week were the cases of Geraldo Boldewijn, Cedric Febis and Ricky Tjong-a-Tjoe. All three are from the Netherlands, and all three are under NCAA eligibility review. None will be available tonight, with Boldewijn being the biggest loss at receiver.
The Broncos still have the best player on either side of the football in this game, quarterback Kellen Moore. They have an experienced squad not too much damaged by NFL departures (although two losses in that form and Boldewijn's mysterious predicament leave the receiving corps lacking depth) after a 12-1 season in 2010.
That said, Georgia will win this game. Boise is short-handed, with both Febis and Tjong-a-Tjoe having been important parts of their defensive rotation as well. Austin Murray is ready to emerge as a top-shelf college passer. Mark Richt fears no one. And the Bulldogs, feeling like underdogs, have a distinct home-field advantage. Add to that the hunger of a team that only glimpsed how good they might have been in 2010, and you have a recipe for danger if you love the Broncos.
That this potential upset could put an end to Boise state's shot at a major bowl--Hell, it took just one last year--tells you all you need to know about the stupidity of the BCS.
In other news, how about those Netherlanders' last names?
Most recent updates:
This article is
What is the duplicate article?
Why is this article offensive?
Where is this article plagiarized from?
Why is this article poorly edited?