College Football Week 1 Picks: Underdogs to Stay Away from Today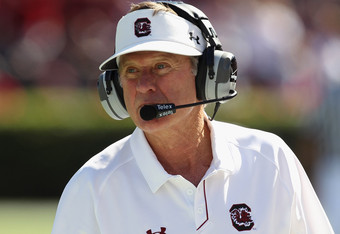 Streeter Lecka/Getty Images
College football season is here, and with it comes upset season. "Appalachian State" still bring visceral reactions from Michigan fans, though apparently, the Wolverines themselves are not scared.
It's not every year that a tiny school upends a BCS contender in Week 1, but every season, some unprepared would-be powerhouse topples from the Top 25 after a bad loss. Usually, the teams that win those games are teams with nothing to lose, thrilled to be playing before crowds in excess of 10,000, let alone 75,000.
No matter for whom you cheer, every Saturday is an adventure and a risk. Keep it here for a handful of teams that could spoil some bigger schools' Labor Day.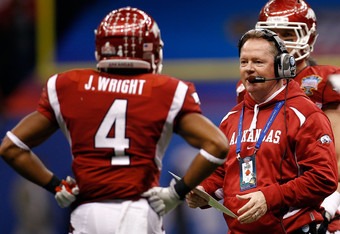 Looking for an upset to pick in Week 1 of any given NCAA football season? You could do a lot worse than picking against a team whose star quarterback just graduated. Such is the case for the Arkansas Razorbacks this season. Ryan Mallett is a backup passer in New England. Arkansas will start junior Tyler Wilson this year, which is not as bad as it could be, but the team certainly has some adjustments to make before they truly hit their stride.
Into Razorback Stadium tonight will come Missouri St., an MVC nobody who finished 5-6 last year in that fairly tough mid-major conference. They will be without starting quarterback Trevor Wooden, whom the team suspended for one game on August 26. They won't even tell us which freshman (it could be Mitchell Jenkins or Kierra Harris) they intend to start in lieu of Wooden. In reality, it feels more like Missouri State just lost a Mallett-caliber talent. They are not in position to beat the Razorbacks.
But they just might give them a serious run for their money.
Rather than try to pass against what is a staunch combination of pass-rush and opportunistic pass defense anyway, the Bears might lose Chris Douglas on Arkansas tonight. Douglas ran for over 1,000 yards last season--on 152 carries. Those numbers do not happen by accident, and if Arkansas has not adequately prepared for the challenge of stopping Douglas, Missouri State could score enough points to keep this game very interesting.
This article is
What is the duplicate article?
Why is this article offensive?
Where is this article plagiarized from?
Why is this article poorly edited?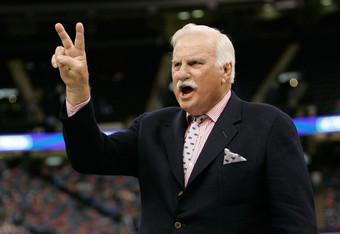 En route to Gainesville for a matchup with No. 22 Florida this week, Florida Atlantic coach Howard Schnellenberger was forced off the bus by severe discomfort in his hip. His trip to the hospital was uneventful, and all indications are that Schnellenberger will be on the sidelines tonight as the Owls play the Gators.
He might wish he weren't. Few teams in FBS have as much potential for misery this year as FAU. If Schnellenberger cringed in the face of serious hip discomfort, the hurt the Gators will put on his and his team's pride is going to be unbearable.
Consider: The Owls ranked 113th in scoring in FBS last year. They finished 78th in scoring defense. They then waved goodbye to their two leading tacklers, as well as starting quarterback Jeff Van Camp. Even with those players, they went 4-8 despite the nation's ninth-easiest schedule. This season, they might win fewer than three times.
Nor is Florida prime for an upset. In an offseason full of tumult for college football programs in Miami and Tallahassee and seemingly everywhere else, the Gators seem to have accomplished an uncannily smooth transition to Will Muschamp's leadership. For the first time in what feels like years, the team was not ravaged by players finishing their eligibility and/or entering the NFL Draft. John Brantley will be back under center; so will Jeff Demps at running back. The Gators are their usual athletic selves on defense.
Florida might not be true national title contenders, but they have every reason to be focused on this game, and they should steamroll FAU. With a new coach who needs impressing and a more winnable SEC East than anyone has seen in a few years, the Gators will be hungry for every win this year. Schnellenberger, who is slated to retire after this season, may be gone before the game ends.
This article is
What is the duplicate article?
Why is this article offensive?
Where is this article plagiarized from?
Why is this article poorly edited?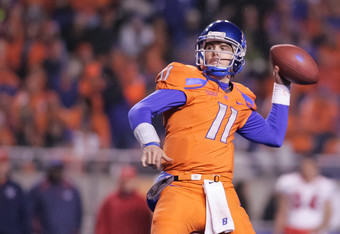 Boise State quarterback Kellen Moore has played in and won big games during his career with the Broncos, and he will add another heroic win to his resume tonight against the Georgia Bulldogs in the Georgia Dome.
The No. 5 ranked Broncos open up against a formidable SEC opponent in No. 19 Georgia, and a win for Boise would be a great way to start a season in which they have real national title aspirations.
Moore is 38-2 as a starter, and his experience will help the Broncos, who although are supposed to be playing in a neutral venue, the Georgia Dome is not that far from the UGA campus.
Broncos head coach Chris Peterson was asked recently if he though Moore would be as good as he is now when he came to Bosie in 2007, and he said the following via CBS Sports.
"He was one of those under-recruited guys," Petersen said. "I don't think anybody would have predicted this. He's just got a great feel for the game. He's an accurate thrower and he does such a great job for us. I'd like to say I had predicted it. He just came out of the gate and played at a high level right from the start."
Making Moore's job harder tonight is the eligibility issues of wide receiver Geraldo Boldewijn, who was supposed to have an increased role this season because the Broncos graduated several receivers last season.
Even without Boldewijn, Moore has plenty of weapons at his disposal on offense.
The Broncos will also be holding out two defensive players, safety Cedric Febis and defensive lineman Ricky Tjong-a-Tjoe.
Moore will lead the Broncos past the Bulldogs tonight in a high scoring game, and help make Boise's case as a legitimate BCS title contender.
He is an accurate passer who will pick apart the Georgia defense, and can also air it deep with his good arm strength. Moore won't panic tonight, and his poise and composure will rub off on his teammates.
Win a big game on the road? Kellen Moore has been there, done that.
This article is
What is the duplicate article?
Why is this article offensive?
Where is this article plagiarized from?
Why is this article poorly edited?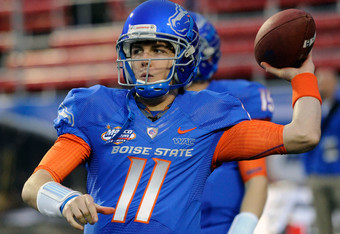 The site of Saturday's "neutral" game between No. 5 Boise State and No. 19 Georgia is about as neutral as FOX News. Atlanta's Georgia Dome will host the festivities, which should be a great game. Not to knock the procedure too much, but when the name of your school is in the title of the venue at which the game is played, you're not playing on neutral turf.
Boise state knows this, of course, and the Broncos did not agree to the game without knowledge of its location or parameters of the contest. It's not unfair; it's just a strange charade.
Added to that strangeness this week were the cases of Geraldo Boldewijn, Cedric Febis and Ricky Tjong-a-Tjoe. All three are from the Netherlands, and all three are under NCAA eligibility review. None will be available tonight, with Boldewijn being the biggest loss at receiver.
The Broncos still have the best player on either side of the football in this game, quarterback Kellen Moore. They have an experienced squad not too much damaged by NFL departures (although two losses in that form and Boldewijn's mysterious predicament leave the receiving corps lacking depth) after a 12-1 season in 2010.
That said, Georgia will win this game. Boise is short-handed, with both Febis and Tjong-a-Tjoe having been important parts of their defensive rotation as well. Austin Murray is ready to emerge as a top-shelf college passer. Mark Richt fears no one. And the Bulldogs, feeling like underdogs, have a distinct home-field advantage. Add to that the hunger of a team that only glimpsed how good they might have been in 2010, and you have a recipe for danger if you love the Broncos.
That this potential upset could put an end to Boise state's shot at a major bowl--Hell, it took just one last year--tells you all you need to know about the stupidity of the BCS.
In other news, how about those Netherlanders' last names?
This article is
What is the duplicate article?
Why is this article offensive?
Where is this article plagiarized from?
Why is this article poorly edited?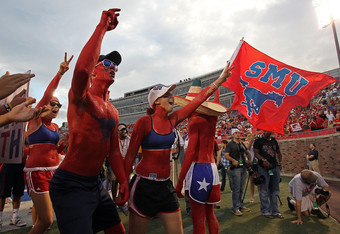 No. 8 Texas A&M has a chance to win the National Championship this year. They have talent on both sides of the ball that has screams contender and if they are able to wipe out their Big-12 competition, the Aggies could find themselves in the title picture.
All of that will go away after their first game, where the Aggies will fall victim to a massive upset at the hands of grossly underrated SMU.
Texas A&M is being bombarded with questions about a potential Big-12 exit. Their minds are elsewhere, as are their fans. The most important thing Texas A&M football right now is not their first game, which sets the stage for a shocking defeat.
SMU is no slouch either. If Texas A&M thinks they are going to walk away with this game uncontested they have another thing coming.
SMU is making huge strides. They've had to literally resurrect their program, which is a daunting task. While they continue to progress, they're still looking for a huge win to really put them on the map again as a force to be reckoned with.
That win can come in Week 1 and they know the opportunity that lies in front of them. The Aggies have everything going for them, but their minds are elsewhere. This is a trap game and it's safe to say that SMU has a real fighting chance.
Making bowl games in back-to-back years is nice, but taking down a top-10 team in their opener would be one of the greatest wins in SMU's tradition-laden history.
While Texas A&M is focused on their uncertain Big-12 future, SMU is focused on an upset.

This article is
What is the duplicate article?
Why is this article offensive?
Where is this article plagiarized from?
Why is this article poorly edited?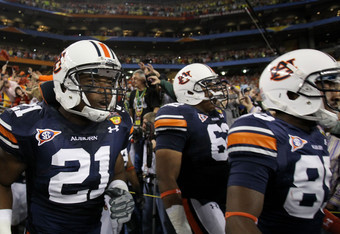 College football has begun, and the excitement is already at a high level thanks to the thrilling Baylor upset of TCU last night.
There are several ranked teams looking to get off to a good start this weekend, including the defending champion Auburn Tigers, who are ranked 23rd in the nation.
Let's look at three ranked teams who are stone cold locks against the spread.
Note: All spreads from Bodog.
No. 23 Auburn vs. Utah State: Auburn -24
Auburn lost Heisman Trophy winner Cam Newton and defensive star Nick Fairley from last year's National Title team but the Tigers are still loaded on both sides of the ball thanks to back-to-back top 5 recruiting classes.
Even though Utah State nearly upset Oklahoma early last year, Auburn will be ready to prove their doubters wrong this weekend.
No. 16 Notre Dame vs. South Florida: Notre Dame -10.5
Chip Kelly is slowly building Notre Dame back to the winning teams the school expects year in and year out, and will win by two touchdowns this week against South Florida.
South Florida is talented and a real threat in the Big East conference this year, but they won't be able to match the talent of the Fighting Irish.
No. 3 Oregon vs. No. 4 LSU: Oregon -3.5
Oregon must win this game to get back to the National Title game, and LSU's starting quarterback is not going to play due to suspension.
The Tigers still have a tough SEC schedule to help build their title game resume, but the Ducks need this win badly.
LaMichael James will lead the Ducks past a talented Tigers squad, and give Oregon a huge early season win and confidence builder.
This article is
What is the duplicate article?
Why is this article offensive?
Where is this article plagiarized from?
Why is this article poorly edited?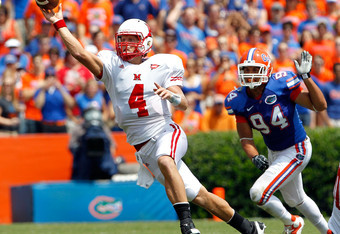 The Missouri Tigers are unhappy cats right now. Coach Gary Pinkel made it clear this week that he and his team, like the others in the Big 12, do not like the way the league bends to the every whim of Texas and Oklahoma.
As a season more fraught with off-field distraction than any in recent memory begins today, the Tigers must try to maintain focus and avoid thinking about the looming implosion of the very league in which they play. Quarterback James Franklin, who replaces graduated Blaine Gabbert, needs to be able to operate an offense which he has studied and practiced at length, but which he has had very little chance to perfect.
With so little in the way of continuity or institutional memory going for them right now, Mizzou is vulnerable to an upset, especially early in the season. The Miami (OH) RedHawks see this as a huge opportunity.
After all we learned last month about the "other" Miami, this program--long a regional power in the MAC--has a chance to gain ground by sheer contrast. To do it, though, they will need to notch some wins over current contenders. Missouri would rate as a big win, and the RedHawks (who return virtually all of the team that won 10 games in 2010) have a real chance to get it done.
This article is
What is the duplicate article?
Why is this article offensive?
Where is this article plagiarized from?
Why is this article poorly edited?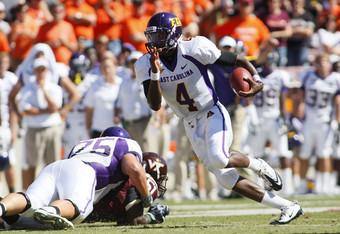 Dominique Davis and the East Carolina Pirates enter tonight's game with No. 12 South Carolina feeling good about their team. Although they collapsed in 2010, losing five of their last six and finishing 6-7 on the year, they have Dominique Davis back for a second season in their spread offense and feel they can hang with South Carolina.
The Pirates' defense was the worst in FBS last year, and has improved only modestly. Luckily, then, the Gamecocks are making things easier for them by being indecisive and arrogant. Coach Steve Spurrier has promised both of his quarterbacks playing time, like an NFL coach in a preseason game. The problem, of course, is that the NCAA does not have a preseason, and East Carolina is not some Div. 1-AA pushover. The Gamecocks are on upset alert tonight, although it ought to be noted that their explosive offense is of exactly the sort that routinely carved up the Pirates' secondary last season.
Does the loss of Jonathan Williams to the NFL hurt the Pirates? Absolutely. Giavanni Ruffin, however, is a more talented runner than that for which he has been given credit, and he provides a great target for Davis out of the backfield. The Pirates will have no difficulty moving the ball.
The game really comes down to Alshon Jeffery and the Gamecocks exploiting, or not exploiting, the Pirates defense. Jeffery looks like a true receiving superstar in the making, but must prove he can do more than play to the level of the competition. If Stephen Garcia can keep Spurrier from pulling him by playing to his potential, that should not be a problem. But East Carolina enters this game believing they can hold down South Carolina's passing attack. Played on a neutral field in Charlotte, this games will be interesting and should be closer than many have predicted.
This article is
What is the duplicate article?
Why is this article offensive?
Where is this article plagiarized from?
Why is this article poorly edited?