Army Black Knights: Big Day on the Ground Not Enough in Home Opener
September 11, 2011
The West Point home opener was held a day before the 10th anniversary of 9/11 and was themed "Salute to Heroes Day". The game day included distinguished guests, a huge American flag, patriotic music and, of course, a great battle of the gridiron. Decided in the last minute, San Diego State traveled over 2,000 miles to defeat the Cadets 23-20.
Among the special guests were policeman, fireman, emergency workers and soldiers who'd recently returned from service overseas.  Former New York City Mayor, Rudy Giuliani addressed the crowd of over 27,000 at halftime.  An Army Medal of Honor recipient was introduced and received a standing ovation.  Before the start of the game, Army running back Jon Crucitti carried out on to the field a flag first flown at Ground Zero provided by New York City first responders.    
After an immense amount of rain from two recent storms, the game was played on a beautiful late summer day at Michie Stadium.  West Point came back from an early 14-0 deficit with two drives of 71 and 82 yards; both culminating in scores by quarterback Trent Steelman. 
In the second half, after an 80-yard drive by the Aztecs, Steelman scored his third touchdown of the day with a 17-yard run to tie the game at 20.  A 42-yard field goal by the Aztecs Abelardo gave SDSU a 23-20 lead. A late West Point drive ended on downs and they were just out of range for a field goal attempt.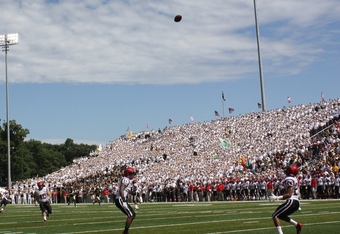 During the postgame press conference, coach Ellerson was disappointed about the outcome, but was very positive over the improvements his team had made since the opening week loss to Northern Illinois.
"We competed for 60 minutes. We grew so much as competitors from week one to week two. I don't know how good we are, but we are a tough, tough football team. We've got to be a better football team," Ellerson said.
"This is going to have a happy ending if we continue to grow, if we just keep getting better. If this football team will keep believing in itself and battling like that, it'll have a chance to win every week. Beating (San Diego State) would have been every bit as big as beating SMU in the bowl game."
The Black Knights rebuilt offensive line showed fight and maturity in supporting the Cadets to 403 yards of rushing offense. At times in the second quarter, it seemed that West Point's o-line was pushing back the San Diego State defensive backs three or four yards off the line of scrimmage. I asked Ellerson about the improvement in the offensive line.
"We're changing plays as they're changing defenses. The play stays on the blocking changes. To have that all going on and to play as impressively as they did bodes well for us. I'm not sure we're knocking anybody way out of there, but we absolutely were playing aggressively. We were coming out of our shoes and we executed our offense. We're not going to be the biggest bunch, but we're going to be athletic," Ellerson said.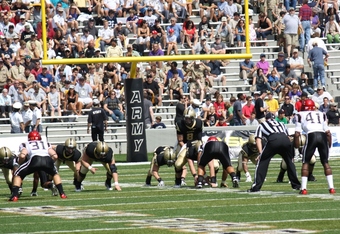 Steelman had his best day in college, running the football for 157 yards on 21 carries. The junior from Bowling Green Kentucky looked aggressive in hitting holes in the Aztec defense, often right behind his center Will Wilson. 
He commented on the strong running game Army demonstrated on the day, generating 403 rushing yards.  
"As a whole, that's what we pride ourselves on. That's what the triple option is all about—running the ball. When you have the guys putting forth the effort, our slot backs, our wide receivers are doing their jobs, even when they're not expecting the ball every time like in a regular offense," Steelman said.
"They take pride in how they perform when they don't have the ball. That's what we have to have. The stats speak for themselves. There's not much else to say. Just look at the rushing yards and you'll see how hard we played."
 The game took its toll on Steelman coming out of the game twice in the fourth quarter, the second time reaching for his right shoulder.  
Going into the game I had been concerned that the new Black Knight no-huddle offense might be a distraction, but it seemed, at times, to confuse the Aztec defense. After each play, Steelman would lead the offense right back to the line of scrimmage.  He then had the option to run a play or look to the bench for instructions provided as symbols on cards. I asked the Army signal caller if he was getting more comfortable with this new strategy.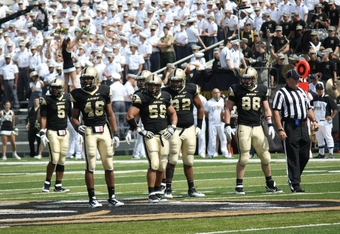 "It's picked up a ton since NIU. It gives us an opportunity to kind of see what the defense is going to bring and what adjustments they are going to make. At the same time, it doesn't allow them to substitute in," Steelman said.
Steelman believes this style allows for the Black Knights' to establish a productive rhythm on offense. "We take pride in our time of possession, controlling the ball and keeping our defense off the field to let them rest. We're speeding up the tempo, slowing it down, speeding it up, slowing it down. It really throws off the rhythm of the defense and that's when we can exploit them."
Next week, Army will have another tough home game against 2-0 Northwestern, who defeated   Eastern Illinois this week with backup quarterback Kain Colter running for 109 yards and throwing for 104 yards more.
Ken Kraetzer conducts the West Point Radio Report every Tuesday evening at 5:30 EST from New Rochelle, NY based WVOX 1460 and WVOX.com.  Reach Ken on kgk914@aol.com.