TCU vs. Baylor Live Blog: Instant Analysis and Commentary for Tonight's Game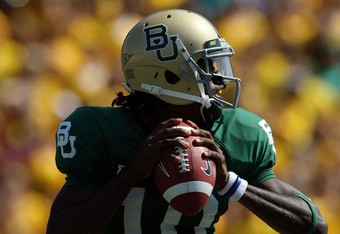 Can Baylor QB Robert Griffin III lead the Bears to an upset over TCU tonight?
Ronald Martinez/Getty Images
The entire college football world seems to be focused in on this weekend's two marquee matchups, LSU vs. Oregon and Boise State vs. Georgia, but there is another intriguing game to keep an eye on and that's TCU vs. Baylor.
While tonight's contest doesn't have the national title implications that Saturday night's showdowns have, it's still a game that could potentially play a major role in shaping the 2011 season.
TCU is a team that's going into the season with a Top 20 ranking after a marvelous undefeated campaign and victory in the Rose Bowl last year. However, the Horned Frogs lost a lot of talent from last year's squad and there are a couple key holes to fill, most notably at the quarterback position.
Baylor enters 2011 unranked, but this is a team, led by emerging playmaking QB Robert Griffin III, that appears to be on the upswing and the Bears might just be one of the sleeper teams in the Big 12 this year.
It's certainly a tough game to predict, and the boys in Vegas only have TCU as a five-point favorite.
Even though Baylor got blasted 45-10 in last year's meeting, my gut feeling tells me that the Bears could be ready to put up a big showing in front of their home crowd to start off the season.
There should be a a lot of energy in Waco when these two Texas teams clash tonight, and I'll be blogging throughout the game.

Kickoff is set for 8 p.m. EST and the game will be televised on ESPN.
College Football's back!!!!!
Kendall Wright and Robert Griffin III have arrived.
TCU has some work to do.
I promise you one thing, this season is going to be one of the most interesting we've seen in quite a while.
I'll see you tomorrow, when I blog the Georgia-Boise State game.
Let's regroup and get ready for the first Saturday of the season.
It's been fun.
Touche, Baylor.
That's how you kick off a college football season.
I guess the Bears were just keeping us on our toes the whole time.
Baylor wins it 50-48.
And there it is, Casey Pachall blows it.
Wow
AHHHHH, Ahmad Dixon almost sealed it with a pick.
Terrible pass by Pachall
I just have a feeling that Ross Evans will get his shot.
This is not the time to play man defense on the outside.
For the love of god, don't kick it to Greg McCoy!
AND, IT, IS, GOOOODDDDDDD!!!!!!!
Baylor 50, TCU 48
But, and a big but, there's still a minute left.
Ladies and gentlemen, college football is back!
Well here we go, 37 yards to glory
Tank Carder's neck pad is a mess.
The play-action is back!!!!!
TCU can't deal with the play action.
Hey my quarterback's taken a lot of shots tonight.
(Art Briles thought bubble) I've got it, let's have him run a passing route into the middle of the defense so he can get walloped by two defenders.
Alright, let's see if Baylor can get that screen game finally working.
48-47 TCU has come alllllll the way back.
Robert Griffin, it's your turn.
Does anyone else remember when this game was 47-23?
I don't
That seems like two weeks ago.
Another third down failure by TCU.
Ross Evans, let's see what ya got.
Hey, somebody finally tackled Josh Boyce.
About time.
Baylor's defense needs a beer.
Can anyone in the Baylor secondary make a tackle?
Is that asking too much?
Wrap your arms around the ball carrier's legs.
It's not as difficult as it sounds.
And there's the final piece to the Baylor collapse.
Griffin fumbles.
How did we get here?
How did this happen?
Two point conversion no good, though.
Boyce and Pachall both dealing with cramping issues.
Let's see if RG3 and Kendall Wright can reemerge from the witness protection program they have been in for the last half hour.
TOUCHDOWN!!!!
Who's David Porter?
Will it be Boyce, Dawson or one of the backs who scores the big TD?
Is there any doubt that TCU is driving it in and coming up with the tying two point conversion?
It's really sad watching Baylor quit on this game.
You guys had it and then you pulled a Howard Dean and threw it all away.
Biyahh!!!
This article is
What is the duplicate article?
Why is this article offensive?
Where is this article plagiarized from?
Why is this article poorly edited?