Wayne Rooney Imperious as Capello's England Defeats Bulgaria
September 2, 2011
Michael Regan/Getty Images
Fabio Capello raised eyebrows by dropping Frank Lampard to the bench in Sofia tonight as England took three points in the Euro 2012 qualifying match against Bulgaria.
Playing a fluid 4-2-3-1, Ashley Young, Stewart Downing and Theo Walcott supported Wayne Rooney as England looked quick and inventive.
Bulgaria looked nervous at the back from the outset, though neither side gained any great advantage in a scrappy opening.
England began to settle down in the ninth minute, when Chris Smalling, making his full debut at right-back, lofted an accurate cross into the box which Bulgaria cleared with little confidence.
Receiving an excellent ball from Gareth Barry, Gary Cahill slotted home his first goal for England and the Bulgarian defense failed to make any meaningful attempt to stop him.
Barry and Scott Parker helped England gain control of the game from then on, breaking up the Bulgarian attacks in the midfield, then linking play with the front four who started to interchange with menacing confidence.
Though Ivelin Popov worked tirelessly for Bulgaria, dropping deep to find space, the England defense was coping ably until a scare in the 19th minute when Martin Petrov almost scored.
Petrov had found space, dropping off Smalling when a cross inexplicably eluded the English defense. Petrov found himself clear, but he failed to grab the opportunity, shooting wide from close range.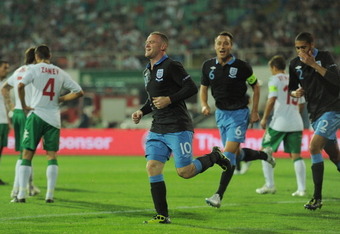 Michael Regan/Getty Images
Most of Bulgaria's threats came from Martin Petrov, who had identified Smalling's moments of nervousness and tried to put pressure on the young Manchester United player. Smalling, having only recently been moved by Sir Alex Ferguson from center to right-back, understandably had some moments of positional uncertainty but managed to keep his nerve.
England displayed good movement as Young, Downing and Walcott switched positions often, and Wayne Rooney dropped deep to find space at will.
After 21 minutes, two of the front four combined to extend England's lead. Downing delivered an excellent cross from the corner flag, and Rooney barely had to stretch to nod home and make it 2-0.
Bulgaria's defense again was very poor as England constantly unsettled them with controlled passing and quick counterattacks.
Bulgaria rarely threatened, and any brief attacking poise was confounded either by Barry and Parker's diligent work or by John Terry and Gary Cahill, who were very assured at the back.
As the end of the first half approached, England scythed through the Bulgaria defense once more, this time being rewarded for their fine approach work.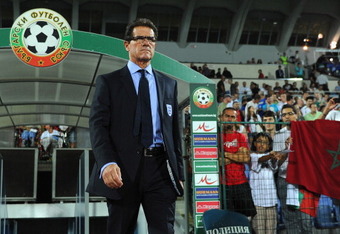 Michael Regan/Getty Images
Walcott fed the ball to Young, who slid the ball through to Rooney who tapped in an easy but deserved goal to give England a 3-0 lead just before the whistle blew for halftime.
Bulgaria came out looking to restore some pride at the start of the second half and came very close to scoring and at least posing a question of England's resilience.
On 54 minutes, the two Petrovs combined to create an opportunity for Bulgaria. Martin lobbed in a dangerous corner kick, and Stilyan executed a header at which Joe Hart flung himself to pull off an excellent save.
England quickly turned defense into attack, as Walcott produced an excellent cross to find Downing who was unlucky to see his effort rebound off the post.
England controlled the game with much more aplomb than in recent matches, keeping possession and threatening whenever opportunity arose but keeping a good shape by dropping in when Bulgaria had the ball, then breaking up the play and launching incisive counters.
Rooney was relishing the freedom of his role, finding space to turn and go at the Bulgarian defenders or pick out the impressive supporting cast of attacking midfielders.
On 75 minutes, Rooney exemplified his excellent performance by slotting a perfect through-ball to Walcott who lashed the ball wide. A bad miss to mar an otherwise encouraging display from the young Arsenal attacking midfielder.
England maintained their dominance with little trouble, almost putting Rooney through close to the final whistle and saw the game out, fittingly, in the Bulgarian half.
It was a very encouraging outing for England, in which Fabio Capello seemed to have finally implemented a system which utilizes his best attacking options while maintaining a solid and cohesive central midfield.
No one will be dusting off the trophy cabinet yet, but this was certainly a step forward for Capello's England.