Swagger Home Invasion: College Football Must-See Games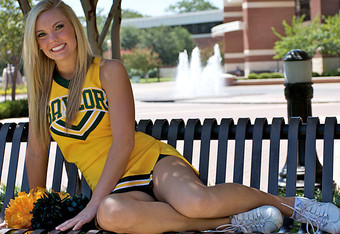 It's finally here, folks.
Football season.
Now I won't have to watch this guy to get my football fix. (Keep in mind I'm kind of bothered that he's doing this at a pee-wee game, but that's a talk for another time).
But as I was saying, the pigskin is back in play so unless you still have some college eligibility left, let's break down the must-see CFB games and TV shows for this weekend.
Friday Night: Baylor vs. (14) TCU, on ESPN, 8 p.m. EST or Seven Days in Utopia

Andy Dalton is gone for TCU, but QB Robert Griffin III and his top target Kendall Wright are back for the Bears.
Yeah, I'm a homer but I got the boys from Waco avenging last year's 45-10 butt-whooping and bringing the all-time series record to even (right now it's 50-49-7, TCU).
If you feel like getting out tonight, you can go watch Robert Duvall in a golf movie. I do this because I care, people.
Saturday Night: (3) Oregon @ (4) LSU ABC, 8 p.m. EST or (25) USC vs. Minnesota

This is a battle of top 5 teams, one of the best of the SEC vs the best of the Pac-12. It's also a contest between two schools that had controversial off-seasons.
According to ESPN:
Oregon starter Darron Thomas, who threw 30 touchdowns last season to rank second in the Pac-10, was also involved in an offseason incident but will play Saturday. Thomas claims he was asleep in the car when cornerback Cliff Harris was pulled over for driving 118 mph this summer.

Thomas also denies he was smoking marijuana. A police dashboard camera video revealed that the officer who pulled Harris over thought he smelled the odor of marijuana coming from the car.
So yes, Thomas will play, but his LSU counterpart isn't so lucky.
(The Tigers) will be without projected starting quarterback Jordan Jefferson along with reserve linebacker Josh Johns. Both have been suspended indefinitely after being arrested on felony second-degree battery charges stemming from an Aug. 19 melee outside Shady's Bar in Baton Rouge.
Even with all that sketchy behavior, this should still be a great game. I got the Ducks winning a close one.
I also have the Trojans beating the Gophers (3:30 ABC/ESPN3.com) to temporarily get Lane Kiffin off the hot-seat that I am putting him on.
The rest of the weekend in a second...
Stay tuned for what the Rest of the Gang is doing.
What I'll actually be watching for the majority of the weekend: My mom's puppy, Maxwell, while she is out of town.
What I want to watch more than anything else this weekend: That would be Cole Hamels beating the Marlins on Saturday, Roy Halladay beating the Marlins on Sunday, and Cliff Lee beating the Braves on Monday.
God it is good to be a Philadelphia fan these days.
What I'll actually be watching on Saturday: A bunch of my buddies spend laborious amounts of time trying to decide who they will be selecting in our annual fantasy football draft. The draft blends into a party, meaning by the later rounds there will probably be a few of our drunk friends heckling us because we haven't started the grill up yet. Hopefully, none of them will step on Maxwell (he's a little guy.)
What I want to watch more than anything else on Saturday (other than Hamels): Is it US Open Tennis?
Nah, Maria Sharapova already got knocked out.
It's Oregon against LSU on Saturday night, of course. I'd make a prediction, but I don't have any mascot heads to parade around in, so what's the point?
What I'll actually be watching on Sunday: Halladay. You don't skip Halladay starts if you don't have to.
What I want to watch more than anything else on Sunday (other than Halladay): Curb Your Enthusiasm. Until Parks and Recreation returns, Curb is hands-down the funniest program on television.
What I'll actually be watching on Monday: I'll be trying like hell to watch the Phillies and Cliff Cool (it's high time we all started calling him that) take on the Braves, but chances are I'll be watching my younger cousins run circles around me in the mandatory game of pick-up soccer we have at family gatherings. I knew I shouldn't have consumed that third beer...
What I want to watch more than anything else on Monday (other than Lee): A delicious hamburger sizzling on the grill. Then I want to slide it between two sesame-seed buns, lather it up with some mustard, and add a few pickles and tomatoes.
I'm salivating right now.
My name is Timothy Rapp, and I approved this post.
This article is
What is the duplicate article?
Why is this article offensive?
Where is this article plagiarized from?
Why is this article poorly edited?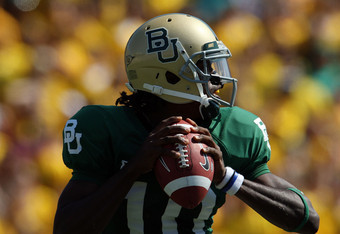 Here is the rest of the weekend schedule:
Sunday: SMU @ (8) Texas A&M or Breaking Bad
I'm kind of torn here. I can watch a former receiver turned full-time quarterback lead the Aggies in one of their last few games before jumping the Big-12 ship, (and running out of the shadow of the Longhorns into the shadow of nine SEC teams), or I can watch Breaking Bad...
I choose Walter White.
Monday Night: Miami (FL) @ Maryland (8:00 p.m. ESPN/ESPN3.com) or VH-1 Basketball Wives reruns and Rick James, B*tch

This game features the South Beach team that might or might not be facing serious sanctions sometime soon. Coming from a USC Trojan, I wish the Hurricanes fans out there good luck with the NCAA.
And to cheer you up, there's a new Behind the Music: Rick James airing as you wait for the next episode of Basketball Wives LA to come on.
Update on the two college football games going on right now:
Baylor 34, TCU 23.
According to Lou Holtz during the ESPN halftime show, TCU has had the No. 1 defense in the country the last three years. Well, they aren't numero uno tonight. The two teams have combined for over 500 yards and 37 points in one half of football.
That's either a lot of offense or no defense. Sitting here watching it, I'd say it's both.
UPDATE: The Bears hold on to win by the skin of the teeth. Might it be the best game of the year happens in the first week of the season?
Baylor 50, TCU 48.
Wow
Meanwhile, Michigan State is having a bit more trouble with Youngstown State. MSU 14, Youngstown State 6.
Update: Final Score MSU 28 YSU 6
Another update as the games end.
This article is
What is the duplicate article?
Why is this article offensive?
Where is this article plagiarized from?
Why is this article poorly edited?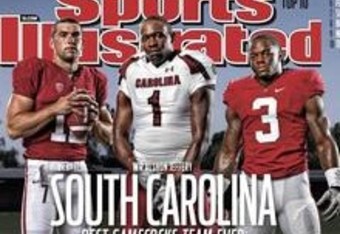 It's my birthday, sports fans and all I want is a University of South Carolina blowout. And a pony.
Saturday Night: (12) South Carolina vs. East Carolina, FSN, 7:00 p.m. EST.
It's no accident that the past five BCS Champions have come from the SEC. Like it or not, the SEC is the best conference in NCAA football and the second best isn't even in their rear-view mirror anymore.
Being a part of the best conference in the country comes with a lot of perks: top recruiting classes, nationally televised games, and so much respect for strength of schedule that one-, or even two-loss teams in the SEC routinely finish ahead of undefeated teams in the BCS rankings.
It's a pretty sweet deal for Auburn, Alabama, Florida, LSU and the other schools considered the class of the SEC, but for the long-suffering fans of the South Carolina Gamecocks it's decidedly less glamorous.
South Carolina joined the SEC in 1991 when the conference increased its membership to 12 teams and split into two conferences. Since then, their fans have remained steadfastly dedicated and optimistic despite the fact that they've hovered slightly below, or slightly above, mediocrity with relatively few bright spots.
Well, that is, until this year. On the Aug. 22 edition of Sports Illustrated that's hitting newsstands in the Southeast, South Carolina wide receiver Alshon Jeffrey is sandwiched between Stanford quarterback Andrew Luck (better known as the next John Elway) and Alabama running back Trent Richardson.
The headline reads: "South Carolina: Best Gamecocks Team Ever."
Well, the Gamecocks certainly aren't below the radar going into their season opener against East Carolina on Saturday. Will it be the beginning of a statement season that earns them a place amongst the big dogs in the conference, or will it be the last word that relegates them to the ranks of Vanderbilt and Kentucky?
That was mean...sorry, Vandy.
This article is
What is the duplicate article?
Why is this article offensive?
Where is this article plagiarized from?
Why is this article poorly edited?