Omaha Nighthawks: Quarterback Competition Is a Two-Man Race
September 2, 2011
Dilip Vishwanat/Getty Images
It's always nice to have a "good problem" when you're looking at your football roster. While many UFL teams can struggle to find one player to fill a starting position, there are others who have the luxury of having multiple players that can start on any given game day.
Just last season, the Las Vegas Locomotives had the exact same luxury, and it led to their second championship in as many years. When Tim Rattay went down for the year with an injury and Drew Willy wasn't producing in the regular season, Chase Clement was ready to take over the quarterback position. His athleticism and calm demeanor were key in the Locos' victory over Florida in the championship game.
The Omaha Nighthawks now have a talented cast of quarterbacks on their team, and with the addition of former Baltimore Raven Troy Smith, they arguably have the most athletic group of quarterbacks in the United Football League.
Smith is coming off of a four-year career in the NFL where he played with the Baltimore Ravens and most recently the San Francisco 49ers. He started eight games in the NFL and has thrown for over 1,700 yards in the process.
Combine that with his collegiate career where he won the Heisman Trophy in 2006, and it is obvious that he has the potential to become the starter in Omaha.
He has more NFL experience than any of the other quarterbacks on the roster, which would make one believe that he's a shoe-in to be given the nod when the Nighthawks welcome the Virginia Destroyers at the season opener.
But some may disagree.
"I think you have forgotten about (Jeremiah) Masoli," Matt Overton, the Nighthawks' long snapper told me. "This offense is Masoli's bread and butter."
The Nighthawks are looking to use an offensive system that capitalizes on the speed of their quarterbacks. Coach Joe Moglia wants the starting signal caller to be just as much a threat with his feet as he is with his arm.
Masoli fits that mold as well.
Masoli comes to the Nighthawks as an undrafted rookie free agent who set the single-season record for rushing yards by an Ole Miss quarterback in 2010 with 544 yards.
"Jeremiah has a unique skill set for the quarterback position and it fits with what we do on offense," General Manager Rick Mueller said when Masoli signed with the team. "He is a competitor and winner and we are excited to have him officially wearing a Nighthawk jersey."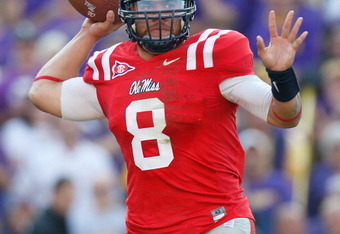 Kevin C. Cox/Getty Images
When looking at the quarterback depth chart, it's hard to compare Masoli and Smith to the other QBs since there is a lack of recent game tape on the others. The two can easily be the front-runners for the starting position.
Although I'm sure many Cornhusker fans are hoping for Eric Crouch to emerge as the starter. Much like Denver Bronco fans are dying to see Tim Tebow start.
Not a knock on either guy. But the fans want him because he's a fan favorite, not because he's the best quarterback on the roster.
I believe it's a two-man race in Omaha, which is still a good thing. If it were a three- or four-person race, it would be hard to split practice snaps between all of them. Matt Overton told me that all the quarterbacks are currently splitting reps in practice, but as we get closer to opening day I'd expect Masoli or Smith to start garnering the majority of them.
With Smith, you have a player who is coming directly from a pro-style camp into what many will believe is a spread offense. Obviously he'll start behind the eight-ball since Masoli has been with the team throughout the offseason.
If you're a Nighthawk fan, you must be happy to have such a talented and young team. The 'Hawks are a complete opposite this season than they were just a year ago. Last season, they were starting a quarterback who was approaching the age of 40. This season they'll start a young, mobile quarterback to hopefully bring some wins and excitement for Nighthawk Nation.
No matter who they pick to start, it'll be interesting to see a mobile quarterback use a unorthodox offense in professional football.