College Football 2011: Wisconsin Welcomes Wilson, Wins...and Worries?
September 2, 2011
Jeff Gross/Getty Images
It was a beautiful Thursday night for college football all over America.
The nation's attention went to Camp Randall, Wisconsin, where we watched Wisconsin tear UNLV a new one in what was Russell Wilson's coming-out party as the new man on campus.
God knows ESPN talked about him enough, and we can understand why—because otherwise you probably would have turned this thing off after the first quarter (yep, UNLV were that bad!).
True, the only thing that kept us watching the game was Twitter, where we got to insult not just UNLV ("an insult to terrible"), but more specifically, their offense.
But if you're a resident of Camp Randall, you should be worried.
Not because of "Jump Around," for that was awesome.
Not because of Montee Ball and James White, who might just be the best 1-2 running back combination in college football. Running behind the Red Ogres, they will put a ton of points on boards around the B1G (or whatever it's called!).
And not because of ESPN's shots putting Mad-town into a bad light—they were the sort of shots that make you want to visit Madison immediately on a summer's day like that (although the University's official Twitter site told us it gets a little chilly in December) and jump into the lake!
You should be worried because of that defense. It was absolutely awful. UNLV ran past Wisconsin at the edges at will. That's probably why Bret Bielema kept Wisconsin's defensive starters in for the whole game, and didn't look too happy when the Running Rebels put up their third touchdown of the night to not only make it 50-17, but cover Las Vegas' 34.5-point spread before the game.
Not that we think Bielema was gambling, but he probably thought his defense needed a workout. They'll sure as heck need extra tackling drills, because you can be sure Oregon State will fly past them if there's this kind of problem with the Badgers next week. And remember folks, Oregon State isn't as terrible as UNLV.
Anyway, a win's a win in Madison. Jump around.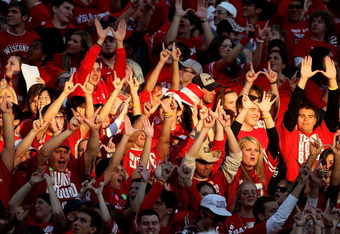 Jonathan Daniel/Getty Images