Boston Red Sox: The 20 Greatest Hitters in Franchise History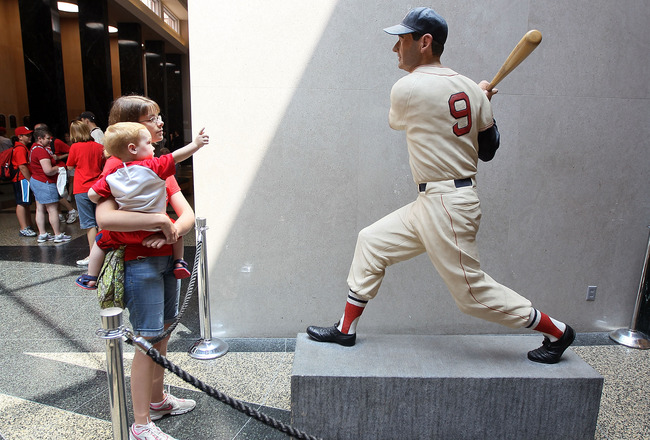 Jim McIsaac/Getty Images
When you think about major league baseball, the Boston Red Sox are usually among the first franchises to pop into your head. There's no way to avoid it, given the constant media coverage of the club and of its rivalry with the New York Yankees.
Though they're now one of the most competitive franchises in baseball, the Red Sox endured an infamous stretch of futility that stretch for nearly a century. World Series victories in 1918 and 2004 were bookends to those struggles, but even in their worst years, the Sox were blessed with great offensive talent.
Taking a look back, here are the 20 greatest hitters to don a Red Sox uniform. Note that this list does not include active players or anyone whose tenure with the Sox was shorter than three seasons.
Honorable Mention: Active Players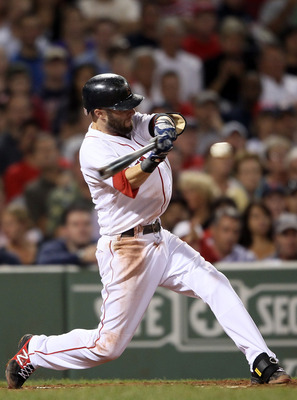 Elsa/Getty Images
It would be wrong to exclude today's superstars without even an acknowledgement of what they've done for the club. Some of the franchise's best players ever are currently in action. These are guys who would make this list. And once they retire, they'll take their rightful place.
Adrian Gonzalez (1B)
David Ortiz (DH)
Kevin Youkilis (1B/ 3B)
Dustin Pedroia (2B)
Honorable Mention: Just Missed the Cut
Layne Murdoch/Getty Images
Falling just outside the top 20 are some names that might surprise you. But when you take a look back at the numbers, these guys certainly earned some recognition.
Haary Hooper (OF)- Hall of Famer Hooper starred in the dead-ball era and was there for the beginning of baseball's transformation into a more offensive game.
Mike Stanley (C)- in parts of five seasons, Stanley compiled some of his best numbers with the Sox and posted an overall OPS+ of 118.
Trot Nixon (OF)- Thought he never emerged as the stud many hoped he'd be, Nixon was always solid. His career .845 OPS in Boston was more than respectable.
No. 20: Mike Greenwell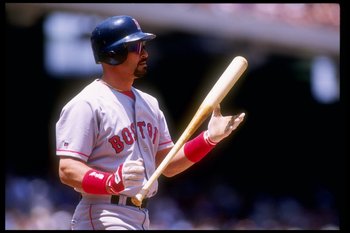 Stephen Dunn/Getty Images
Gator Greenwell played a dozen years, all of them with the Sox. His career OPS of .831 equated to a plus of 120, putting him in lofty company.
A solid all-around player and good defender of the Green Monster, Greenwell should have won the 1988 AL MVP but ended up finishing second.
He finished as a lifetime .303 hitter.
No. 19: Bobby Doerr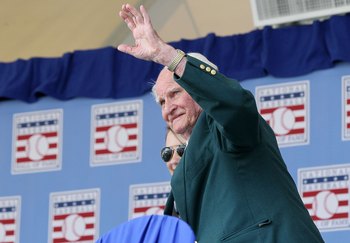 Jim McIsaac/Getty Images
Honored back in July, Doerr is considered by many to be the greatest Red Sox second baseman of all time. His entire 14-year career was spent with the Sox.
Doerr led the AL is slugging in 1944 and posted an impressive career OPS of .823. He averaged nearly 20 home runs and 100 RBI per season.
A Hall of Famer, Doerr will always be included among Boston's elite.
No. 18: Joe Cronin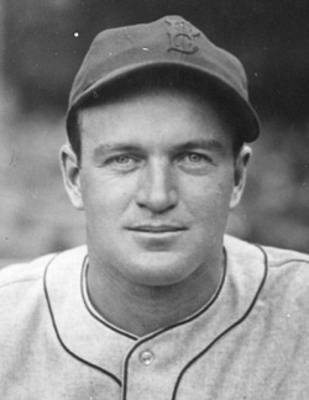 Courtesy of sonsofsamhorn.net
Doerr's teammate for a time, Cronin was a Hall of Fame shortstop who played for 11 seasons with the Sox. For decades, he was considered the best shortstop in team history.
A lifetime .301 hitter, Cronin twice led the league in doubles and finished in the top 10 of the AL MVP voting five times. He finished with a career .878 OPS in Boston.
No. 17: Jimmy Collins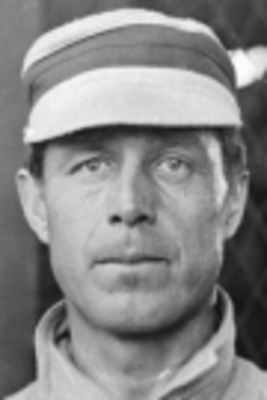 A turn of the century third baseman, Collins was one of early game's great hitters and was posthumously elected to the Hall of Fame in 1945.
Collins actually played for the Boston Beaneaters (ultimately the Braves) franchise before coming over to the Red Sox. He stuck with the Sox for seven years, posting a .759 OPS in the Dead Ball Era.
No. 16: Buck Freeman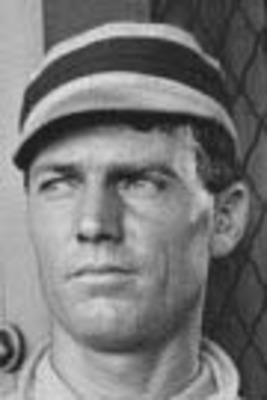 Following a similar path to Collins', Freeman played for both the Beaneaters and Red Sox as well, finishing with the Sox in 1907.
Though he somehow escaped the attention of the Veteran's Committee and never made the Hall of Fame, Freeman's numbers were impressive for the era. In various seasons with the Sox he led the league in triples, home runs, RBI, and total bases.
He compiled a career OPS of .781 with the Red Sox.
No. 15: Tony Conigliaro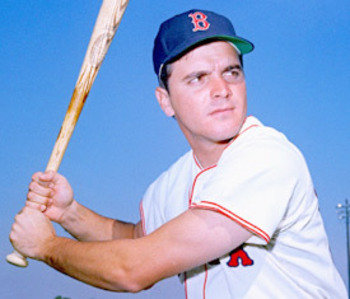 A victim of one baseball's most infamous injuries, Tony C.'s career was forever altered after he was struck in the face by a pitch in 1967. Angels' hurler Jack Hamilton connected with Conigliaro's cheekbone and eye socket, causing retinal damage and facial fractures that ended Conigliaro's days as a baseball superstar.
Though he went on to play several more seasons and posted strong numbers in both 1969 and 1970, his best years were from 1964-1967. When he hit 32 homers in 1965, he was, at the time, the youngest player to lead the AL in that category.
Tony C. finished with an OPS of .819 in Boston.
No. 14: Carlton Fisk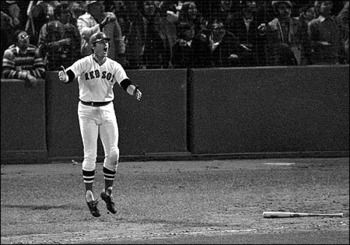 Carlton Fisk's Game 6 home run in the 1975 World Series still stands as one of the most iconic moments in Red Sox history. Though Boston would lose to the Reds that year, it was, briefly, a Fenway highlight for the ages.
A Hall of Famer, Pudge played in Boston for 11 years and is generally regarded as the team's greatest catcher.
He finished with an OPS of .837 with the Red Sox.
No. 13: Reggie Smith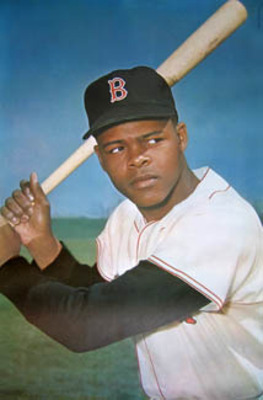 Rookie of the Year runner-up in 1967, Smith would go on to become one of the best switch hitters of the 60s and 70s, hitting for both power and average over his 17-year career.
He stuck with the Red Sox for eight years, winning a Gold Glove and earning a pair of All-Star selections.
The centerfielder twice led the league in double while in Boston and finished his Sox career with an OPS of .826.
No. 12: Dwight Evans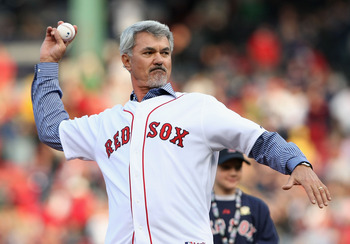 Elsa/Getty Images
Dwight "Dewey" Evans is truly one of Boston's favorite sons, and if there was a Hall of Very Good, he'd be the first guy in. Evans played a rock solid right field for the Red Sox for 19 years, compiling an OPS of .842.
Dewey's best years came in 1981 (when he led the AL in OPS, walks and homers), and 1984 (when he led in OPS and runs scored).
From 1978 through 1989, Evans failed to break the 20-HR mark only one time. He finished his career with nearly 1,400 RBI and a .272 average.
No. 11: Jim Rice
Elsa/Getty Images
Another Boston legend, Rice finally became a Hall of Famer in 2009 after waiting for more than a decade. In his 16-year career with the Red Sox, he was one of the game's most feared power hitters and the 1978 AL MVP.
Rice led the league in home runs three times and in RBI twice. Like Evans, he had a span of a dozen years where he failed to hit 20 dingers only one time.
His career .298 batting average and .854 OPS are testaments to his offensive skills.
No. 10: Carl Yastrzemski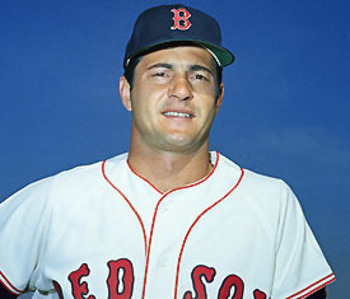 Yastrzemski began his career with the seemingly impossible task of taking over for Ted Williams. He debuted with the Red Sox in 1961, the year after Williams' retirement, and it didn't take him long to make his own name nearly as beloved.
Yaz's Hall of Fame career spanned 23 years, all in Boston. He won three batting titles, a home run title, and MVP, and was an 18-time All-Star. A Gold Glove fielder, Yaz was also a threat at the plate, combining power and average to become on the game's best hitter for two decades.
He finished with a .285 average and career OPS of .841.
No. 9: Nomar Garciaparra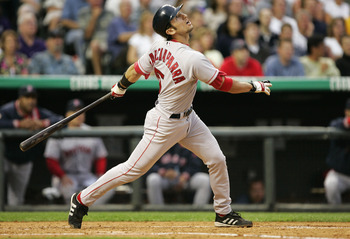 Brian Bahr/Getty Images
Nomar is one of baseball's great "what ifs". What if injuries hadn't marred his career? What if he had been able to stay healthy and productive in Boston?
One of the game's top hitters in the late 90s and into the 21st century, Garciaparra offered fans a level of quirkiness that was unrivaled in Boston history. His elaborate preparations at the plate were a collection of nervous tics, glove-pulling, and shoe-tapping that, while a bit annoying, yielded great results.
Nomar won back-to-back batting titles in 1999 and 2000 and compiled an amazing .923 OPS while with the Sox. But the 1997 Rookie of the Year couldn't avoid the injury bug. Wrist and leg woes ultimately led to him being traded away in 2004.
No. 8: Mo Vaughn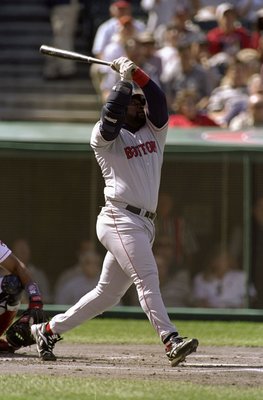 Jonathan Daniel/Getty Images
Back before Big Papi came to town, the Red Sox had the Hit Dog. Mo Vaughn was a big-time power threat in the heart of the Boston order but could do little other than simply mashing home runs.
In his eight-year tenure with the club, Vaughn hit .304 and had an on-base percentage of .394. Excluding the 2001 season, which he missed due to injury, Vaughn slugged 25 or more homers in nine straight years. Six of those were in Boston, where he twice eclipsed the 40-HR mark.
Vaughn won the MVP in 1995, but his heavy build ultimately caused him to break down over time, and injuries hampered his effectiveness after he left Boston in 1998.
He finished with a career .936 OPS with the Sox.
No. 7: Fred Lynn
Courtesy of fredlynn.net
A nine-time All-Star. A Gold Glove winner. MVP and Rookie of the Year in 1975. Fred Lynn was an all-around good guy and a heck of a hitter for the Red Sox for the first seven years of his 17-year career.
His Boston years were also his best, featuring a batting title, an OPS of .902, and three seasons of more than 20 homers.
Lynn left Boston with a .308 average, and until Ichiro duplicated the feat in 2001, he was the only player in MLB history to win a Gold Glove, the MVP, and ROY awards in a single season.
No. 6: Wade Boggs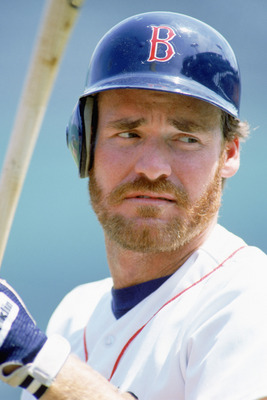 Rick Stewart/Getty Images
In terms of pure hitting skills, Boggs could very well be one of the best players in the history of the game. Winner of five batting titles and owner of a career .328 average, Boggs hit .300 or better in 15 of his 18 seasons with the Red Sox, Yankees, and Rays.
His best years came in Boston, where his batting eye was legendary. Not only could Boggs hit, but his overall on-base skills were outstanding. He led the AL in OBP in six of eight seasons from 1982 to 1989, drawing more than 100 walks four times.
Part of his greatness was a willingness to forego home runs in favor of getting on base. Though Boggs' power numbers were never particularly impressive, his .428 OBP with the Sox says it all.
No. 5: Manny Ramirez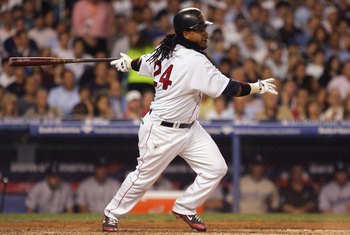 Jim McIsaac/Getty Images
Perhaps the greatest right-handed AL hitter of his time, Manny forever ruined his legacy with PED use. But before he was a convicted 'roider, Manny was absolutely unstoppable at the plate.
Coming to Boston after eight years with the Indians, Manny would serve eight more with the Sox before making an ignoble exit in 2008.
During his time with the club, he won a batting title, led the AL in OBP three times, and compiled an OPS of .999. With David Ortiz, Ramirez formed one of the best 1-2 punches in all of baseball.
Unfortunately, his crazy antics and selfish behavior brought everything crashing down.
No. 4: Jimmie Foxx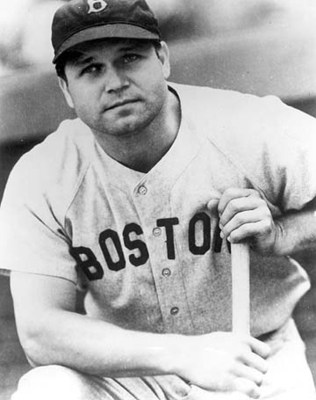 Hall of Famer Jimmie Foxx stands among the game's true elite. A three-time MVP, he manned first base for the Red Sox for seven years in the 30s and 40s.
Foxx simply did it all. He hit with prodigious power, mashing 50 homers in 1938 and averaging nearly 32 per year while with the Sox. He posted a .320 batting average with a .429 OBP, won a batting title, and was one of the AL's most fearsome sluggers.
His MVP year of 1938 featured an AL-best 175 RBI, and his career OPS with the Sox was a ridiculous 1.034.
No. 3: Tris Speaker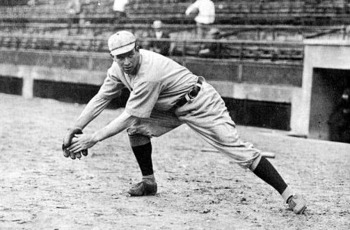 One of the greatest centerfielders to ever play, Speaker was a Sox standout for nine seasons. He won the MVP in 1912 and left Boston with a whopping .337 batting average and .896 OPS amassed in the dead-ball era.
Though his rival Ty Cobb was a shade better at the dish, Speaker was regarded as the better fielder, and overall, the pair dominated the AL.
Upon becoming a full-time player, Speaker hit .300 or better every year in Boston, winning a pair of titles in the process.
No. 2: Babe Ruth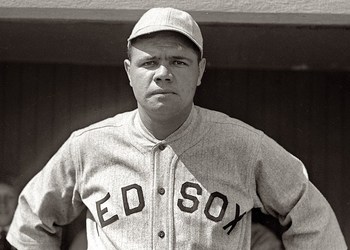 Ruth's true mark on the game of baseball was obviously made while he was in pinstripes, but before he became a Yankee, Babe raked in Boston.
Coming up as a 19-year-old rookie, Ruth lasted six years in Boston before conflicts with owner Harry Frazee prompted the most infamous trade in the game's history.
Ruth was both a pitcher and position player for the Sox and led the AL in OPS during his final two seasons at Fenway. His .308 average and .981 OPS were just preludes to his eventual accomplishments, but keeping in mind that Boston years were dead-ball years, they're still impressive numbers.
No. 1: Ted Williams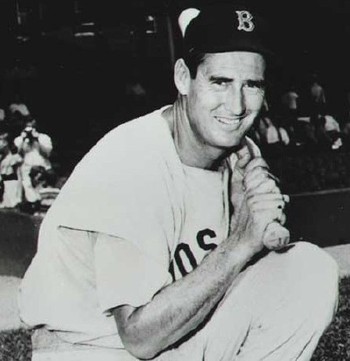 Despite missing numerous seasons due to two bouts of military service, Ted Williams managed to have a 19-year career with the Red Sox, becoming the franchise's greatest player. Generally regarded as the best pure hitter to ever play the game, Williams stands as one of the top three players of all-time at any position.
The numbers are almost unbelievable. A career .344 average. An MLB-leading .482 OBP. An OPS of 1.116.
Williams won six batting titles, led the AL in on-base percentage 12 times, and earned a pair of MVP awards. he hit 20 or more homers in 16 seasons, surpassed 30 seven times, and had a career high 43 in 1949.
There are hardly enough words to describe the magnitude of his career or his impact on the city of Boston. Williams will forever be remembered as the greatest Red Sox of all time.
Keep Reading

Boston Red Sox: Like this team?