Wisconsin Football: Wilson, White and Ball Give Badgers Three-Headed Monster
September 2, 2011
Gregory Shamus/Getty Images
Last year, Wisconsin's offense was a force.  The Badgers put up over 40 points per game, including three games in which they eclipsed 70. 
The biggest source of UW's offense was the ground game.  The three headed rushing attack of John Clay, James White, and Montee Ball was the best in the country.  Clay and White finished the season with over 1,000 yards rushing, while Ball finished with 996 yards.
The Badgers missed having three 1,000 yard rushers by four yards.
Now, in 2011, John Clay is gone, but the Badgers look like they are still maintaining a three headed rushing attack.  James White and Montee Ball will be the staples, while quarterback Russell Wilson will provide an interesting twist on the traditional Badger rushing attack.
In UW's first game of the year against UNLV, the ground game had their way with the Runnin' Rebels' defense.  Wisconsin won 51-17.  
White and Ball finished with 64 and 63 yards respectively in just over two quarters of play (a piece). They also combined for four rushing touchdowns.
However, it wasn't the dominance of White and Ball that captured the attention of college football fans. It was Russell Wilson, who proved why he is the newest member of Wisconsin's three headed monster.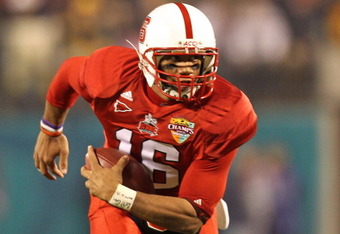 Mike Ehrmann/Getty Images
Wilson rushed for 62 yards on two carries, including a 46 yard touchdown run.  The 46 yard run will be featured on highlight reels for the next week.
Although, Wilson will not be a "run-first" quarterback, his ability to run the football will be crucial to Wisconsin's success.  
UW has always had dominant running backs, but the addition of a mobile quarterback is going to give defenses headaches.  It is something UW has not had in a very long time.  
As a result, Wilson may be able to open up the passing game because defenses focus on his speed.
Therefore, although not in the traditional Badger way, Wisconsin still has a three headed rushing attack this year.  Ball and White will do the bulk of the work, but Wilson's ability to take off and run may be the most important to Wisconsin's Rose Bowl aspirations.