IMPACT 9/1: New Champ, AJ/Daniels, Final 4 BFGS, Jeff Hardy's Return (Humor)
September 2, 2011
I'm back with the IMPACT Reviews for this week. What a week it was!
I got my Cheez-It crackers again. SoCal Val, call me. Don't get my reference? Read my past reviews.
We are out of the IMPACT Zone and in Huntsville, Alabama!
Fact: The very first TNA show was in Huntsville nine years ago.
Opening Segment
Hulk Hogan comes out to start the show... again.
He rambles on and mentions Ric Flair versus Sting for the September 15 edition of IMPACT. Good to know.
Kurt Angle comes out and says he's going to take out Sting. Sting accepts, Hulk names himself special enforcer, and we got a main event world title match this evening.
BFG Series Match: Gunner vs. RVD
Both guys are tied for fourth, and the winner will make the Final 4 in the BFG Series.
The other three are Bully Ray, Bobby Roode and James Storm. Crimson was injured last week and is out of the Series.
Samoa Joe walks to the ring, but Matt Morgan won't have it and cuts him off midway. Joe kicks Morgan in the yambag region and walks out.
In a good back-and-forth match, Gunner actually beat RVD!
Very close, and I thought RVD would've won, but I am glad to be wrong.
Towards the end of the match, Jerry Lynn came to the ring, but RVD sent him away. Moments later, RVD goes up top for a Five Star, but guess who's back?
Lynn pushes RVD off the rope, and Gunner does a running knee to the face for the fourth and final spot.
Winner: Gunner
After the match almost all the Knockouts walk to the ring, and Tenay says Bischoff has an announcement.
Anyone else notice "The Queen" Madison Rayne missing? I sure as hell did. She's the best.
Bischoff comes out with Traci Brooks and plans on naming a new "Knockout Law." Bischoff hypes it all up, and Traci is looking happy, but Bischoff drops a deuce on her dreams and names Karen Jarrett as Knockout Law!
The Knockouts are pissed.
First order of business for Karen: hiring ODB and Jackie. Cool.
Second, she makes Traci her assistant/slave and says all the Knockouts work for her.
Match 2: Kid Kash and Austin Aries versus Jesse Sorensen and X Division Champ Brian Kendrick
Kendrick must've really been hitting 'it' off backstage, because he comes out in some crazy Native American, chicken look-a-like hat and is swinging the X Division belt over his head.
Treat the belt with some respect, you idiot. AJ Styles, Samoa Joe, Daniels, Kazarian, Jay Lethal, Petey Williams and other greats held that title, for God's sake. Are you kidding me? I lost a lot of respect for Brian "The Stoner" Kendrick tonight.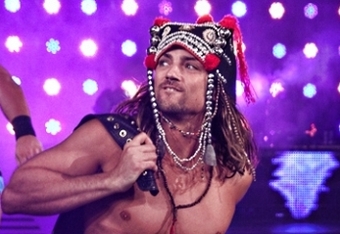 This was another good back-and-forth X Division match.
Aries and Kash worked together as the better team, but that wouldn't matter much.
Kendrick chased Aries out of the "Huntsville Zone"? The "Hunting Ground"? The damn arena, you get the idea.
Kash went to town with power moves on Sorensen when it was one-on-one. Like, crazy power moves. I was anticipating a Moneymaker the whole time, but Kash just played with Sorensen and my emotions.
Kash went for a powerbomb, but Sorensen turned it into a roll-up. Yes. Score another one for the roll-up.
Winners: Jesse Sorensen & Brian Kendrick
The answer to last month's Top 10 Contenders question of the month was 10. There were 10 victories by roll-up pin fall in the month of August. Let's set a new record in September, right!
Backstage, we get a close up of Angelina Love's lovely legs and part of her ass. Nice job, camera crew. I call them "Magic cameras" since nobody seems to acknowledge their presence backstage.
Most people think Angelina's too skinny. Pfft, really? Like you wouldn't want to—back on track. Okay, so...
Winter talks, I don't listen, thank you Angelina Love and magic camera productions.
Then we cut to Mickie. Mickie wants to kick Winter's ass. Damn straight.
Match 3: Knockouts title match: Mickie James versus Winter
This had some pretty good Knockouts action, with very little interference by Angelina.
I'd say Mickie was dominant most of the match.
Angelina tossed the KO belt in the ring to Winter, but Earl Hebner made a Darrell Revis-like interception and booted Angelina from ringside.
Mickie hit her patented DDT during the match but only got a two. Surprising.
Winter was distracted by Hebner and Angelina and allowed Mickie to connect with that spinning head kick she used to do. The Mick Kick?
Winner: New Champion, Mickie James
Matt Morgan comes out and calls out Joe. He's pretty pissed.
Tazz says he'd be mad too since Morgan was kicked in the nads. Ha, nads. I haven't heard that since watching Beavis and Butthead.
Joe comes out, and they brawl. Morgan is kicking ass until Joe kicks him in the nads again. Joe gets a chair and hits Morgan in the back and then in his injured arm.
Joe calls himself the "baddest motherf-er on planet Earth." Good to see the old Joe back.
Match 4: Daniels vs. AJ Styles
In what was the match of the night, Daniels got the win.
Another great match between these guys. Great back and forth between these two world-class guys.
AJ "botched" a springboard, and Daniels got a quick pin for a three.
After the match, AJ went for a handshake but Daniels waved it off and was too cocky.
Winner: Daniels
Don't worry, the match was longer than my write-up.
Match 5: World title match: Sting vs. (c) Kurt Angle with Hulk Hogan
This match was another good one.
Just like Hardcore Justice, it could've gone either way.
I thought it would've ended after the first Scorpion Deathdrop and Ankle Lock, but this was a good one.
Sting had Kurt in the middle of the ring in the Scorpion. Gunner ran out with a chair, but Sting was quick to toss him out of the ring.
The referee had an EY moment. Unsure of what is happening, he checked on Gunner.
Hogan walked in, grabbed a chair and hit Sting in the chest. Sting shown no pain and taunted Hogan. Angle hit an Angle Slam on Sting and got the W.
Winner: Still Champion, Kurt Angle
After the match, Sting cleared Kurt of the ring and cornered Hulk. Hogan was begging Sting until Immortal came out.
They beat down Sting, everyone but Abyss, until Mr. Anderson cleared the ring with Sting's bat to close the show.
It was a pretty great show. The fans were into it, unlike those people in Orlando that probably watch paint dry every day of their lives. We got fan interaction!
All the matches were pretty on point.
The AJ/Daniels finish annoyed me, but after seeing Daniels' ego get in the way of his friendship it opens up more room for a subplot.
I'm glad Gunner got the win in the BFG Series and that Sorensen keeps winning.
As much as I like seeing Sorensen and Kash, can we see some other X Division, guys? Like Tony Nese, Zema Ion, Mark Haskins, etc.
World title match on free TV is always cool, and Daniels/AJ is far from over.
At some point in the show, Jeff Hardy was announced to return next week. They'll give him a live mic to explain his situation.
Another thing that happened was between Robbie E, Rob Terry and Eric Young. I forget when it happened.
Robbie went to Rob in the gym and asked if he wants to be his bouncer. Then, EY is seen lifting a weight bench in nothing but his Tarzan-style underwear.
EY asks Robbie how he got back from Italy so quick.
EY calls Robbie E, "Johnny D," mistaking him for MTV's Pauly D. Rob Terry tries to correct EY, but Robbie stops him.
EY issues a TV title match, since they're both TV stars, and "Johnny D" accepts for next week! Robbie tells Rob to join him before it's too late.
AJ and Daniels were backstage talking before their match. AJ mentioned someone coming back to IMPACT again. Who was he talking about? Jeff Hardy? That's no secret.
Low Ki? Jay Lethal? Monty Brown? Oh, I wish.
There's already a preview for next week's IMPACT.
The following will go down next week:
Jeff Hardy returns
Mr. Anderson versus Kurt Angle for the world title
Four Corners match: Bully Ray vs. Bobby Roode vs. James Storm vs. Gunner
TV title: Robbie E versus Eric Young
No. 1 Contenders: British Invasion versus Pope and Devon
Oh man, I can't wait to rub it in all your faces when Robbie wins the TV title. I said he should, and you all laughed at me! So suck on this, everyone that laughed:
Oh it's real, it's damn real.
That does it for me.
Charlie G and Magic Camera Productions, signing off.
Stay golden, pony boys, girls and children of all ages.
Don't understand that reference? Read a book, already.
Good night!