Penn State vs. Indiana State: Live Score, Highlights and Recap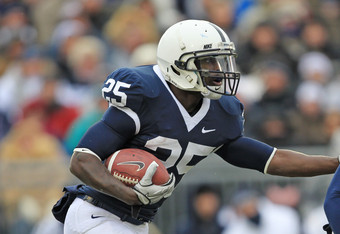 Hunter Martin/Getty Images
Score: Penn State 41, Indiana State 0 (4th Quarter, 8:17)
Good morning from Beaver Stadium, where the the Big Ten's Penn State Nittany Lions will open the 2011 season against Indiana State from the Missouri Valley Conference.
What we know at this point is that Rob Bolden has led the team off the bus, confirming the recent reports that he will be given the official start today for the Nittany Lions. It's a Penn State tradition to have the starting quarterback be the first person off the bus, but expect Bolden and Matt McGloin to see an equal number of snaps today.
The game kicks off at noon today and right now the special teams players for Penn State are going through warm-ups and drills on the field. The student section is starting to fill in, but there are plenty of spots remaining in the parking lots outside Beaver Stadium. There were some traffic problems heading in today, so we'll see if that causes some late arrivals.
The big question is whether or not Joe Paterno will be coaching from the press box today. There is word that he will be upstairs and we will update you once that rumor has been confirmed.
Check back here throughout today's game for updated thoughts and commentary and feel free to add to the discussion in the comments section.
Follow me on Twitter @PSUExaminer for even more updates.
Alright folks, time to shut down the live blog. Preparing to head down field for post game routines. Thanks for following along. Penn State has just taken a 41-0 lead on Indiana State and has their lower string players filling up the units on both sides right now.
We'll see what Joe Paterno has to say about the quarterbacks, if anything.
This game is starting to get pretty boring. not much else to be analyzing at this point as we're just looking to get through the fourth quarter.
We have reached the end of the third quarter. Penn State still up 34-0, looking to preserve the shutout. I am wondering how many more possessions Penn State will use Bolden and McGloin. We probably get to seeing Shane McGregor soon enough.
Derek Moye returning a punt. Not a big fan of having your top wide receiver out there on special teams. Maybe just trying different things?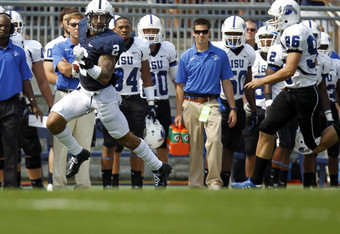 Chaz Powell's 95-yard touchdown to open the game was the second season in a row Powell returned a kickoff for a touchdown in the season opener. Powell had a 100-yard kickoff return for a score against Youngstown State in 2010.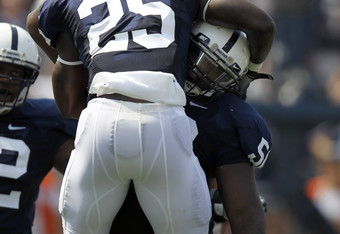 Silas Redd (#25) has 104 yards, his second 100-yard game. He had 131 yards against Northwestern.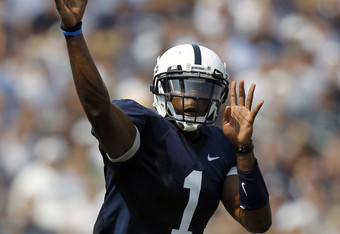 Rob Bolden was 2-for-5 for nine yards in the first half, but had two nice passes dropped by his receivers. He looks to be fine today though and seems to be handling the offense OK.
Evan Lewis missed another long field goal. Looked like he had the distance, just not the accuracy. He may be auditioning for the job while the coaching staff decides how they feel about Anthony Fera's place on the team. Fera's had his off-field incidents play a factor in Paterno's opinions of him.
I understand the level of competition is not quite what it will be next week, but the defense has had a pretty decent game after one half. Allowed just 66 yards in the first half.
Second half is underway, with Indiana State playing on offense. Quarterback debates still going on in the press box. Not sure which way this ends up. Maybe somebody will make a statement in the third quarter.
And we have reached half time.
Penn State up 28-0 at the half on Indiana State and both quarterbacks have had pretty similar performances so far. The running game is leading the way and it looks as though there is stil time to give each quarterback some playing time to try and settle this competition before week two against Alabama.
McGloin, as expected, has the better passing numbers but keep in mind the dropped passes while Bolden was on the field. Really, this is still a dead heat for the starting job.
Matt McGloin's third possession is one he probably would like to have back. He nearly handed Indiana State with a touchdown by trying to get rid of the ball (right to an ISU defensive lineman), and then promptly missed a screen pass intended for Beachum.
Silas Redd is closing in on 100 yards in the game. After rushing for his second touchdown of the game, Penn State has taken a 28-0 lead on Indiana State.
McGloin's two possessions have now lead to touchdowns. He has had the benefit of having some more open receivers compared to when Bolden was on the field. We'll see if that stats take control of the debate moving forward.
McGloin is in and he has already completed more passes for more yards than Bolden in the first quarter.
McGloin's first possession on the field comes with Brandon Beachum running the ball and methodically moving down in to the red zone. Michael Zordich had a couple touches as well and he is the one who plowed in to the end zone for the touchdown to put Penn State up 20-0, 21-0 after the successful PAT.
Both quarterbacks now have red zone touchdowns fueled by the run.
Indiana State fails to kick a field goal, preserving Penn State's shutout streak this season. One quarter and counting.
The first quarter has come to an end, and after a fast start things have slowed down a little bit. Penn State is up 14-0 but the Sycamores are moving down field.
Rob Bolden didn't look to have too bad of a quarter, but there were three plays that stand out. Forget the sack where he had no protection (although you wonder if there was something going on down on the field that resulted in that sack), and wipe off the two passes to Moye and Brown that were dropped. If Bolden could have those back maybe those are held on to. Only a couple of passes seemed to be off the mark.
We'll see some McGloin in the second quarter I am thinking. Let's see what he can do.
Rob Bolden takes off running on third down and goes down taking a hit. He gets back up, but the general consensus up here is that he should try to schedule some time to take sliding lessons from the baseball team when he gets a chance.
Out of the timeout, on fourth down, one avid Penn State reporter says "What a stupid call," referring to the hand off to Derek Moye. Moye was stuffed for a big loss and a turnover on downs.
Penn State failing to capitalize on the great field position following the interception. Bolden and Moye had some communication problems on one route, and the running game, with Brandon Beachum taking snaps instead of Redd, could not push much farther. A false start penalty pushes the kick back and Evan Lewis, a converted receiver, misses the kick.
A tad frustrating for the offense. Penn State mixing in players at all positions, which is perfectly fine given today's opponent. McGloin has not taken the field yet, but look for him to come out for the next series, or in the second quarter.
Drew Astorino picks up his fifth career interception and returns it 33 yards to set up a great offensive possession for Penn State. Bolden comes out to play quarterback but the offense fails to take much advantage. Bolden goes off, now 1-for-2 in the red zone as quarterback.
Penn State's first red zone opportunity of the season is converted with Silas Redd rumbling in for the touchdown. Can't take much in to the QB reviews here. Anybody might look good handing off to Redd.
Rob Bolden does get the start for the Nittany Lions, after Indiana State goes three-and-out. Threw a nice pass down the sideline to Derek Moye, but the ball went right through Moye's hands. Not sure that was Bolden's fault.
The running game meanwhile looks to be taking advantage with their speed and size against Indiana State. Silas Redd had a nice 16-yard rush on his first carry of the season and Joe Suhey has already had a couple nice carries. Penn State creeping in to the red zone, and that's where I feel the PSU quarterback competition will be settled.
Sean Stanley got the start at DE over Eric Lattimore. not aware of any injuries off-hand, but we will see if Lattimore makes an appearance today.
Chaz Powell returns the first kickoff of the season 95 yards for a touchdown. Didn't see that one coming. So much for getting the quarterbacks off to a good start!
Joe Paterno id not lead Penn State out of the tunnel and is not on the sidelines this afternoon. He will, as suspected, coach from the booth today. Penn State has won the toss and has elected to receive. Looking to get Bolden off toa fast start I suppose.
The team has just left the field and the Blue Band is preparing for one of the best pre-game shows in the country. Will the Drum Major nail the flip(s)?
This article is
What is the duplicate article?
Why is this article offensive?
Where is this article plagiarized from?
Why is this article poorly edited?

Penn State Football: Like this team?