UNLV vs. Wisconsin: Live Score, Highlights and Recap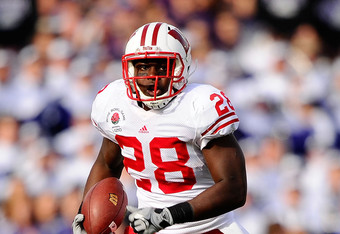 Kevork Djansezian/Getty Images
UNLV 17, WISCONSIN 51 (FINAL)
UNLV, Vea 9 yard pass from Herring (PAT good)
UNLV, Payne 6 yard pass from Herring (PAT good)
Wisconsin, Ball 1 yard run (PAT good)
Wisconsin, Pedersen 8 yard pass from Wilson (PAT good)
Wisconsin, French 29 yard FG
Wisconsin, Wilson 46 yard run (PAT good)
UNLV, Kohorst 37 yard FG
Wisconsin, Ball 1 yard run (PAT good)
Wisconsin, White 1 yard run (PAT good)
Wisconsin, Ball 22 yard run (PAT missed)
Wisconsin, Ball 4 yard pass from Wilson (PAT good)
Welcome (virtually) to Camp Randall!
Tonight, the defending Big Ten Champion Wisconsin Badgers officially kick off the 2011 college football season when they play host to the UNLV Runnin' Rebels in front of a national TV audience on ESPN.
Last year, the Badgers opened their season in Las Vegas when they defeated the Rebels 41-21.
This time around, second-year UNLV head man Bobby Hauck is looking for redemption in Wisconsin's capital city.
Stay tuned throughout the game for updates and insights!
One down, 11 to go
From start to finish, Bret Bielema's Wisconsin Badgers looked like a national championship contender Thursday night.
The defense was suspect at times, but does it matter when your starting offense scores every time it touches the ball?
Russell Wilson was everything fans and pundits expected him to be when they heaped loads of hype on the NC State transfer all summer long, and running backs Montee Ball and James White didn't miss a beat from last season when both ran for over 900 yards and a combined 32 scores.
The going gets tougher next week when Oregon State comes to town, but Coach Bielema couldn't have asked for a better start to the 2011 season.
Hopes are high in Madison, and rightfully so.
Taking nothing away from Scott Tolzien, Russell Wilson could very well be the last piece to Wisconsin's national championship puzzle.
No player or fan should get too excited--they did play perennial Mountain West cellar-dweller and FBS bottom-feeder UNLV.
However, if Wilson and company stay healthy, the sky really is the limit for the red and white this season.
Can a Badger win the Heisman?
Granted, it's UNLV, but after watching tonight's game, does anyone believe that a Badger can win the Heisman this year?
Yes, they have the talent, and that's the problem.
In a dominating 51 point performance, no player rushed for more than 64 yards, and the Badgers' leading receiver was running back Montee Ball who gained 67 yards through the air.
With so many weapons, it's possible that there aren't enough touches to go around for any one player to be awarded college football's highest individual honor.
Sure, Russell Wilson touches the ball almost every play and he was more than impressive in his debut--10 of 13 for 255 yards with 2 throwing touchdowns and one rushing.
But when the Badgers reach Big Ten play, odds are Wilson's going to be handing the ball off a heck of a lot more than he's throwing it.
When he does, at a minimum two very talented backs will be splitting the carries (and the accolades).
Defense getting work
With a number of Wisconsin starters still playing on defense, UNLV marches down the field for back-to-back scores.
The offense looks unstoppable, but the defense needs to tighten it up as the season moves along and the competition improves.
Jump Around!
It's time to start quarter number four, and Camp Randall is rocking to the sounds of House of Payne.
No matter how many times you do it or see it, Jump Around remains one of the coolest traditions in all of college athletics.
Any stadium ritual that opposing players often take part in must be cool...
Brad Nortman sighting!
It took almost three quarters (1:15 left to play in the third) before the Badgers had to punt.
That is remarkable, regardless of who your lining up against.
Is the heat a factor?
Just after 9:30 PM, we're nearing the end of the third quarter in Madison, and it's still a muggy 85 degrees.
Has the heat, and more importantly the humidity, been a factor?
In theory, Wisconsin should be used to it from slogging through two-a-days in August, but it has been an unseasonably cool month in Madison.
UNLV, on the other hand, plays in the desert. They are used to heat, but it's dry, and not like swimming through air.
Although I'm sure the Rebels would love to blame tonight's game on anything other than their performance, it hasn't been the case.
It could be 30, 50, 70 or 100 degrees, and Wisconsin would still be dominating.
The Badgers have thoroughly outclassed the Rebs from start to (almost) finish.
This time, on-field officials get it wrong
What was called an incomplete pass on the field is going to be a called a touchdown in the replay booth.
Herring hits Payne in the back of the end zone and UNLV (finally!) scores a touchdown.
First replay of the year
FB Bradie Ewing called down at the one after about a 40 yard catch and run.
Fans think he was in (shocking), but replay shows the official got it right.
New half, same game
Three and out for UNLV; easy-does-it for the Badgers on their way to another touchdown.
Is that it for Wilson and the starters?
We all know that Bret Bielema took heat at times last season for allegedly running up the score (just ask Time Brewster).
How will the Badgers' head man play it tonight?
Looking ahead...
It will be interesting to see how long Bret Bielema sticks with his starters (especially on offense) in the second half.
UNLV has shown no indication that they can compete with the Badgers, and it shouldn't take too long for Russell Wilson and company to put away the Rebels in quarter number three.
Bielema's squad suffers a serious drop off in talent at the QB position after Wilson, but there are some intriguing players elsewhere on the roster.
In particular, fans will want to stay-tuned for a glimpse of freshman tailback Melvin Gordon.
Gordon is an absolute speed demon, and he has impressed both coaches and teammates throughout camp.
Should be fun, even if the game was virtually decided before kickoff.
So far, so good
206 yards passing, 168 yards rushing, and 37 points in 30 minutes.
Couldn't get much better for Wisconsin, could it?
Less than two hours into the 2011 college football season, Wisconsin is playing as advertised.
Wilson, White and Ball have proven that this year, the Badgers can beat you through the air or on the ground, and they can do it at will.
From the opening kickoff, UNLV hasn't stood a chance.
They are getting tossed around like a Pop Warner team by the Badgers' O-line, and the Rebels' defense has shown time and time again that they can't tackle when they finally do get their hands on Ball, White and Wilson (who ran for a 46 yard score himself).
The defense hasn't been perfect, but it's given up just three points, so it's obviously done enough.
Those of you out there who were worried about the Badgers' taking a cue from teams past by playing down to the level of their opponent, rest easy.
Barring a miracle, the red and white are going to more than cover the 35.5 point spread.
Lacking Wattage
The score (34-3 Wisconsin) might not show it, but for as dominant as Wisconsin has been up-front on offense, they have been equally woeful on defense.
Plain and simple, they miss JJ Watt.
The departed All-American DE was just one guy, but he was a game-changer.
Without Watt, the Badgers are getting almost no push, and UNLV has been running the ball with relative ease by gaining over 100 yards on the ground.
When the Badgers have gotten pressure on UNLV QB Caleb Herring, it has come from linebackers on the blitz.
Once again, it's early.
But it was no secret before the season (or now) that if Wisconsin is going to get back to the BCS in the always physical Big Ten, they are going to have to find a way to replace Watt's production and impact.
Ball, White leading the way
As expected, Montee Ball and James White are beasts.
It's not even half time, and arguably the best running back tandem in the nation has already rushed for 122 yards and three touchdowns (in addition to a receiving score for Ball).
Both have broken a bevy of tackles, but Wisconsin's two-headed monster doesn't deserve all of the credit.
The Badgers' offensive line is obliterating the UNLV defense on every level.
Ball and White are running un-touched for at least five yards on most carries.
Again, this is UNLV we're talking about.
However, with the talent Wisconsin has up-front and in the backfield, the Big Ten would be wise to take notice of what's unfolding in Madison tonight.
Tune up the band
A stadium-wide rendition of Sweet Caroline early in the second quarter?
Must be an early-season non-conference blowout...
Rating Russell
Through one quarter of play, Russell Wilson is 4/6 for 81 yards and a score, and Wisconsin is up 20-0.
After just 15 minutes, you can tell that Wilson isn't used to having a power running game capable of scoring a touchdown with every hand off.
He has rushed a couple of throws and hasn't taken the time to set his feet on deep balls.
Competition aside, Wilson can get used to it.
With one quarter in the books, it looks like 2010 never ended.
The Badgers look like the same, dominant ground team they were a season ago, except this time they have an All-American caliber quarterback making throws to support Ball and White.
It will be interesting to see how Wilson adapts to and handles his new team and role.
O-Line making it easy, UNLV making it easier
Ball with a nifty run for his second score of the night.
UNLV is getting destroyed on the line, and linebackers and d-backs are missing tackles left and right.
Could be a long night for the Rebs.
Wilson misses a couple
Wilson had TE's Pedersen and Byrne wide-open for scores on back-to-back overthrows.
Feeling the nerves or not used to standing in the pocket for hours untouched?
Badgers beat the Packers
Bucky scored first!
Who's watching what is the question...
UNLV needs to run
Tim Cornett became the first freshman in UNLV history last season to lead the team in rushing.
They are going to need a lot of yards from him tonight if they are going to be competitive.
Three and out for the Rebels.
First of many?
Wilson moves Wisconsin down the field in flawless fashion.
2-2 w/ a TD toss to Ball after Ball and White help march Wisconsin down the field.
Great start to 2011 for Bucky.
Get used to it
Wilson completes a 20 yarder after a handful of bruising runs, and Wisconsin is knocking on the door.
UNLV can't handle the Badgers up front.
And here...we...go!
Big Ten football is back.
Wisconsin gets the ball at their own 35, and we're underway from Madison.
Heat index at 97 right now.
New season, same students
Just before kickoff, student section showing a lot of aluminum and concrete (with rest of stadium full).
When Camp Randall gets rocking, it's one of the toughest places to play in all of America.
Unfortunately, sometimes it takes awhile.
No crime in partying, though.
Predictions?
About ten minutes to go before we get under way.
My pick...Wisconsin 45, UNLV 10.
What say you?
Running Wild
As Jesse Palmer just pointed out on the ESPN telecast, Wisconsin is the only team in the nation returning two RB's who ran for 900 or more yards a season ago.
Russell Wilson makes this offense scary good...
This article is
What is the duplicate article?
Why is this article offensive?
Where is this article plagiarized from?
Why is this article poorly edited?

Wisconsin Badgers Football: Like this team?