The Steamiest MMA Hottie Videos on the Planet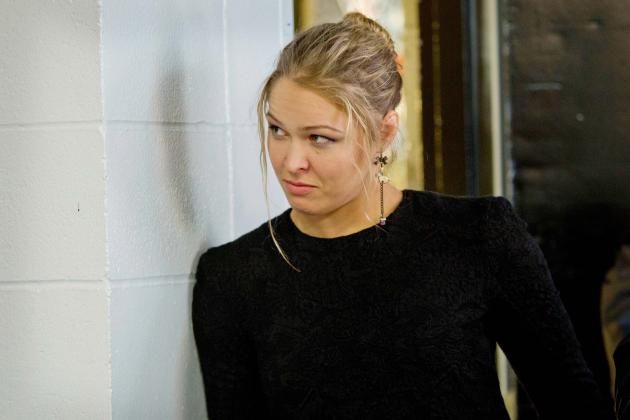 Bruce Kluckhohn-USA TODAY Sports

Watching MMA is cool, but watching the the ring girls, fighters and models is even better.
The women of mixed martial arts have taken over the sports hottie scene like never before. Not only are these females gorgeous, but they are extremely cool and take amazing photos.
I hope that we see MMA stay around for a long time because these ring girls are single-handedly carrying the female athletic world.
Here are the 20 steamiest MMA videos from the Internet. You will love it.
Begin Slideshow

»
This just isn't fair.
We thought we had seen it all with her photo shoot, but little did we know that she is also a multi-talented girl with many different sides to her.
I suppose I'm going to have to peel back those layers and get to know her even better.
Miss Strikeforce 2011 also happens to be one of God's gifts to the world.
The only thing that can distract a crowd from two guys beating the hell out of each other is possibly one of the hottest women in the world.
I would take a punch from an MMA fighter for five minutes with Hutcherson.
Michelle Waterson is a mixed martial artist who kicks some pretty serious ass.
After beating down on her opponents, she gets behind the camera and does modeling work. Look out for her to become a staple in every fighter hottie list; you better believe she is here to stay.
Wicks is a former UFC ring girl and a model and spokeswoman for BSN.
She was discovered all the way in Hawaii and now does incredible work modeling and for supplement company. I love how she says that she is all natural and keeps it that way.
These MMA girls might be the best crop in the sports world.
Hey, who doesn't like to see two girls go at it once in a while.
Alright, so they might not be fighting the way that we would like in this video, but that doesn't take away from their sex appeal.
Women who like to settle the score with video games might just be perfect.
These MMA girls put on the best instructional videos.
In this case, they are showing us how to get out a position where you happen to be mounted. I doubt that it is particularly comfortable for one fighter to do to another, but it seems effective enough.
I made sure to watch this clip over and over again to make sure that I got it, in the case that I want to get out of that situation.
This is the first time that I wouldn't mind being a punching bag.
She is hot, sexy and had one of the best photo shoots I have ever seen.
Usually, fights have big egos. In this case, she seems sweet...until she knocks you to the ground.
Jade and Mercedes should do every demonstration, both fighting and not.
Imagine if they were the people you saw on the safety videos on airplanes, or the people who taught you how to conduct a fire drill in elementary school.
I know I would have paid a lot more attention if that were the case.
"Not exactly how I would have done it, but looked a lot better."
No truer words have ever been said. I am not watching this video for educational purposes. These women could be making up moves and I wouldn't know the difference.
All I know is that they are hot and make everything look more fun.
This is not your typical girl fight.
The Bodog girls took horsing around to another level, by picking each other up and slamming each other to the mat.
I'm not saying I have a problem with it. Continue girls.
M-1 is a MMA promotion company based in Russia and the Netherlands.
Here, they are trying to find their next group of ring girls, which might be more important than the fighters in the ring.
How do you become the judge of one of these types of things? I feel that I am well qualified, and I have Swagger to thank for that.
Tiffany and Crystal are going to show us how to do a rear naked choke...no I did not make that up.
They look pretty legit and people that I don't want to mess with.
I have never wanted to get beat up by a girl so badly in my entire life.
I have never watched a Strikeforce fight in my life, but Hutcherson has completely won me over.
I was always a Minka Kelly type of guy (thank Jeets), as you have seen in many of my prior lists. But, Hutcherson has officially won my heart.
I never thought it would end this way, but I am officially proposing via a Bleacher Report article.
Ouch.
This looks like it hurts and they are doing it all in slow motion. Julie and Michelle have convinced me to go on MMA Candy and check out more videos.
It is officially my new go-to Web site.
Bryce is posing for Fight! Magazine and getting some well-deserved recognition.
Beyond being a model, she has been to Africa, and wants to make her life about helping people. She is a sweet girl who has a good head on her shoulders and an incredible body to go with it.
Sound like the perfect girl to me.
Leah is an incredible model and all-around MMA girl.
She has worked as a host and ring girl for several different magazine and television shows, making her one of the most well-known faces in the business.
This photo shoot shows us why they put her in front of the camera so often. She is absolutely stunning.
Thousands of women for one spot; how do you narrow down the field?
Well, let's parade them around in revealing clothes, bikinis and make them hold up the world famous round marker.
After a long day of watching this, how can anyone go back to the real world?
Sugden is an English model and a new MMA ring girl.
There is something about a girl and a truck that have a very hot appeal. This is the definition of a steamy video.
I am finding it more and more difficult to...type...as...this...video...goes...on........
Celeste has been a ring girl of the year and one of Maxim's Hot 100 list in 2010; pretty impressive resume for a girl on my short list for dream girls.
Here, she is doing a photo shoot that will make even the most professional photographer stare a bit longer into his camera before taking the next picture.
When Maxim decided to give Kelli Hutcherson her own spread in the magazine, I became one of the happiest young men in the world.
In short, she is a Goddess.
She is sweet, sexy, and has the girl next door thing going for her. This rare combination has made her the target of all red-blooded Americans.
That's right, if you don't like her, you don't like America.