Chris Johnson Doesn't Sign for Top Dollar; Real Titan Fans Ecstatic
September 1, 2011
Joe Robbins/Getty Images
Chris Johnson is one of the fastest players in the league, but at the negotiating table he might as well be Albert Haynesworth. The lockout this offseason certainly helped delay a contract renegotiation that was due to the only current player with a 2,000-yard rushing season under his belt.
Johnson reportedly signed a four-year deal for up to $53 million dollars, with approximately $30 million guaranteed. That's a nice chunk of change and really difficult to make if you have a regular job. However, this holdout was causing fantasy drafts to be put on hold and cause Titans owner Bud Adams to auction off real estate.
Johnson appeared to hold his ground mightily, striving to be one of the highest paid players in the NFL. However, he may have also been his worst enemy, as of Wednesday, Aug. 31, Johnson tweeted: "Can these fake Titan fans STFU on my timeline I don't have a regular job so don't compare me to you and I can care less if uthink I'm greedy."
I'm not a real Titan fan, and certainly not a fake one, but I had previously thought he was greedy. Until he signed his contract, making him not rich, but insanely rich.
Sure, he makes way more than I do at my regular job and, sadly enough, I am not the fastest at my work. The media had painted Johnson as desiring to be one of the highest paid players in the league. Who worked his contract—DeMaurice Smith? Yes, he is now getting paid upwards of nine and 10 times what he was making, but that was when he was working as a doctor and getting paid like a nurse.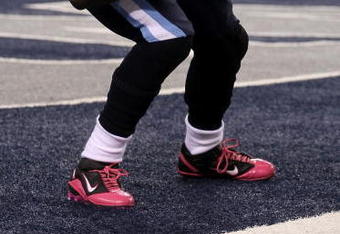 Stephen Dunn/Getty Images
Larry Fitzgerald signed for eight years and a ceiling of $120 million with nearly $50 million guaranteed. That made Fitzgerald among the highest paid players and bested many quarterback contracts for years and dollars. Essentially, it is twice the years as Johnson and more than twice the money.
Peyton Manning signed a five-year, $90 million contract, and he's in the twilight of his illustrious career. How many years does the soon-to-be 26-year-old Johnson have left after his four-year deal is up?
Adrian Peterson, many fantasy experts' top running back, is playing the last year of his contract. His rookie contract was in the range of six years for $40.5 million. Peterson delivered on that contract and the Vikings don't want to experience life without him. 
Johnson's short-lived highest paid running back contract will be just that—short-lived. In fact, Peterson is due $10.7 million this season, compared to Johnson $9.21 million for 2011. Very humble of Johnson!
The Titans claim to make him the highest paid running back, and the guy settles for second highest paid. Suck on that, fake Titan fans! I guess only real Titans fans knew he had it in him.
Johnson's contract resembles Darrelle Revis' contract of 2010. Last season, Revis was the sexy holdout disputer wanting to be the highest paid at his position. Revis Island was taking on water going into early September. Revis signed a four-deal for $46 million, with approximately $32 million dollars guaranteed. A bit under the 10-year, $160 million deal they were seeking.
Nmandi Asomugha signed with the Eagles this offseason for five years and a reported $60 million contract. His agent amazingly pulled that off without having to holdout.
By signing the contract today, Thursday, Sept. 1, 2011, Johnson will be more than ready to participate in the Titans' first game of the season. Consider that other top-flight running backs like Barry Sanders and Ladainian Tomlinson did not need a preseason to be ready. In fact, their bodies were thankful for the lack of hits endured during the season.
The biggest worry for the Chris Johnson and the Titans' first game is pulling a hamstring. I don't want to have to be the one to jinx him, but training and running on your own is different than running away from defenders.
Within two weeks of Revis' holdout ending, his hamstring started tearing. Likewise, chasing players has a different feel than running wind sprints with a stop watch.