Manny Pacquiao vs. Sergio Martinez: Why This Fight Needs to Happen
September 2, 2011
Ethan Miller/Getty Images
Every sportsman starts their career with the intention to be the best in the world. In some cases, however, such ambition lacks foresight.
Manny Pacquiao's reign at the helm of the welterweight division is a lonely one. Floyd Mayweather Jr. is the only fighter of noteworthy quality who could challenge Pacquiao, but the Pretty Boy seems willing to duck, dodge and dive away from any talks that would see the two match up in the ring.
Athletes live for success, but they also relish challenges. The reality is there are precious few fighters who could mount a serious challenge to the Filipino in his current division.
In short, the welterweight division is dull. Boxing itself is becoming dull.
Enter Sergio Martinez.
The 2010 Fighter of the Year has made his desire to brawl against the Fighter of the Decade public. These accolades, combined with the fact that the two boxers are ranked as the top two pound-for-pound fighters, would bring a new wave of public interest to the depleting sport.
If the sport wants to prosper, it needs to compete with organisations such as the UFC, which has established itself as a thorn deeply rooted in boxing's side.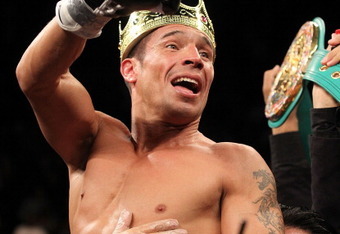 Al Bello/Getty Images
In 2009, 1.6 million people paid to watch Brock Lesnar take on Frank Mir—nearly 500,000 people more than boxing's biggest event of the year, Pacquiao vs. Miguel Cotto.
Oscar De La Hoya's bout against Mayweather Jr. suggests that a fight against Sergio Martinez would go a long way towards bridging this gap.
The Golden Boy's clash with the Pretty Boy is the most watched pay-per-view event in television history, and a fight between Pac-Man and Maravilla certainly has the potential to attract a similar volume of viewers.
Despite the sport's desperate need for an event such as this to happen, members of Pacquiao's camp have dismissed the suggestion.
The Filipino is only 5'5" tall, with a reach of about 67 inches.
At 5'8" and with a reach of 75 inches, Martinez has an astronomical size advantage, which is further aided by the fact that the two fighters are currently competing at weights two divisions apart.
Prior to his most recent fight, Martinez weighed in at 158.8 pounds, nearly 14 pounds heavier than Pacquiao weighed in his fight against Shane Mosley.  
Such a chasm between the two fighter's physical statures has prompted the Filipino's promoter, Bob Arum, to say: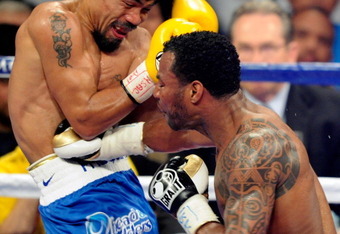 Ethan Miller/Getty Images
"It's really not fair to talk about having a Manny Pacquiao, or even a Floyd Mayweather, go up two weight divisions to fight Sergio Martinez," said Bob Arum, Pac-Man's promoter, in a report on ABS CBN News.
This, however, is not what Maravilla is suggesting. The Argentine has publicly announced he is open to negotiations and is prepared to either fight at 154 pounds or offer Pac-Man a catch weight.
According to ABS CBN news, Martinez said: "I never said to Pacquiao to come up to my weight at 160 pounds.
"What I said in the past was hey, let's make an agreement. Let's do a catch weight or let's fight at 154 pounds," he added.
This is a generous offer. The Argentine genuinely wants to make the fight happen. If he is willing to drop the weight, surely Pacquiao must show some leeway and be willing to gain a few pounds?
The problem is that Freddy Roach is unwilling for Pacquiao to break the 147-pound mark. He believes his fighter is at his best in the welterweight division.
Pacquiao, however, has fought in the light middleweight division before. It's not like Martinez is asking for the impossible.
It seems like a contradiction to say that it was OK for Pacquiao to fight Antonio Margarito last year, a man of very similar stature to Martinez's stature, but not Maravilla himself.
Granted, Margarito only weighed in at 150 pounds, but Pac-Man's recorded weight was a shockingly low 144.8 pounds. It was entirely possible before Margarito's weigh in that Pacquiao would be outweighed by as much as 15 pounds, yet Pacquiao's camp was willing to go ahead with the encounter.
If Pacquiao was willing to fight under such terms a year ago, surely he must be willing to agree to the similar terms Maravilla has proposed.
Pac-Man's camp continues to remain resilient. They are adamant that for any fight to happen, Martinez must drop to Pacquiao's weight.
Is it wrong for Maravilla to call Pacquiao out to fight in a different weight category? Surely if he was the No. 1 pound-for-pound fighter in the world it would not be too arduous a task to move up one division for a career-defining fight.  
If Pacquiao wants to continue to be viewed as the world's No. 1, he should answer Martinez's call to fight or risk being surpassed.
An encounter against Martinez would be a superb bout. Unlike much of the competition that Pacquiao has thrashed recently, Martinez can punch hard and box well. At 36, he is not old, and his speed will make it difficult for Pacquiao to outbox him. It would be great for fans to watch.
Perhaps this is another reason why Pac-Man has thus far refused to fight Martinez. There is a very real prospect that he will lose. Pacquiao's recent bout against an aged Shane Mosley suggests that the Filipino could be waiting until the Argentine's best days are past him.
If this is the case, it must go down as a blemish on his record.