College Football Kicks off Tonight with Three Big East Teams in Action
September 1, 2011
Finally the college football season is here. While it might only be a Thursday, it will be one of the most enjoyable Thursdays we've experienced in a while.
Headlining tonight's games will obviously be the No. 11 Wisconsin Badgers taking on UNLV at 8:00 PM and No. 20 Mississippi State going up to Memphis to play the Tigers, but we do still have a few Big East schools in action.
The schedule was initially set to have four Big East teams kickoff the weekend on Thursday but due to the aftermath of Hurricane Irene, UConn's Rentschler Field has been turned into a supply station for the National Guard, and aiding the flood victims and those without power in the area.
That game has been re-scheduled for Saturday, Sept. 3 at 12:00 PM EST, but there are other teams set to take the turf tonight:
Louisville vs Murray State - 6:00 PM EST
The Cardinals are nearly a 30-point favorite over the Murray State Racers for good reason.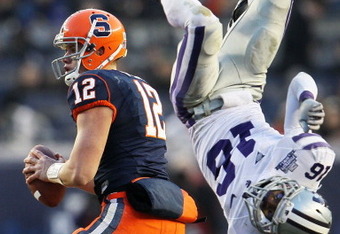 Chris McGrath/Getty Images
It wasn't that long ago that Louisville was ranked in the top 5 in the country, yes, even though it feels like it was a long time ago.
The last time these two teams met in 2007, Louisville put up 73 points on the Racers in a 73-10 win. I wouldn't expect that kind of offensive production by the Cardinals tonight, 40 points would suffice for now.
The Racers seem to be the Texas Tech or Oklahoma of the FCS, consistently putting up 400 to 500 yards per game, but I don't expect them to be that successful against this defensive minded Louisville team.
What to Watch For
Charlie Strong is big on defense, if they can't hold Murray State under two touchdowns they might have some serious issues against the upcoming re-vamped offenses of the Big East.
Prediction
Louisville 31, Murray State 17
Rutgers vs North Carolina Central - 7:30 PM EST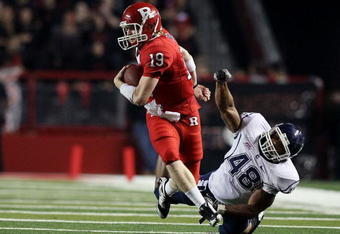 Jim McIsaac/Getty Images
This will be North Carolina Central's first game in the FCS, yes, the FCS. Don't expect too much out of this one.
What to Watch For
Check out how well the Rutgers offense plays, they seem to have talent but haven't put it together very well the past couple years, if anything is going to work right in Piscataway this season, it should be this game.
Prediction
Rutgers 27, NC Central 9
Syracuse vs Wake Forest - 8:00 PM EST
Wake Forest will improve on their 3-9 record from last season, this year, but it won't be during this game.
Syracuse has the ability to make some noise in the Big East this year after showing some improvement during last season improving their overall record to 8-5. Wake Forest had lost much of its talent during the 2009 NFL draft and won't be making too many strides forward during this game.
What to Watch For
Let's just see if Syracuse can score more than 35 points in this game...if they do, they should be right on track.

Prediction:
Syracuse 38, Wake Forest 13