EPL Transfer Deadline Day: 6 Things We Learned in the Final Hours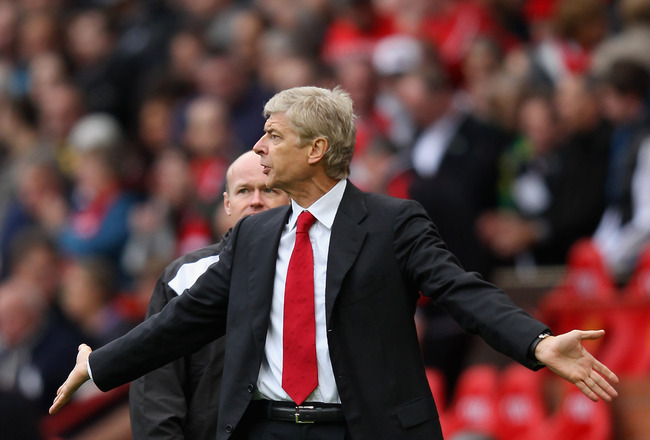 Alex Livesey/Getty Images
After three months of rumors and speculation, the transfer window was finally brought to a close yesterday, but not before a flurry of activity from all of England's top-flight sides as every club rushed to make the final additions to their squads before the deadline.
Like it or not, we're all stuck with who we've got for at least another few months.
It certainly made for a busy 24 hours, trying to keep up with all the deals, the rumors, and the failed attempts at major signings, but, from it all, we've all been treated to valuable insights about each club's ability and intention in the Premier League's newest campaign.
Here are a few things that we learned from EPL's transfer season deadline day.
Manchester City Might Have a Bit More Character Than We Thought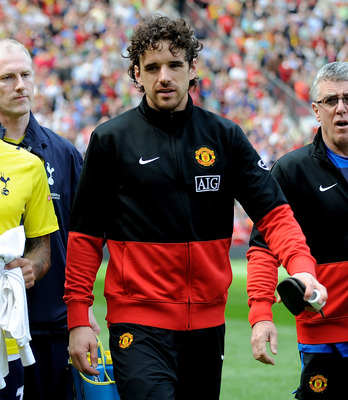 Michael Regan/Getty Images
If there's one word that you could attribute to Manchester City during the duration of this transfer window, many people would likely agree that it's this: money.
City has hardly been shy when it comes to shelling out cash to bring top-notch players to their club, and the result has been magnificent. With twelve goals in their first three Premier League outings, there's little doubt that City have sufficiently bought their way into league title contention.
So when the club announced on deadline day that they had signed the perpetually-injured, thoroughly desperate Owen Hargreaves of Bayern Munich and Manchester United fame (famed for all the right reasons at Munich, and all the wrong ones at United), it certainly managed to turn some heads.
Hargreaves was not a big-money acquisition for City (acquired on a free transfer after his release from United), and he certainly hasn't been a major presence in football in recent years. The signing seemed to thoroughly contradict everything we've thought of Manchester City over the past few months.
Owen Hargreaves is just a poor old bloke who desperately needed a second chance after finally ending a long era of recovery and rehabilitation from career-threatening injuries.
Manchester City was the club that seemingly had absolutely no interest in taking chances this summer, but they rolled the dice on Hargreaves and gave him his escape from the edge of forced retirement.
Given his current level of fitness, and previous demonstrations of the remarkable skill he possesses in a way that seems downright natural, I have a hunch that City's gamble will ultimately pay off in some big ways.
Tottenham's Deadline Day Prowess? Maybe Not so Much...
Michael Regan/Getty Images
Harry Redknapp and Daniel Levy headed into deadline day fired up, with Gary Cahill and Scott Parker well within their reach, and who knows how many other possibilities still on their radar.
With last summer's last-minute acquisition of Rafael van der Vaart fresh in the minds of Spurs fans everywhere, the common belief seemed to be this: Spurs are the kings of deadline day.
It's no wonder some fans were a bit disappointed with the results, given those expectations.
Tottenham ended up securing Scott Parker pretty early in the day, but ultimately lost out on bringing in Cahill to reinforce an injury-ridden back line that allowed eight goals in two matches.
Would there be another last-minute deal of Van der Vaart proportions, though? No, but not thanks to a lack of effort, as Harry Redknapp revealed: "We tried to hook a big one but he got away."
Many Spurs fans are fairly content with Tottenham's overall performance in the transfer window, citing the talent already existing within their ranks and the improvements that will come when injured players return to full strength.
So maybe Tottenham was never in a big rush to make top-quality deals on deadline day in the first place. Nonetheless, it's probably time for them to hand the deadline day crown off to somebody else.
Stoke City Are Getting Serious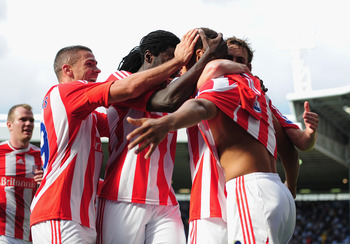 Jamie McDonald/Getty Images
Ranking 13th in the Premier League in 2010-11 was evidently not nearly good enough for Stoke City, as the club spent deadline day preparing themselves for a vast improvement in the current campaign.
Much to the dismay of some Spurs supporters, Stoke seemingly took away about half their squad (ok, that's a bit of an exaggeration). Earlier in the summer, they secured defender Jonathan Woodgate from Spurs, and added two of his former teammates to their ranks in the final hours: Peter Crouch, and Wilson Palacios.
Notably, Stoke City broke their all-time club transfer record by signing Crouch, in putting up a reported £10 million to lure him from Tottenham.
Suddenly, it appears that Stoke City very much mean business in 2011-12.
As the window came to a close, Stoke also secured Birmingham City striker Cameron Jerome, who scored 11 goals for Birmingham in 2009-10, but fell out of form in last season's relegation campaign.
If Jerome can recapture the success he enjoyed in previous years, then he'll be a huge impact for Stoke. If not, they've still brought in plenty of new, quality talent to make a go at a prime spot in the top half of the table.
Rumors Will Be Rumors, but Some Are Just Plain Ridiculous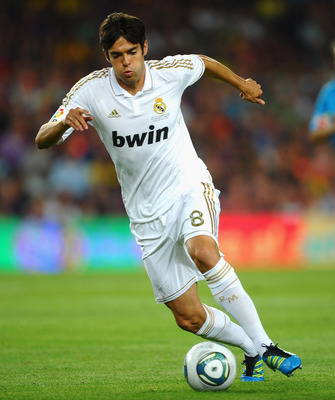 Laurence Griffiths/Getty Images
Some media outlets really love to hype up transfer day, and those of us who paid close attention were treated to some of the most ridiculous rumors they could think of to hold the consumers' attention.
If you believed everything you were told yesterday, then Franck Ribery was headed for Chelsea, Wesley Sneijder was Arsenal bound, and Wayne Rooney was headed for QPR (ok, I made that last one up, but apparently that's totally allowed).
For a brief moment, as a result of my general fatigue (most of the action began in the middle of the night in my time zone, so I was severely lacking sleep by the end of it all), I honestly believed that Kaka could actually be headed for Tottenham. "Well, if Modric ends up at Chelsea, then maybe," I found myself thinking.
No!
We've all seen our fair share of rumors fail to pan out over the past few months, but in the final day of the window we got to see the truly crazy side of our favorite media outlets.
Arsenal May Do Better Than Expected This Season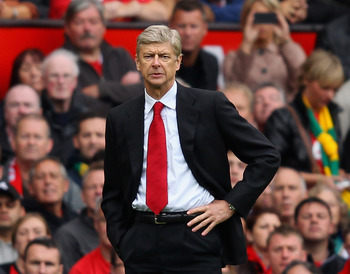 Alex Livesey/Getty Images
With the loss of three of their top players, and after suffering the heart-wrenching 8-2 blowout at Old Trafford, it seemed clear that Arsenal were in for long season full of underwhelming performances.
Their performance in the transfer market on deadline day has caused many people to give that notion a second thought.
That defeat against Manchester United over the weekend made it glaringly obvious that Arsenal needed some defensive reinforcements, which the North London club quickly acknowledged and addressed in acquiring left back Andres Santos from Fenerbahce, and towering German defender Per Mertesacker from Werder Bremen.
But they weren't done yet, as they also secured a loan deal for Chelsea's Israeli midfielder Yossi Benayoun, and brought in Everton's Mikel Arteta to fill the gap left by former captain Cesc Fabregas.
There's still a lot left to be seen regarding how these acquisitions will affect the club as the weeks go on, but at least they put in the effort to address the problems that they identified in the opening matches of the season.
Thanks to Arsenal's commitment to achieving a successful deadline day performance, Gunners fans should be able to take a small sigh of relief going forward.
QPR Are in It for the Long Haul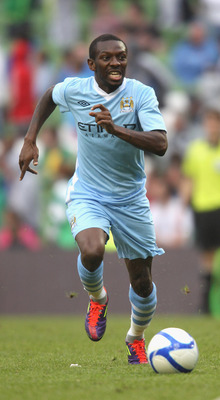 David Rogers/Getty Images
Newly-promoted QPR have been one of the busier squads throughout the transfer window, offloading some of their second-tier talent and bringing in new top-flight names to fortify their squad. For this reason, many have speculated that QPR are a sure bet to remain in the Premier League at the end of the year.
Following the closing of the transfer window, and given their activity in the final hours, that opinion seems as spot-on as ever.
QPR started the day off right, by signing Gunner leftback Armand Traore, previously featuring with Juventus on loan. Next came Sunderland defender Anton Ferdinand, in a move to further secure themselves as a strong defensive club in the weeks to come.
As the deadline approached, QPR had one more move up their sleeve, as they successfully lured Manchester City winger Shaun Wright-Phillips to add a spark to their play-making offensive lineup.
The message that QPR is sending is clear: we are here for good this time around. And with the talent they've brought in, that message should easily manifest itself in brilliant ways on the pitch.
Keep Reading