2011 NFL Predictions: The New York Jets Will Win the AFC East, Possibly More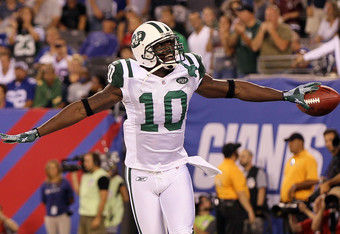 Jim McIsaac/Getty Images
The New York Jets have been playing the bridesmaid and never the bride for far too long now.
Considering the previous season's successes and failures, there are many reasons why this year's Jets team will finally get over the hump.
What has been seen over the last few seasons is the inability of the Jets to overcome adversity in the playoffs, mostly due to the lack of a potent passing game and the inexperience of Mark Sanchez.
That has all changed.
I don't intend for the word "inexperienced" to be anything but a reflection of Mark Sanchez's growing pains. It shouldn't be perceived as a knock on his ability, as it isn't one, but instead a description of how important it is for a quarterback to be able to perform when under extreme pressure.
After two solid years as a fresh quarterback, Sanchez has been exposed to a multitude of defensive looks and coverages and has stood tall and steered his team through much opposition.
This year, Sanchez has the best Jets receiving corps he has ever had to make him that much better.
Last year's Jets team had problems with ability and consistency outside of Santonio Holmes. Former Jets receiver Braylon Edwards made sure of that with a multitude of dropped balls that killed many an offensive series.
Jim McIsaac/Getty Images
The addition of Plaxico Burress to complement Holmes was a bold move for the Jets to make, considering his long layoff, but so far it has seemed that it was a very wise investment.
The addition of Derrick Mason also lends the Jets additional depth and ability to bring success to the passing game, and I believe that he complements this offense well.
At this point in time, I feel the Jets have one of the best groups of receivers in the NFL, which is the main reason why they will now be able to clear the hurdle they have had such despair getting over in the past.
Shonn Greene is capable and ready to lead the ground game. He is running behind a very good offensive line. Veteran Ladanian Tomlinson rushed for 914 yards before tiring toward the end of last season in this offense.
Greene will be able to take pressure off of Sanchez as he solidifies the Jets ground game, which will keep defenses honest—something that couldn't be said last season.
Dustin Keller will provide an excellent option for Sanchez as he is capable of staying his consistent self. Matthew Mulligan has looked impressive in camp this year and should be ready to make contributions when needed.
Look for an increase in targets to the tight ends this year.
Defensively, with the amount of talent they possess, the Jets are poised to become the No. 1 defense in the league this year. It's nice that Philadelphia has been called the "dream team"—they can keep the paper tiger declaration. The Jets, on the other hand, have proven themselves and I don't expect that to change.
The Jets secondary unit is one of the league's elite and will be able to matchup against any receiver group they oppose.
Overall, I feel this team is still in the shadow of the media-hyped New England Patriots and something tells me that's just fine with them.
This 2011 Jets team is too balanced to lose their division and, for that matter, the conference title, if they make it back to the championships.
The games still must be played, but this year looks to be the year the Jets finally soar back to the top of the NFL.
This article is
What is the duplicate article?
Why is this article offensive?
Where is this article plagiarized from?
Why is this article poorly edited?

New York Jets: Like this team?