NFL Fantasy Football: How the Kickoff Rule Affects Your League
September 1, 2011
J. Meric/Getty Images
The NFL has moved the kickoff to the 35-yard line, which already has resulted in decreased  returns.
If your league, like mine, rewards players for return yards, you risk losing valuable points for your team.
The NFL has determined that this new rule would drastically reduce the number of injuries, or potential for injuries, and serves in the players' best interest.
What the NFL has done is equivalent to the NHL creating the trapezoid rule.
Like the NHL, the NFL has now reduced the effectiveness and hindered the talents of the athlete  as it considerably reduces the role they will play.
Many teams have been reluctant to attempt returning kicks from deeper in the end zone and it serves as an injustice to the game by influencing the fluidity of the game.
In leagues that reward return yards, it also severely limits the available players that are available.
For example, Joshua Cribbs, Leon Washington, Marc Mariani and Stefan Logan are all primarily known for the ability to score points for a fantasy team due to their ability to excel in this area.
Although I feel that these players will remain able to adapt to the new rule and still produce, for fantasy owners there is a steep drop-off once those players are drafted.
Outside of the above mentioned, players like Eric Weems, Brad Smith, LaRod Stevens-Howling and Michael Spurlock will see a drastic decrease in productivity which may place fantasy owners in the position of drafting a traditional roster player in their place.
What this rule does in the land of fantasy teams is help give half of your league an unfair advantage over other owners.
If you play in a league that houses 10 teams or more, there isn't much left to consider as the pool of players becomes reduced.
Here are some possibilities for some surprise pick-ups if you use this stat in your league.
Mark Goodson
Goodson is capable of being a return stud due to his role in a crowded backfield where unless DeAngelo Williams and Jonathan Stewart are hurt, he will mainly serve in his special teams role.  With the Carolina Panther's defense as bad as they are look for Goodson to have ample opportunities to accumulate numbers.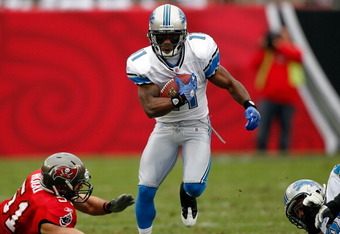 J. Meric/Getty Images
Lorenzo Booker
Booker's role will be mostly the third-string running back in Minnesota, and perhaps you will also see some third-down yardage. However, he is most likely to serve as a kickoff return man in the Minnesota game plan. There could be some upside to him due to these factors.
Bernard Scott
Scott will be a kickoff return specialist in Cincinnati as he will be backup to Cedric Benson. Scott has ability to gain rushing yards and some touchdowns as well which makes him an interesting option if your league is deep and you need someone to fill the roster. Look for Bernard Scott to have a bigger role in this are as Cincinnati is sure to give up a lot of points, which means a lot of kickoffs to field.
Antonio Brown and Emmanuel Sanders
These two Steelers are the one and two players on this teams depth chart for kickoffs and punt returns. Either of them should be a decent addition as they both have good speed and can contribute in the return game. The upside is also their capability of scoring yardage points and touchdowns as they will see an important role in the Pittsburgh passing attack.
Either way you look at it, there are players who will still be high value choices in your league despite the new rule, but you need to now look deeper for those hidden gems that can also make up for the difference you will lose due to the changes.