NFL Preseason Week 4: Live Blogging the Week Most Famous for Back-Ups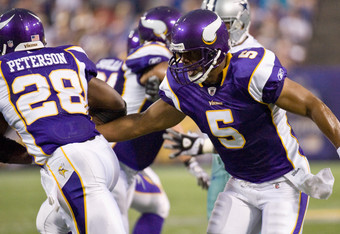 Hannah Foslien/Getty Images
Hello there. My name is Brendan O'Hare and I will be "live blogging" this week's NFL preseason action (or inaction, depending on how excited you are to watch a slew of games that will not resemble actual regular action).
I have always been intrigued by the possibility of doing some sort of live blog or live mailbag and the brilliant editors at Bleacher Report have entrusted me with such a task. I have been given permission to "crack wise" about the games, which I do better than anyone else I know.
Luckily, I tend to make fun of most things I watch, so that has made the NFL preseason bearable so far. The problem is, Week 4 is the most unnecessary of the disposables and will consist mostly of second-stringers becoming brief first-stringers. I plan on watching the "action" from 7 PM until 10 PM, or whenever I begin to sprout a peptic ulcer due to anger/disappointment.
In order for me to avoid having a peptic ulcer, please keep me company. Ask me questions about the NFL, or whatever, in the comments section and I will do my best to answer them—as long as they don't totally suck.
In case you want to watch along with me for some reason, I will be watching the games on NFL Network, which goes to-and-from games as the action increases.
Honestly, all I had planned for this evening was eating ice cream and listening to the new The-Dream mixtape, so maybe this could be a nice change of pace.
Join me, won't you?
Looks like I'm wrapping up for the night. It's been fun. If you get bored of watching eight-string kickers, do yourself a favor a watch 'Louie' on FX. Do it for America.
Either that, or I hear Jersey Shore will rot your brains tonight. I can say that because I have seen every episode.
As for me, I have no posts tomorrow, as I am visiting Happy Valley. I will be back next week, and I urge you to visit www.pineriders.com, and read the interview Shep Hayes put together with the 5 Lead Writers here at B/R. It is truly a journalistic marvel.
Stay safe, and have a great night.
-Brendan O'Hare
Fun fact: This year, every referee will have a pager, in case something needs to be reviewed and the refs need to convene. Maybe they'll start wearing Ray-Bans and leg warmers.
Derek Anderson must be pretty pleased with himself, carving up third-string defenses.
Dan Orlovsky is most famous for having the quintessential highlight of the Detroit Lions team that went 0-16. Everytime a Lions fan sees Orlovsky run out of the back of the end zone for a safety, Detroit's economic downfall suddenly doesn't seem as depressing.
Except for Joe "Fumble" McKnight.
I cannot recognize anyone who is currently playing in the Jets/Eagles game. Was there some promotion that I was unaware of?
I keep waiting for Anthony Munoz to escape from the booth.
If you don't get that, see my comparison to George Bluth, Sr. from before.
Looks like this is wrapping up around 9:30 PM EST. SO GET YOUR QUESTIONS IN. Don't hold back!
Wow. 50-yard TD run by Jonathan Dwyer (Pittsburgh). You just earned the back-up job*! Don't blow all your money too quickly!
*Isaac Redman is the back-up to Mendenhall, but plays pretty frequently (3rd down, close yardage, etc.). By "back-up", I mean roster spot, but won't play.
It appears to be half-time nationwide in the NFL. What I've learned so far:
1) David Carr hasn't changed.
2) Carson Palmer wants back in.
3) This laptop is literally burning a hole in my pants.
4) People don't have many questions about Week 4 of the NFL Preseason.
The Indianapolis Colts sans Peyton Manning are really depressing. Nothing about them resemble the Colts of last year. The year after Peyton retires, we are going to see a 2011 Cleveland Cavaliers situation. The Cavs were an unmitigated disaster without LeBron, and went from a 60 win team to a 20 win one. The Colts are going to go from 12 to 3. It is that drastic.
Here's a question for you, the reader: What word best describes David Carr? I can't think of any.
My dad just announced after a Papa John's commercial that Papa appears drunk. He is now attempt to Google whether or not Papa is a recovering alcoholic. When you subject people to this brand of football, things like that happen.
Is there anything more NFL then cutting a cancer charity's pitch short for an "All Rights Reserved" commercial? Oh, and that "America's Game: 2011 Green Bay Packers" will likely cause a few walls to be punched in my house.
The Titans are winning 5-0. Week 4 of the NFL Preseason, everybody!
For "Bill Belichick: A Football Life", couldn't they have picked a subject that has human emotions?
If you hate people talking about their fantasy teams, then you will utterly despise and want to possibly take a swing at Warren Sapp.
Going to visit Penn State tomorrow. Speaking of Penn State, Larry Johnson just scored an actual NFL touchdown. Like, he was in the end zone, on purpose.
Mike Shanahan can't seriously be happy with John Beck, right? Or Rex Grossman? Or his current state in life?
TOUCHDOWN, SCOTTIE MCKNIGHT. Oh, happy day. The Jets definitely should be taken seriously now.
Charlie Batch is looking good. So there's that. I am a proud supporter of the Dennis Dixon camp, who in my opinion, is the most talented 3rd-string QB in the NFL. Take that, Tebow!
I recently wrote a column about how I think Tebow is being oppressed by the Broncos orginization. Thankfully, only a few commentators compared my use of the word "oppressed" to the Civil Rights movement. That generated a TON of comments, most of whom were in the Broncos camp. I was surprised by this. Tebow played really well last year, and I find it hard to believe that he has regressed so insanely. It doesn't make sense, especially since he hasn't been atrocious in games, as Boomer Esiason would have you believe. This really confuses me. That being said, I still love Dixon. A few years ago, when Roethlisberger was out being suspended and having that sort of fun, I advocated for the removal of Ben, and the insertion of Dennis. Of course, I don't want that now, but I feel bad that Dennis is left to just wither away on the Steeler bench. I sincerely hope that he gets a contract next offseason, because the kid honestly deserves it.
There is no penalty that epitomizes preseason football more than "12 Men On the Field".
Um, why is Tom Brady playing? If I am a New England fan, my hair is falling out in clumps.
Cincinnati safety Taylor Mays is playing surprisingly well so far, despite the fact that he looks like an undersized fullback. And seriously? I stayed in the bathroom for an extra five minutes, and still no questions? Maybe it is just because people are losing cognitive brain activity watching hundreds of back-ups attempt to play football.
Going to briefly take a five-minute bathroom break. Seriously, if there aren't like 15 questions for me when I get back, I'm gonna freak out. Or cry.
This article is
What is the duplicate article?
Why is this article offensive?
Where is this article plagiarized from?
Why is this article poorly edited?