UFC: The 12 Greatest Walkout Themes Never Used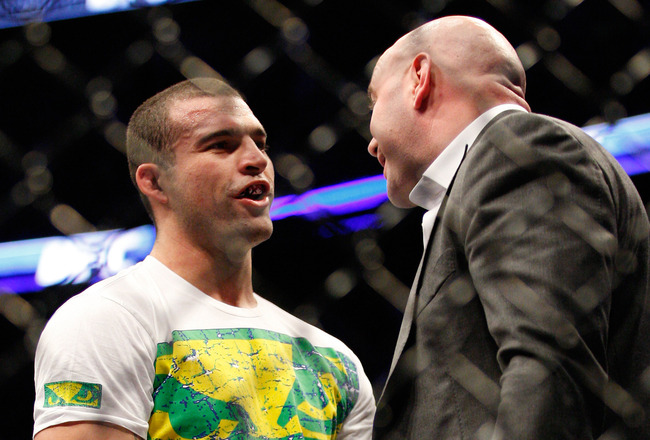 Richard Wolowicz/Getty Images
There is an amazingly diverse range of selections when it comes to the walkout music in the UFC.
From the hauntingly meaningful tones of Andrea Bocelli & Sarah Brightman's "Time to Say Goodbye" (Yoshihiro Akiyama) to Metallica's "Enter Sandman" (Brock Lesnar), every musical choice has either meaning for the fans, the UFC or to the fighters themselves.
While I truly respect their walkout songs of choice, there are simply some that are as deserving—if not more so—to be heard, recognized and even eventually associated with a fighter.

Follow along and enjoy as I go through a dozen UFC fighters and the unused walkout songs that I feel best suit them.
Dan Hardy
Song: "Rinzler"
Artist: Daft Punk
Album: Tron: Legacy OST
In the ever growing sport of mixed martial arts, fighters must constantly evolve and take themselves to new limits in order to keep up.

It is Dan Hardy's last life in the UFC and he knows it, after being submitted by Chris Lytle in the final round. Despite Dana and Lorenzo giving him another chance, this is too many losses in a row for him to remain a part of the roster if he comes up short once more.
This song perfectly exemplifies his acknowledgement that he is now at the brink, and it also has a bit of an "Outlaw' feel to it, as well to its simple crescendo and increasing intensity.
Clay Guida
Song: "Ghost"

Artist: Slash ft. Ian Astbury

Album: Slash (2010)
This just sounds like Clay Guida. A high octane, wild and energizing old-school trip.

It was made for the highway, and taking into consideration how Guida would prefer his RV over a hotel room provided by the UFC, this fits the bill perfectly.
Anderson Silva
Song: "Alone with You"
Artist: Deadmau5
Album: Random Album Title
Despite being the world's top pound-for-pound fighter, Anderson has a friendly, affable attitude and the disarming Hollywood grin. People can relate to him somehow. Just look at the YouTube videos of his Bruce Lee and Michael Jackson impressions.

This song is timeless the same way—neither wholly part of a true genre, but manages to sound modern, fun and old-fashioned at the same time.
The rhythm also seems to mimic his flashy yet dominant fighting style inside the Octagon — he makes the opposition look bad and has fun doing it.
Interestingly enough, the song on the album that comes just prior to this one is called "Brazil."
Brian Stann
Song: "Introduction Extended"
Composer: Hans Zimmer
Album: Call of Duty: Modern Warfare 2 OST
I normally encourage listening to the song the whole way through, but just for this time skip to 0:43 and picture Brian Stann stepping out into the arena with this playing.
This song has a definite militaristic feel to it, and given the duties and awards that Brian has garnered in his career as a United States marine, it is very appropriate.
This song seems to say, "I have faced more than you will ever know."

Imagine him from 2:25 onwards entering the Octagon and staring his opponents down.

The ever-crafty work of Hans Zimmer makes several appearances throughout this slideshow.
Jon Jones
Title: "Reptile (2011 single)"
Artist: Skrillex
"F-FIGHT!"
This song is harsh, and unorthodox yet catchy — much like Jone's style of fighting and attitude. It's a homage to Reptile from Mortal Kombat.
Jones also has established a very peculiar attitude in the UFC that this song reflects, trading trash talk with both Rampage and Rashad. He's humble one moment, arrogant the next.
Skrillex's style of music is also rather unique and diverse as well, not wholly part of one genre or art. It's quite hard to describe, much like Jone's grappling/striking disciplines — but it works. Ruthlessly.
Antonio "Minotauro" Nogueira
Song: "Winter Contingency"
Composer: Marty O'Donnell & Michael Salvatori
Album: Halo: Reach OST
I made this pick with a specific scenario in mind; while I was exhilarated that Big Nog won against Schaub, there will be one day where he decides on his own terms to hang the gloves up for good.
This is the perfect walkout theme for Nogueira's swan song in the UFC. It bids farewell to an epic and colorful career with one final chance to do battle in the Octagon. One more opportunity to do what he loves in front of the fans he loves.
Minotauro's last fight will be the twilight of a legendary career, a lifetime of fights, and so deserves to have a fitting atmosphere.



Brock Lesnar
Song: "Yoü and I"

Artist: Lady Gaga

Album: Born This Way
(Song starts at 0:50 or so)
Despite what some of you may think, I'm not trying to lowball the man.

While "Enter Sandman" I feel is great for Brock Lesnar: MMA superstar, I think this one is more appropriate for Brock Lesnar: farmer, husband and father. Given how Brock's idea of a "comfort zone" is to retreat onto a farm with his family with barely any contact with the outside world, "Yoü and I" seems more fitting for that kind of an environment.

The other major choice was because of the fanbase of the artist herself. Just like Brock Lesnar, Lady Gaga has plenty of haters as well as fans. Love or hate her, she was all the critics talked about or compared others to. They are both very controversial people.
The sound of the crowd when Lesnar enters the stadium is a very loud mixture of cheers and boos. There's no sound quite like it. It would be very interesting to see how the crowd reacts to this playing as his walkout, and it would be a huge reaction.
Unfortunately, I don't see this walkout happening unless his family pressured him to for laughs. Or Dana with "Benjamins."
Yoü And I
Yoü And I
Georges St. Pierre
Song: "A Dark Knight"
Composer: Hans Zimmer & James Newton Howard
Album: The Dark Knight OST

Georges St. Pierre is going to eventually get fed up with decisions. The man has too much of a drive to believe in anything other than a finish.
"You either die a hero or you live long enough to see yourself become the villain."
The welterweight champion has come under a lot of fire recently for his "safe" fighting techniques, as opposed to the furious and fast paced style that earned him the nickname "Rush." These past few title defenses have seen Georges slip ever so gradually from the UFC's poster boy to a heel with the general public.

Georges will eventually finish someone. He has too much pride and talent not to.

This song would be perfect for that occasion. It sends a humbled yet clear message to all: despite the very different ways that he has been perceived over the years and during his reign as champion, it will happen. We will see "Rush" St. Pierre step foot inside the Octagon once more.


Wanderlei Silva
Title: Pompeii
Artist: E.S. Posthumus
Album: Unearthed
Despite his inconsistency in the UFC, Wanderlei is one of the true legends. He's so damn badass he can use the remarkably overused "Sandstorm" as his entrance theme while wearing a Speedo and not have it be cheesy. Sorry Mr. Hallman, only Wanderlei can get away with Speedos.
However, I think this is a much better and intense song without all the techno flashiness to really cement the feeling that the Axe Murderer is in the house. It brings a feeling of battle into the arena.

The song has the feeling of "No matter how it looks on paper, I will go in there and make this a war."
If I were to make a video montage of the highlights of Wanderlei's career, I would refuse to use anything other than this song to have as the background music.
Quinton "Rampage" Jackson
Title: Space Jam
Artist: Quad City DJs
Album: Space Jam OST
I'd say Rampage Jackson is pretty well known for his slams.
Rampage has a very Hollywood personality and attitude that has won many fans over, and this song is aggressive yet catchy just like he is.
This song is quite the nostalgia trip for people who enjoyed the movie as a youth as well.
Junior Dos Santos
Title: "Dream is Collapsing"
Composer: Hans Zimmer
Album: Inception OST
Everything's going fine in the fight and you're holding your own — until one of Junior's uppercuts rocket in out of nowhere and blast you in the chin so hard that your brain forgets which way is up.
Even if you're still awake after that, things get ugly real fast as he starts doing the very best he can to beat your brains into mush before you can get a hold of yourself or the referee runs in to stop the fight.
This song is basically what Junior beating the living daylights out of you in really slow motion sounds like, in music.
Just as the dream collapses in Inception, so does his opponent's world if they get caught.
As much as I respect Junior's love for Rocky, he is far more deserving of a better walkout song than "Gonna Fly Now" to call his. The flow of the music reflects the sheer striking presence that he presents in the Octagon, and what happens after he catches someone.
Mauricio "Shogun" Rua
Title: "Mirage" (2010 full version)

Artist: Armin Van Buuren
"Sail" is so closely associated with Rua now that a lot of the recent YouTube comments on the song's page are concerning him, whereas Armin Van Buuren fans are going "Who is this Shogun guy?"
While I think it's great when he walks out to "Sail," I feel as though this choice suits his explosiveness and power better. It's really hard to tell what's more brilliant, the buildup or the drop.
This song is main event music.
Plus, it's also by Armin Van Buuren! What can go wrong?
Brittney Palmer
Every slideshow needs a little Brittney. In fact, she's so special she gets her own walkout song.
Farewell for now and good luck with your future ambitions, Brittney.
Thanks for reading!
Keep Reading