Barcelona Too Good for Glasgow Celtic in NextGen Series
September 1, 2011
Tremendous match tonight at Celtic Park as Barcelona visited for the Glasgow side's first home match of the under 19 NextGen Series of matches.

The NextGen Series of matches is the under 19 equivalent of the Champions League, with the best in Europe being able to play in four versus four team leagues.
Celtic were invited to join the likes of Barcelona, Liverpool, Inter Milan and Ajax to fight over a six month period for a shot at the final. Most importantly, it gives experience to the next generation of players and the opportunity to play on a truly global scale.
The match tonight was played in front of around 5,000 supporters packed into the main stand at Celtic Park, and no one left disappointed after the display by both sides on the park.
The turf was in excellent condition and with favourable weather conditions, the stage was set for a magnificent night of football.
Barcelona played their normal style of passing football which showed their composure, and they never seemed flustered or hurried at any point to release the ball, even under pressure from opposition players.
Celtic for their part were playing an attacking style of football that was refreshing to watch throughout the match and even after going behind, it was Celtic that remained the more attacking and looked the more likely to score.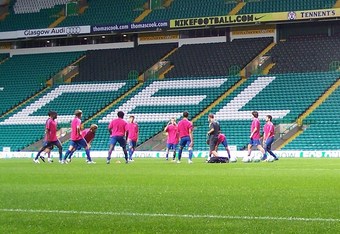 Barca took the lead on 16 minutes with a surprise shot at goal from Eduard Campabadal Claros from the right hand side. The young Celtic keeper was caught out at the near post and couldn't keep it out of the net.
The Spanish visitors' lead only lasted seven minutes, though, as a run by Tony Watt took him into the box and around three defenders to bury the ball past the diving keeper into the bottom corner of the net, much to the delight of the watching support.
Celtic were attacking with relative ease but failed to hit the target to take the lead, something that Barcelona were all too happy to oblige with.
After a couple of real open opportunities for the home side, Barcelona broke up the field and after Brian Olivan's fine cross from the left was deflected out from the six yard area, Patricio Gabarron picked up the rebound to fire in from close range, which gave Feely in the Celtic goal no chance of stopping.
The Catalan team almost added another just minutes later, but this time Feely was equal to a sweet Olivan shot.

Celtic could rightly feel hard done with the half time result after a good first half showing, and must have felt they had enough in them to take the match to Barcelona in the second half in search for an equalizing goal. This belief was dented only three minutes into the second half after Jean-Marie Dongou screamed an unstoppable shot into the top left corner to give his side an almost unassailable 3-1 lead against their hosts.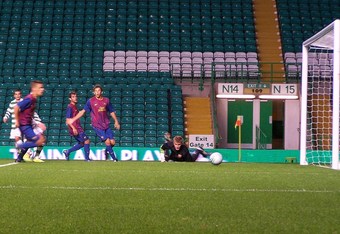 The Celtic players never dropped their heads though and continued to push forward, with efforts continuing to be headed towards Anton in the Barcelona goal, but all the efforts failed to get past the blond haired stopper.
Celtic had a shout for a penalty waved away by the referee just as another goal effort went wildly high and wild, as the home side continued to look for the all important goal that would drag them back into the match.
Prior to the end though it was Barcelona that looked more likely to score before the full time whistle with their counter attacking style of play, and Cornejo brought a brilliant save out of the Celtic keeper with a strike from the right.
Moments later the same player again burst down the right but once again Feely was equal to the shot, which more or less ended the match without much more incident.
The home side could rightly feel unjustly done by in this match with the amount of goal scoring chances awarded them. They seemed to find it hard to cope with Barca's counter attacking style of play, which culminated in their 3-1 defeat.

Both sides put on a fine display of football and as far as Barcelona are concerned, this under 19's side could compete very easily in the SPL without much concern. Never in all the football matches I have been witness to have I never seen a kick out by a keeper; tonight I watched as the Barca keeper never once booted the ball out either from a goal kick or a rushed clearance. His composure, and that of his defenders, even under pressure from attacking Celtic players, was a joy to watch and should be used as a training video for any aspiring keeper.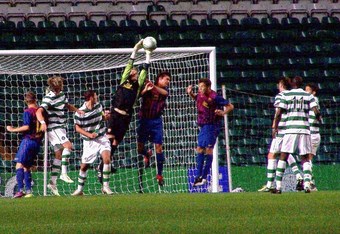 Celtic for their part played very well. Passing well, making space against a very good side was no mean feat, and they managed admirably and were perhaps unlucky to lose the match. On another day against another team, the score line would have been different, but this was Barcelona they faced tonight and not many teams will have much 'luck' against a side of their quality.
Celtic's next opponents in this series are a double header against Manchester City. Firstly away on the 17th October before the return tie on the 7th November at Celtic Park.
Final Score from Celtic Park
Celtic 1
Barcelona 3

Celtic: N Feely ­ M Fraser, J Chalmers, C Jones, L Toshney ­ R
Murrell-Williamson (J Alabi, 84' ), J Irvine, F Twardzik, J Herron (L
GormleyAtajic, 70'), P George.
Subs not used: R Thomson, D Fisher, M Miller, P McNally.
Barcelona: M B Anton ­ S Ayala, B Olivan, H Bagnack, E C Claros ­ P
Gabarron, P Calvet (J Quintilla, 62'), S Samper ­ E Cornejo, J M Dongou (A
Moreno, 90'), M A Sainz-Maza (C Herrera, 70')
Subs not used: C Julio, S Tigenda, V Bakoyock, F Quesada.

Marc Roseblade is a Contributor for Bleacher Report as well as Not Just Scottish Football and youth development reporter for Ayr United Football Academy. All quotes are obtained first-hand unless otherwise stated.