2011 PAC-12 College Football Preview: South Division
September 1, 2011
Stephen Dunn/Getty Images
This is the third article in a series previewing the 2011 PAC-12 college football season. 
Does the newly aligned PAC-12 South division seem wide open to you? If not it should. After Southern California's disappointing 2010 season, the 2011 south division seems ripe for any team to break out of the pack and set the tone for the new division. The only problem is who can knock off USC in the south? How will the two new additions to the conference, University of Utah and University of Colorado, fair against the old PAC-10 teams?
Overview
The state of Arizona has somehow upset the football gods; what did they do wrong? Can they reverse the curse?
Both Arizona schools have been snake bit with injuries and bad breaks in 2010 and during spring and fall practices in 2011. University of Arizona seemed destined for greatness last year after a 7-1 start. A 0-5 finish including a 36-10 loss to Oklahoma State in the Alamo Bowl quickly brought Wildcat fans back to a disappointing reality. Arizona State wins the games they are supposed to win but can't seem to get on a consistent even playing field with the top tier teams in conference.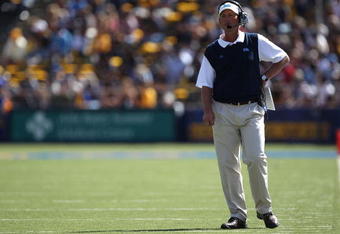 Jed Jacobsohn/Getty Images
What more can be said about UCLA and Rick Neuheisel that has not already been said? Neuheisel is 15-22 in his three years at UCLA with big non-conference wins over University of Texas and University of Tennessee during his tenure. Why does UCLA falter in conference play?
With the wealth of talent in the state of California, how can Neuheisel finish ranked 45th in recruiting (rivals.com) after the 2011 recruiting season following a top ten recruiting class in 2010?
There is talent is on campus.
Another question Bruins fans have is can Neuheisel develop his own players or does he need to be an offensive coordinator or quarterbacks coach on the colligate level? There are too many questions in Westwood with far fewer answers. 
The good news is Colorado is no stranger to playing in a tough BCS conference. The bad news is Colorado has not performed well in a tough BCS conference. New head coach Jon Embree has to instill a new philosophy for the Buffaloes and pray that the losing ways under former head coach Dan Hawkins are quickly forgotten.
Colorado has not made a bowl since 2007 (Independence Bowl). Embree has returning experience on the two-deep depth chart. Recruiting rankings don't mean everything but Colorado has not finished in the top 50 in recruiting over the past two years; placing 48th in 2009. A fresh start in a new conference with a new head coach could be just what the Buffaloes needed.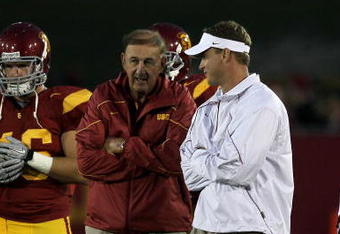 Stephen Dunn/Getty Images
All eyes will be on the University of Utah this season. During the spring, public officials in Utah had a much publicized standoff with the NCAA over anti-trust issues regarding unfair practices; a political publicity stunt but the action helped bring more attention to the possibility of a college football playoff system in the future.
The Utes will not have any excuses this season for not being able to make the BCS National Championship Game. Mixed thoughts range amongst college football pundits if Utah can play at a BCS Conference level for an entire season as opposed to a Mountain West schedule. Utah went 2-3 against top tier competition last season.
Do they have the depth and talent to play in the PAC-12 week after week? That's why all eyes will be on the Utes during the 2011 season. 
Which USC team will show up to the party this season? The USC teams of 2009 (9-4) and 2010 (8-5) that underperformed, by their own previous standards, or the USC teams of the early to mid-2000's that we've come to expect 11 and 12 wins from each year?
Second year head coach Lane Kiffin has not dropped the ball on recruiting. In 2010 USC finished ranked number 1 in the nation (rivals.com) and in 2011 they finished ranked fourth in recruiting. Pete Carroll didn't completely deplete the depth charts before leaving either. A second season in Pa and Son's offense and defense should help the players, their reactions times, and overall performance.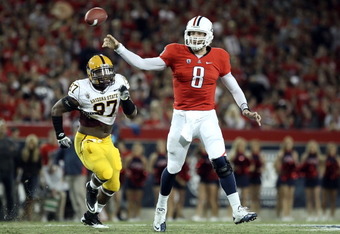 Christian Petersen/Getty Images
Can the "Kiffin's" keep the team motivated through another non-bowl berth season (their last year to forfeit a bowl game for the Reggie Busch violations)? Pushing to win the PAC-12 South Division and the first annual PAC-12 Football Championship Game will have to pass as USC's 2011 bowl game.
University of Arizona Wildcats
Injuries and missed opportunities have marred Mike Stoops and the Arizona Wildcats over the past year. Arizona has talent returning at their skill positions on offense; quarterback Nick Foles, running back Keola Antolin, and wide receiver Juron Criner. Stoops will have to use incoming recruits to fill out holes along the depth chart. There's only one offensive lineman returning with starting experience. Foles will be on the run early in the season unless the line gels overnight. 
Defensive coordinator Tim Kish has a strong group of linebackers to lean on along with quality players up front. The secondary is said to be talented but time will tell against one of the more difficult college football schedules in the nation.
If the offensive line cannot run block and eat up the game clock, this talented group could be worn out quickly. Starting free safety Johnny Thomas has been ruled ineligible for the game against Oklahoma State making life more difficult for Stoops and company on a national stage.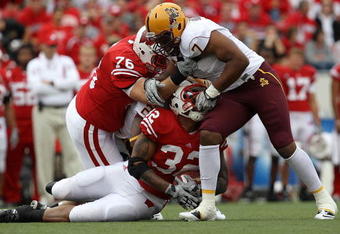 Jonathan Daniel/Getty Images
Outcome 
Mike Stoops is entering his eighth season as the head coach for the Wildcats and has largely underperformed (40-55). Fans of Stoops will point to three straight bowl berths as a sign of things to come. Less inclined fans of Stoops will say his time has come as head coach of the Wildcats. 
Look for Arizona to flip-flop last year's performance of starting off strong and ending poorly. Stoops did not do himself any favors scheduling consecutive games (starting week two) at Oklahoma State, vs. Stanford, vs. Oregon, at USC, at Oregon State. The Wildcats may start the season 1-4 before playing seven games they may have a better chance of winning.
If Arizona goes 7-1 or 6-2 in their final eight games Stoops may have saved his job. If Arizona plays .500 ball or less over the final eight, a change of direction with the football program maybe coming.
Arizona State University Sun Devils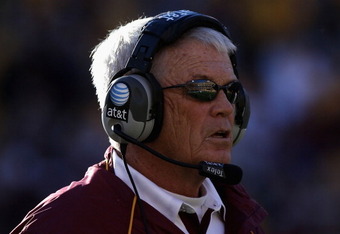 Christian Petersen/Getty Images
Dennis Erickson is on the hot seat after three straight years without a bowl berth. Six wins normally qualifies any division 1 program for a bowl game but two of ASU's six victories in 2010 were against sub-division teams.
An appeal to the NCAA for bowl eligibility was denied turning up more heat on Erickson's seat; why is a third of the team's wins coming against sub-division teams? A more forgiving schedule in 2011 will help, dropping an away game at Wisconsin for an away game at Illinois, and losing Stanford from this year's schedule. ASU gets University of Missouri at home on September 9. Playing at home and in the Arizona heat should be enough of advantage for the Sun Devils. 
This team is stacked top to bottom, even with all of the injuries they have suffered; Steven Threet, J.J. Holliday, Devan Spann, etc…Quarterback Brock Osweiler played well when Threet was hurt last season (109 attempts, 62 receptions, 797 yards passing, 5 TD, with 0 interceptions) and seems ready for the 2011 season. The Devils top running backs are back; Cameron Marshall (787 yards rushing, 9 TD) and Deantre Lewis (5.9 yards per rush, 4 TD). The wide receivers are talented but who will be the go-to guy? Four of five starters are back which should help make the Devils a bowl team in 2011. 
If you like defense, you should enjoy watching the Devils play in 2011. The defensive line is good enough to help the up and coming secondary out. ASU should be strong against the run because of their linebackers.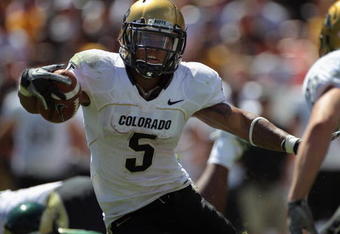 Doug Pensinger/Getty Images
ASU's linebackers could be as good as any other team's linebackers in the nation not named Alabama. MLB Vontaze Burfict is a beast and could be the meanest and best on the colligate level. His talent has never been questioned but his ability to control himself on the field and even against his own teammates has been; he had a fall practice fight in the locker room against a teammate. ASU fans hope he can keep his emotions under control during the season. Losing him to suspension or a getting a costly penalty at the wrong time is always a possibility with Burfict.  
Outcome 
The Sun Devils were only chased out of one game during the 2010 season; 50-17 at California. Look for the Devils to be nasty on defense and balanced on offense. Erickson's hot seat goes cold, unless a major injury strikes the team again, as this team should win at least nine games this season.
Anything less… something has gone terribly wrong, again, for the Erickson and the ASU faithful.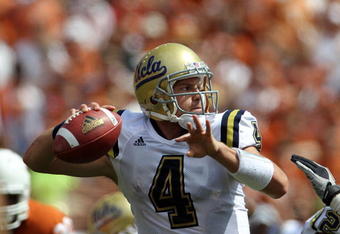 Ronald Martinez/Getty Images
University of Colorado Buffaloes
New head coach Jon Embree will have his hands full this year with the Buffaloes. He has to adjust the offense, the defense, and the mentality of a program that has not made a bowl game since 2007. Embree wisely hired staffers that have coached in the PAC-10 at various times in their career; Embree was a coach at UCLA before taking an assistant's position in the NFL. Learning the ropes of the PAC-12 should be easier with the staff he has put together. 
Colorado was a different team at home than on the road in 2011. That mentality comes from the coaching staff and a home field altitude advantage. Hopefully Embree will be able to take the 14 returning starters along well enough to make a difference from the five win team in 2010.
Quarterback Tyler Hansen played well in the spring and has continued that trend in fall practices. The offensive line is battle tested and returns a 1,318 yard rusher in RB Rodney Stewart. Stewart had 10 touchdowns last season and looks to expand upon that in a conference that has smaller but quicker defensive linemen in the PAC-12 than he faced in the Big 12. If Stewart can keep gaining yards and Hansen can continue to find WR Toney Clemons and Paul Richardson, this could be a tough team offensively.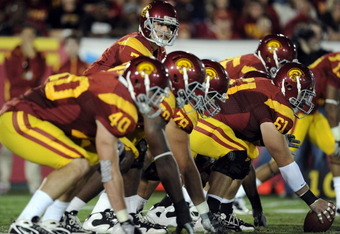 Harry How/Getty Images
And then there's the defense.
Defensive coordinator Greg Brown will run a 4-3 scheme with the Buffaloes. He has quality players upfront especially with the return of senior defensive end Josh Hartigan (7 sacks). Junior linebacker Jon Major will help solidify an unknown linebacker unit. Free safety Ray Polk was second on the team in total tackles last season. A free safety with 72 tackles is not unheard of but that is not what you want for a quality defense. Brown will have to find some play makers to replace last year's starting cornerbacks.
The defense has holes which will place more of an emphasis on the Buffaloes running game. Running back Rodney Stewart and the offensive line could be the best defensive players the Buffaloes have on campus.  
Outcome 
I hope the players have registered for their frequent flyer miles because they will have earned them after the first month of the season. Colorado travels to Hawaii during week one and then to Ohio State in week four.
Will all of the travel wear on the team? Tough road games are strung throughout their season including at Stanford, at Washington, at Arizona State, at UCLA, and at Utah. Can Embree make Colorado a tough team on the road and at home? If not, this could be another long year for fans.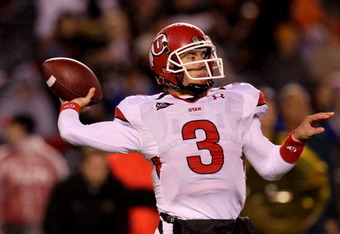 Stephen Dunn/Getty Images
The final two games of the regular season, both on the road (UCLA and Utah), should determine if Embree takes his team bowling or not.
University of California at Los Angeles Bruins
The motto for the 2011 Bruins campaign should be "No More Excuses". Head coach Rick Neuhesial fired both head coordinators and slotted himself as the quarterback's coach.
New offensive coordinator Mike Johnson and defensive coordinator Joe Tresey have a lot of work to do in a short amount of time. Tresey is widely liked in coaching circles and thought of as a good hire for UCLA. Johnson has NFL experience but how will that translate on the college level? Neuhesial is experiencing the pains, again, of not living up to expectations as a college head coach; see University of Washington and University of Colorado.
Can he turn around a four win season and take UCLA to a bowl better than the 2009 Eagle Bank Bowl? 
Kevin Prince has looked sharp in fall practices and Neuhesial is hoping this translates into a successful season. Prince has all of last years top receivers back, for better or for worse, along with junior running back Johnathan Franklin. Franklin is a workhorse and should improve upon the 1,127 yards rushing and 8 TD during the 2010 campaign.
The offensive line has talent but players keep getting hurt. Jeff Baca was hurt in spring practice along with Kai Maiava and Sean Sheller. Can this unit stay healthy long enough to come together as a powerful unit in 2011? Time will tell. 
The defense should be solid this year, if the offense gives them time to rest between series.
The Bruins finished 2010 ranked 94th in total defense. Depending on how you look at the experience returning, they have either six to eight starters returning including their entire line backing unit. The defensive line is solid and should benefit from Joe Tresey's schemes. The secondary has returning experience which will be aided by the push and pressure the big guys get up front. Look for UCLA to be much improved on the defensive side of the ball.
Outcome 
Neuheisel tried to install the pistol offense last season with mixed results. The running attack finished ranked 32nd in the nation while the passing attack finished 116th. The defense better be ready in week one when they travel to Houston. Houston's offense is hotter than the Texas heat they will experience. Completing their Texas football circuit in week three versus the University of Texas will be interesting. Last season UCLA upset Texas at Texas 34-12 but lost at Kansas State 31-22 in their first game of the season. Can UCLA pull off a couple more upsets this season? If not, look for UCLA to miss another bowl game in 2011. Many of the PAC-12 teams are on shaky ground this season. UCLA can either take advantage of it or be in for a long season.
University of Southern California
Lane Kiffin is a polarizing figure in college football, thus it's hard to feel sorry for him and the expectations of being the head coach at USC. But it's never easy following up after a legend, assuming one views Pete Carroll as a college football legend, no matter who you are.
Lane helped build USC to the level of elite college football program as an assistant and offensive coordinator from 2001-2005, so some of the burden is due to his own success. After a nine win season in 2009 (under Carroll) and an eight win season last year, USC critics are quick to dismantle the team from their elite status.
Fans of USC's program know better.
There's talent at USC and a lot of it. After a recruiting class ranked fourth in the nation in 2011 and number one ranked class in 2010, is there any doubt? The big question centers on Lane. Will he stay at a program long enough to sink or swim? With the talent he's getting at USC, how can he sink? 
Matt Barkley is going into his third year as USC's starting quarterback and shoulders the burden of returning the Trojans to greatness. Robert Woods returns as Barkley's favorite target (65 receptions, 792 yards, 6 TD) as does senior tailback Marc Tyler (913 yards rushing with 9 TD); suspended for USC's week one matchup against University of Minnesota for his comments about USC players being paid on TMZ. The offensive line is the question mark of the team, much like the rest of the PAC-12. Can the three new starters on the offense line gel fast enough to make USC an elite team? 
The defense was woeful last season. How can a Monte Kiffin coached team finish ranked 84th in total defense? Is this a sign of things to come or was this part of an adjustment period between coaching staffs?
The defensive line should be stout and experience returns in the secondary and with the linebacking unit. Another year in the system along with eight home games should make USC's defense tough to beat.
Outcome
USC's non-conference schedule sounds tougher than it really is. They get Minnesota and Syracuse at home but play Notre Dame on the road; all winnable games. Arizona State and Oregon on the road should be the toughest games of the season for the Trojans. USC went to the wire with the Cardinal in Palo Alto (37-35) last season.
If the Kiffin's have things going their way during the 2011 season, look for USC to upset the Cardinal at home. Nine wins should be easy to come by. Arizona State will push USC for the right to be the first PAC-12 South Division winner.
University of Utah Utes
Whoever made the PAC-12 conference schedule for the Utes must have been a Utes alumnus. Whoever scheduled the Utes non-conference games must be a Utes hater.
The Utes avoid Stanford and Oregon during their first season in the PAC-12 but play at BYU and University of Pittsburgh. Head coach Kyle Whittingham's toughest games are split between USC on the road and Arizona at home. Whittingham will face tougher defenses week in and week out in the PAC-12.
Last year's squad had a nice record on paper (10-3) but only had two quality wins; at home versus Pittsburgh and at home versus BYU. They struggled, putting it kindly, against better opponents in 2010. No more New Mexico State's or Wyoming's in this league. Every game will challenge Utah in 2011. 
Junior quarterback Jordan Wynn is back to help the Utes. He was impressive as a sophomore with 2,334 yards passing with 17 touchdowns. The 10 interceptions are a concern. The Utes were balanced in the backfield during the 2010 season but have no experience returning running the ball.
Until a running back breaks out of the back during the season and shows he can carry the load, Wynn will have a tougher time finding his receivers. The wide receivers are another area of concern. Only one player, DeVonte Christopher (39 catches, 660 yards receiving, 6 TD), returns with any big game experience. 
Norm Chow is in his first year as offensive coordinator for the Utes. His time in Los Angeles (UCLA) did not go as well the second time around. Can he help the Utes or was his genius at USC a product of the talent Carroll and company provided for him? 
Returning starters should not be counted against Utah. Defensive coordinator Kalani Sitake rotates players in and out of the game at all times. Experience is there for the Utes in the front seven. The secondary gave up 225 yards per game last season in a weaker conference.
Everyone knows the PAC-12 likes to air it out. If the front seven cannot get a constant push up front, this unit can and will be exploited.
Outcome
Utah has a tough start to their season.
They take their bye after a week one tune up against Montana State before starting conference play at USC. This will make a longer season a little bit longer. If Utah can win three or four of their first seven games they can be in great shape to finish the season strong. They play at USC, at BYU, home vs. Washington, home vs. ASU, and then they play at Pittsburgh before going to Cal.
Utah has the ability to win 8 games or more if the team can weather the storm through early September to early October. If the team gets down, no running backs or wide receivers emerge, this could be a very long year for a state and university that wanted their shot at the national championship.
Predicted Order of Finish in PAC-12 South
USC
Arizona State
Utah
Arizona
UCLA
Colorado
PAC-12 Championship Game 
Oregon vs. USC
Champion 
USC
Oregon wins the first matchup at home and USC wins the second game to unseat the Ducks national championship hopes.
* USC is ineligible to compete in the 2011 PAC-12 Championship Game. An oversight on my part. 
That leaves ASU vs. Oregon for the PAC-12 Championship Game. I'll take Oregon in that match up.