Dolphins vs. Cowboys: 5 Things the Dolphins Need to Do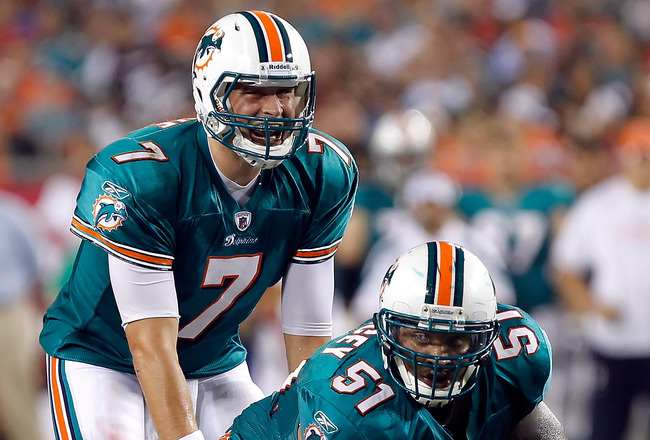 J. Meric/Getty Images
The Miami Dolphins have their final preseason game against the Dallas Cowboys on Thursday. This will be the final chance the 'Fins get to work out the bugs in their game before things start to matter.
Last week, Miami played the Tampa Bay Buccaneers. They got beat 17-13, but it wasn't all bad.
Despite the lack of a running game, Chad Henne played exceptionally well.
Let's see if the Dolphins can come out this week and look like a playoff team.
Get After Tony Romo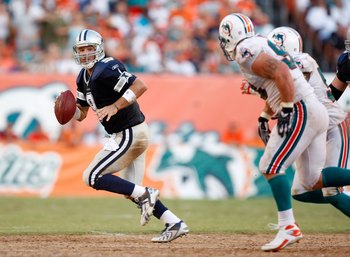 Allen Kee/Getty Images
Last year, the Dolphins had a good pass rush lead by Pro Bowler Cameron Wake; he finished the season with 14 sacks.
This year, the Dolphins have even more talented players that should be able to get after the quarterback. Koa Misi is in his second year and looks to have a breakout season. Karlos Dansby and Kevin Burnett are both capable of blitzing and getting after quarterbacks. The 'Fins also brought back Jason Taylor, a veteran leader who can still bring the heat.
Despite all of this talent, the first-team defense hasn't recorded one sack all preseason. They have gotten pressure at times, but have come up short.
I'm not suggesting that the lack of pressure in the preseason will be indicative of what is coming in the regular season, but a few sacks will ease a bit of my concern.
INTERCEPT SOME PASSES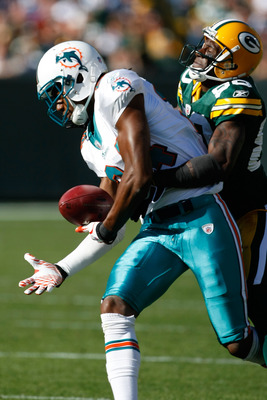 Scott Boehm/Getty Images
The title is in all capitals to show my frustration with all of the balls that the Dolphins secondary has dropped.
Last year, Sean Smith could have won some games for the 'Fins if he replaced his cinder blocks for hands with stick'em. All joking aside, I think he's a good player with a lot of talent.
A pick or two against the Cowboys could indicate that things are about to change.
If Vontae Davis and Sean Smith can pick off some passes, they could defend Vontae's claim that they will be the best corner tandem in 2011.
Chad Henne: Keep Playing Like a Solid Quarterback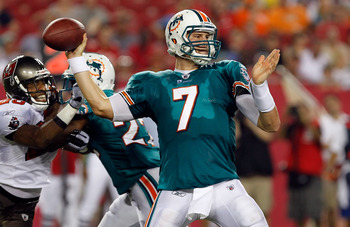 J. Meric/Getty Images
Henne was great against Tampa. The Dolphins' running game was bad, and Chad still played very well.
He threw a very nice touchdown pass to Brandon Marshall early on. He showed good touch on the pass and put it in a place for Marshall to go up and get it.
His line for the day was 10-for-13 for 175 yards, with the Marshall touchdown pass. No interceptions.
Henne started the preseason with a bad game against the Atlanta Falcons. His performance gave us the impression that he was back to his old ways.
In the last two games, though, he has had great poise and looked confident.
Henne needs to keep his confidence and go into the season feeling good. A good game against the Cowboys is necessary for the Dolphins' starting pivot.
Run the Ball Effectively
Mike Ehrmann/Getty Images
The Dolphins running game has been bad so far in the preseason. Last week's game against Tampa was the worst yet.
Reggie Bush had five carries for minus-one yard. Daniel Thomas had seven carries for 16 yards. Those type of numbers in the regular season will spell disaster for the 'Fins.
When the Dolphins have Jake Long back, they will be better, but I'd still like to see something from this unit.
This is the last chance this preseason for the Dolphins to show they have any kind of running game.
Win BIG; Head into the Regular Season with a Lot of Confidence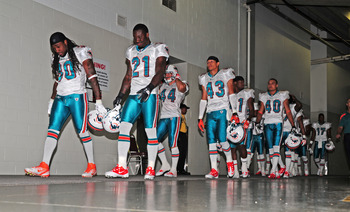 Scott Cunningham/Getty Images
There's nothing better for a team's confidence then smashing an opponent. The Dolphins need a boost going into the season after a disappointing 2010 campaign.
Destroying the Cowboys would be a great way to end the preseason on a high note.
Keep Reading

Miami Dolphins: Like this team?