NFL's East Coast Bias: Why the Disproportionate Coverage?
October 3, 2011
Rick Stewart/Getty Images
Click. ESPN turns on.
First set of headlines read: "Brady Excited" (talks about new addition of Chad Ochocinco to roster), "Haynesworth a Beast" (talking about how Haynesworth is still the best defensive lineman in the game), "Patriots to win Superbowl?" (talking about the last two headlines again and making the outlandish statement that the New England Patriots are the best team in the AFC).
Second set of headlines read: "Rex Ryan Talks Championship", "Mark Sanchez a top QB?", "Jets Defense Dominates".
 Repeats for 30 minutes with talks of how awesome Michael Vick is sprinkled in. Of course, only now that he plays for the Eagles. 
Smash. I throw my controller at the TV. Chris Collinsworth pops out of the TV and starts spitting out phlegm at me.
Okay, a tad bit exaggerated, but you get it. Heck, we ALL get it, major sport channels. Sports television is a business. The greater amount of fans that they appeal to, the more views they will get, and, subsequently, the more they will be able to charge companies for commercials and advertisements.
We also get that most east coast teams have a fan base larger than any team west of the Mississippi (except the Cowboys, who happen to be covered the other 33 percent of the time on ESPN), resulting in them getting more media coverage.
And it's not just ESPN. CBSSports, Sports Illustrated, and Fox Sports are just as guilty.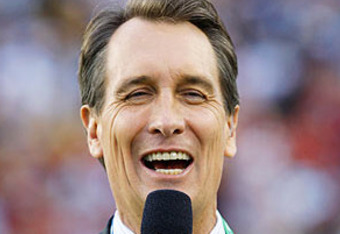 Obviously, this doesn't apply for some other east coast teams who are in smaller cities with smaller fan bases.
One of the most glaring reasons for this bias is the fact that 50 percent of the U.S. population lives in the eastern time zone. The most densely populated area lies between Boston and Washington D.C.
Hmmm...I wonder why, then, the Patriots take up half of my time at the end of the night when I am watching ESPN.
Yes, we can deal with the unfounded coverage of some players; we love the NFL, and other sports, too much not to. What is a concern to me is the money, hype, and coverage some average players get, while other players get the shaft. Many times this causes them to get snubbed out of the Pro Bowls and miss out on certain nominations that they should, otherwise, be recognized for.
Some other reasons for the East Coast bias:
1. Tradition: There are generations of fans that religiously follow the older, more popular franchises in sports. There have been slews of kids that grow up eating, drinking, and sleeping their favorite teams for decades longer than some of the younger teams. This has resulted in some teams having a much larger following than the others.
2. Population: "150 million of the 305 million people in the U.S. live in the eastern time zone." John Buccigross, ESPN
3. Time Difference: Many of the nations most influential writers are sleeping while west coast games are going on, especially in baseball, where some games do not start until 10 P.M. ET. This occurs in the NFL too, when western time zone, prime time games, do not start until after 8 P.M.
So what do you all think? Is the east coast bias a real, tangible, aspect of professional sports? Or am I just your residential west coast hater?
Both could be true!
Either way, should there be something done to counter this disproportionate amount of coverage given to lesser teams? Doesn't it hurt the sport not to cover every team?