Arsenal Transfer Rumors: Mikel Arteta Back On, Benayoun on Loan; Augusto off
August 31, 2011
Richard Heathcote/Getty Images
Arsenal" continues to be in overdrive on transfer deadline day. Having announced the signings of defenders Andre Santos and Per Mertesacker earlier in the day, the club is now rumored to be in different stages of negotiation with three midfield playmakers: Mikel Arteta, Yossi Benayoun and Renato Augusto.
Mikel Arteta is a name familiar to all Premier League fans. Rated as the best player not to have played for Spain over the past decade, the talented midfielder has been the driving force of an Everton" team that has punched well above its weight in recent seasons.  
It is said that Arsene Wenger has long been an admirer of this creative former Barcelona youth team player. According to Opta Stats, Arteta has created 2.7 chances per 90 minutes since the 2006-07 season. Only five players have crated more: Fabregas, Giggs, Malouda, Lampard and Nani. Fairly elite company for the Spaniard, who will certainly see his numbers rise in a fluent Arsenal team.
Sky Sports News reported that Nicklas Bendtner was offered to the Toffees in a player+cash deal, but Everton demanded a cash-only deal somewhere in the range of £10 million. The two clubs apparently agreed on a deal, but the player did not agree on personal terms, so the deal was called off.  News sources are now confirming that the deal is ON again. It seems as if the player was demanding £90k per week as wages, which Arsenal were not willing to pay.  But the player has now had a rethink, and negotiations are back on.  Great news for Gooners!!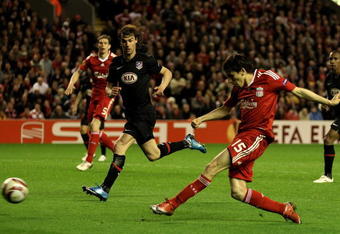 Alex Livesey/Getty Images
Yossi Benayoun has been linked with Arsenal over the past 48 hours.  This story hadn't really gone anywhere, till breaking news from Sky Sports News has just reported that Arsenal are looking at taking the Israeli midfielder on a season-long loan deal. Benayoun has vast Premier League experience with West Ham, Liverpool and Chelsea and would be a fantastic impact player for Arsenal, to be used primarily off the subs bench.
It now appears as if Benayoun has indeed signed a loan deal.  He stated on his Twitter feed that he will be "staying in London" and "will sign soon". 
Renato Augusto, the Brazilian right winger playing for Bayer Leverkusen in Germany, was strongly rumored to be on his way to Arsenal a couple of hours ago, but those rumors have since cooled. But four hours still remain—anything can happen!!
Arteta would be a fantastic signing for Arsenal.  Adding Benayoun on loan would be the icing on the cake.  Arsenal need one more big player in midfield to have real depth in the creative department, and Arteta can be that player. Cesc can't be replaced, so let's forget about that.  
Manchester United never truly "replaced" Ronaldo, but they've managed fairly well without him, haven't they??