2012 NFL Draft: Are Chicago Bears Interested in Notre Dame WR Michael Floyd?
August 31, 2011
It's been a decade since the Chicago Bears drafted a wide receiver in the first-round of the NFL Draft. Specifically, it's been ten years since the wide receiver hungry Bears used a No. 1 pick on a highly touted, big play threat on the outside, who could potentially add the dimension that's been missing on offense for years.
That's a long time for a franchise to ignore a position—that's historically lacked star quality—in the first round. Maybe, just maybe, the David Terrell night terrors have passed and the Bears front office is open to the idea of drafting an impact receiver next spring.
That was my thought when I learned newly crowned Bears Director of Player Personnel and former Seattle Seahawks general manager Tim Ruskell, along with a Bears scout, are expected to attend the South Florida, Notre Dame game on Saturday in South Bend.
The presence of Ruskell at Notre Dame Stadium this weekend may be just a coincidence since it's only a two-hour drive from Chicago to South Bend and the Irish are playing his alma mater, South Florida. But, could Ruskell, who during his time in Seattle opted to sign wide receivers as free agents, rather than draft them (unless it was with a mid-or-late round pick) with a first-round pick (similar philosophy to Bears general manager Jerry Angelo), have an ulterior motive and set his sights on Notre Dame wide receiver Michael Floyd?
This offseason, the Bears brought in a big receiver with playmaking potential in former Dallas Cowboys castoff, Roy Williams. And, after two-and-a-half years of mediocrity in Dallas, the Bears are hopeful that Williams can resurrect his career and give Jay Cutler the big target necessary to keep defenses honest.
But, Williams has been a bust in the preseason and since he only signed a one-year deal, a long-term plan for a big, physical receiver who can be paired with Johnny Knox, Earl Bennett and Devin Hester should be in place; Floyd could be at the top of the list.
At 6-foot-3, 227 pounds, Floyd is an imposing figure who gets off the line well, is deceptively quick in and out of his breaks and can separate himself from the opposition with his aggressive route running and surprising explosiveness after the catch. Not to mention he's an outstanding redzone/vertical threat who is a mismatch for most defensive backs, as he has great body control and demonstrates the proper positioning to secure the ball at its highest point.
Floyd is coming off of a breakout junior campaign where he caught 79 passes for 1,025 yards and 12 touchdowns, and for his efforts he was recognized as the No. 1 senior wide receiver by National Football Scouting (NFS) this offseason. NFS graded him at 6.50 out of 9 (nine being the highest and one being the lowest grade for prospects), which translates into a second-round grade.
While NFS was high on Floyd, BLESTO scouting—the other well-respected scouting service—wasn't as high on him. BLESTO graded Floyd at 1.30 out of 5 (one being the highest and five being the lowest grade for prospects), which tied him with Arkansas' Joe Adams as the fourth-rated senior wide receiver and a third-round prospect, behind the likes of Wisconsin's Nick Toon (1.24), Texas A&M's Jeff Fuller (1.25) and Arkansas' Greg Childs (1.27).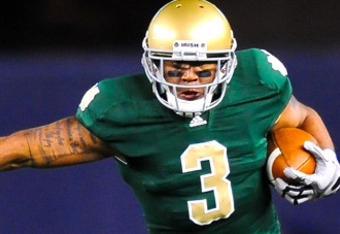 Despite the discrepancies in preseason grades and round value, Floyd has his entire senior season and offseason to improve his stock and regain the first-round status he previously held.
What the Bears, along with other teams interested in Floyd, will have to evaluate and weigh when considering him as a first-round pick is his off-the-field issues. Floyd has been involved in a few alcohol related instances since he's been at Notre Dame, including one most recently in March where he was suspended and ultimately sentenced to one-year probation, after pleading guilty to a misdemeanor drunken driving charge.
Earlier this month, Floyd was reinstated by Notre Dame and released the following through the university:
"The last four months have been the most humbling stretch of time in my life. I embarrassed myself, my family, the university, my football team and many more people. I know it will take time to earn the trust and confidence from everyone I let down last spring but I am prepared to do so and will strive to become not just a leader on the team again, but one also in the community. I am grateful for the opportunity to earn my degree this year from the University of Notre Dame and I look forward to reuniting with my football family this fall."
As the college football and NFL seasons commence, it's a fresh start for all involved: coaches, players, scouts, organizations and universities. For a player like Floyd, who has the talent and upside to be a first-round pick and an organization like the Bears, who haven't used a first-round pick on a receiver in a decade, the risk is there, but this is the time to assess the reward.

Chris Steuber is the NFL Draft Featured Columnist for Bleacher Report. In addition to his role with Bleacher Report, Steuber serves as Director of Player Personnel for the Georgia Force of the Arena Football League. He's previously served as NFL Draft Analyst for Scout.com and Fox Sports, as well as NFLDraftScout.com in conjunction with CBS Sports. Follow him on Twitter @ChrisSteuber.