New York Jets: Five Players Who Have Played Their Way onto the Roster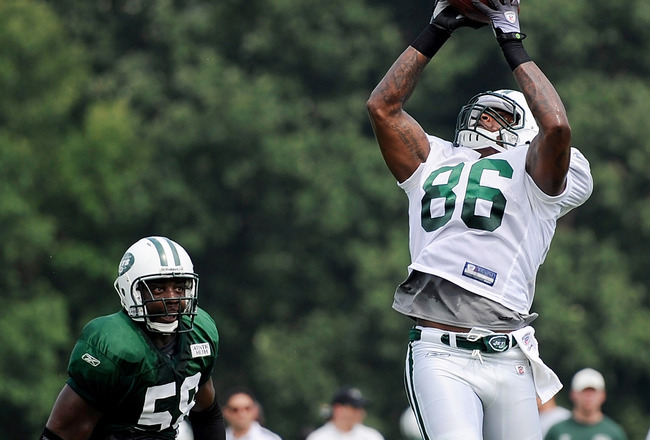 Patrick McDermott/Getty Images
While most casual football fans will watch the first quarter or two of a preseason game before getting on with their business, it is the players who are still on the field in the fourth quarter that are playing their hearts out to earn a roster spot.
For the New York Jets, the battles are more fierce than the league standard because of the amount of talent at some of the most crucial positions.
That being said, there are still roster spots to be won, and the players who earn them are just an injury away from being on the field at a crucial moment.
With one preseason game remaining, the final few spots are still yet to be determined.
The following slideshow contains five Jets players that have played well enough through the first three games that they will be spared when final cuts come around.
As always, feel free to comment below.
Jeff Cumberland (TE)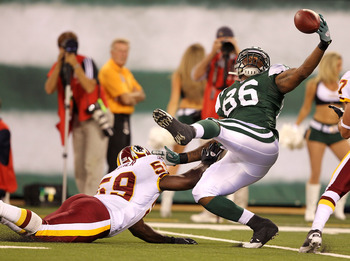 Al Bello/Getty Images
During the summer, rumors went around that the Jets may be in the market for a second tight end, with the idea that bringing in someone like Todd Heap would allow them to run more two-tight end sets that have worked so well for the Patriots.
Although Heap decided to go elsewhere, the Jets may have had the right player already on their roster in Jeff Cumberland.
Cumberland missed the Giants game with a hamstring injury, but he has performed well enough in the first two games to almost guarantee him a spot.
In just two games, Cumberland has 120 receiving yards on eight catches, to total a very good 15 yards-per-catch average.
What has impressed me the most about Cumberland is his ability to run after the catch, something you would not expect from a 260-pound tight end.
Cumberland could still use some work on his blocking skills, but his ability to get open makes him too good to cut.
Matthew Mulligan (TE)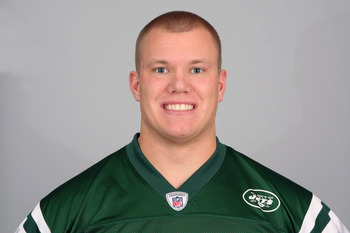 Handout/Getty Images
With Jeff Cumberland out for the Jets game against the Giants, Matthew Mulligan was given the chance to step into the receiving tight-end role, and he did not fail to impress.
Although most people look at Mulligan as the tight end to send in on run plays, he showed a capability to get open and move with the ball.
Mulligan totaled three catches for 43 yards against the Giants, with one of those grabs coming on a pass from Jeremy Kerley out of the wildcat formation.
Like I said with Cumberland, the Jets want to run more two-tight end formations, and having a player like Mulligan, who is not only a solid run blocker but who can also sneak out and catch a pass, will make the Jets offense that much more dangerous.
Josh Mauga (LB)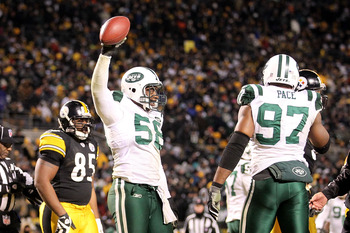 Ronald Martinez/Getty Images
Josh Mauga may have not only played himself onto the roster, but also onto the field.
Mauga appeared in eight games for the Jets last season, but there was no guarantee he would be back this season.
Instead of worrying about fighting for a roster spot in the last weeks of the preseason, Mauga came out against Houston and recorded three tackles, including a sack, and he also had an interception.
Mauga has not let up with nine more tackles the past two games, and Rex Ryan has already shown that if anything were to happen to Bart Scott, Mauga would be the replacement.
One could argue that Mauga has had the best preseason of any Jet player, and it could pay dividends as he sees more and more playing time.
Ropati Pitoitua (DE)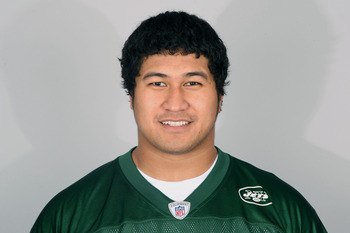 Handout/Getty Images
Ropati Pitoitua became famous last season after he sustained an Achilles injury that caused him to be cut from the roster. This was then made into a main storyline on HBO's "Hard Knocks."
Pitoitua is back and healthy this season, and so far in the preseason he has looked like the player the Jets were hoping he would be last season.
Standing at 6'8", Pitoitua has the size to be not only a great pass rusher, but an even better pass deflector. Although he is yet to officially get his hand on one this preseason, I imagine quarterbacks are having to hold back throws because they don't think they can get it through him or can't see over him.
Pitoitua has a very respectable seven tackles so far this preseason, and should have a good chance against the Eagles to show what he is all about.
Emanuel Cook (S)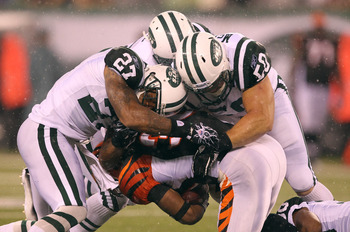 Al Bello/Getty Images
The final player in this slideshow is a Jet that I had a privilege of speaking with this off-season. Emanuel Cook appeared in four games last season, but is looking to take on a bigger role this season.
Cook has played great at the safety position this preseason, and may have even played himself ahead of Brodney Pool for the spot to back-up Eric Smith.
Cook has 10 tackles so far this preseason, with six of those coming in Monday's win over the Giants. Although it is not really fair to compare stats in preseason games, Pool only has eight tackles.
Cook plays like one would expect a Rex Ryan player to, with a bit of grit (as shown in his skirmishes with Brandon Jacobs) and hard hits.
It will be interesting to see how many safeties the Jets keep, but Cook has played well enough this preseason to not only make the roster, but also to gain more time on the field this season.
Keep Reading

New York Jets: Like this team?